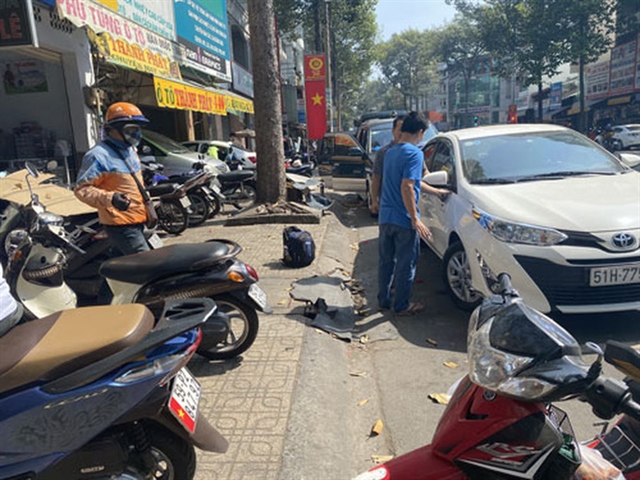 People line up at vehicle restoration shop in District 5 to get their cars upgraded and repaired before Tết. Photo: nld.com.vn
HCM CITY— With Tết (Lunar New Year) approaching, many car owners in HCM City have lined up at vehicle restoration shops to repair and upgrade their vehicles.
People like Đào Ngọc Anh of Thủ Đức City do this every year at this time.
"I know it will be very crowded at the end of the year, but I still decided to have the car repaired and upgraded now to make it look at its best during Tết," Người Lao Động (Labour) newspaper quoted him as saying.
Đinh Dũng Tuấn, owner of a vehicle restoration shop on An Dương Vương Street, District 5, said the number of customers who come to have their car fixed is two or three times higher than during normal days.
At the end of this week the number could increase much further, he said.
"Over the week, my staff had to work overtime."
The services that car owners request now include retouching scratches, painting, nano or vinyl wrapping, and cleaning of interiors.
They can also choose service packages at various prices.
A basic package with five to seven services can cost VNĐ5 million to VNĐ8 million (US$215 to US$345), and a standard package with more than 10 services, from VNĐ10 million to VNĐ20 million (US$ 431 to US$862).
They are 10-20 per cent higher than normal.
Trần Văn Bình, owner of a vinyl car wrap shop on Trần Bình Trọng Street in District 5, explained that prices are up because he has to pay 1.5-2 times his workers' normal salary. VNS