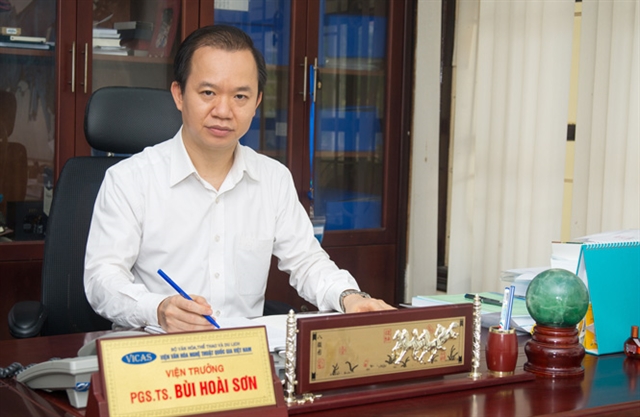 Bùi Hoài Sơn, Director of the Vietnam National Institute of Culture and Arts
The museum sector is making use of the advancements of the Fourth Industrial Revolution to attract visitors. Bùi Hoài Sơn, Director of the Vietnam National Institute of Culture and Arts talks to Hà Nội Mới (New Hà Nội) newspaper on this issue
As a policy and strategy consultant for the Ministry of Culture, Sports and Tourism on culture, especially in building dossiers for Hà Nội to be recognised as a UNESCO creative city, how has the National Institute of Culture and Arts contributed to the application of technology in the protection of cultural heritage?
The fact that Hà Nội became a member of the UNESCO Network of Creative Cities is of particular importance to the construction and development of Vietnamese culture and people and the capital. This is not only a fact that affirms Việt Nam's cultural value on the world map but also helps the country be hand in hand with the biggest trend in cultural development – that is to take creativity as the nucleus for development.
However, it is necessary to take practical actions to implement commitments with UNESCO, to promote the strengths of the capital, especially to exploit cultural heritage values. The cultural heritage treasure of the capital is extremely massive with 5,922 monuments, 1,793 intangible cultural heritages and 1,206 festivals. Without efficient exploitation, we are not only at fault with the present generation, but also our ancestors and future generations.
Over the years, the Vietnam National Institute of Culture and Arts has built a database of intangible cultural heritage for the country, on that basis, collecting 42 intangible cultural heritages of Hà Nội, with 254 Betacam and DVCAM tapes, as well as 10 scientific films, digitised.
The application of technological achievements of the Fourth Industrial Revolution for the protection and promotion of heritage value not only helps better protect cultural heritage but also helps it come closer to the public. Thanks to the application of technology, young people – the public group that cultural managers want to influence the most to change perceptions and behaviour towards heritage – are excited to approach and enjoy the value of the cultural property. This is a good sign for us to apply technology to protect and promote heritage values ​​in a new context.
Facing the trend of applying technology to promote the value of heritage, how are museums in Việt Nam changing to better perform as important cultural institutions?
Museums are especially important for educating and disseminating the value and meaning of cultural heritage as well as the nation's traditions, helping the public better understand the country, culture and people. In any country, museum institutions are paid a lot of attention to and often considered as public cultural institutions, sponsored by the state.
In many countries, making museums attractive and drawing visitors has become the central task of cultural regulators and museums. Art education and public development for museums is a regular activity, and information technology makes these activities more interesting and lively. Therefore, digitising museums is a priority field. Major museums such as the Louvre (France), National Museum London (UK), Metropolitan Museum of New York (US), National Folk Museum of Korea and Museum of Chinese History have digitised most of their artworks in 3D and virtual tours, allowing viewers to use smart mobile devices to learn about the works, collections, authors and other information.
Recently, museums in Việt Nam, especially in Hà Nội, such as the National History Museum, Vietnam Fine Arts Museum and Ethnology Museum, have tried their best to apply technology to display activities, creating a great attraction. Art education and public development have been noticed by museums by offering many programmes and products applying new technologies.
The implementation of digitalisation applications and virtual museums through 3D models helps visitors better understand the author, work or context, critiques related to heritage, works of art, even restore ruins that are normally difficult to imagine, such as the Lý palace system in the Imperial Citadel of Thăng Long or a 3D model of Diên Hựu Pagoda.
Can you share more about the work the National Institute of Culture and Arts of Việt Nam has been doing to help museums attract visitors?
We realise that the unit itself must become a digital organisation, with close links with domestic and foreign organisations. Since 2020, the institute has worked with the Korea Intangible Cultural Heritage Center (ICHCAP) – one of the three UNESCO regional centres in Asia, to develop the institute's data bank into a satellite station of UNESCO in the Asia-Pacific region. We have digitised intangible cultural heritages in a common format, sharing data on ICHCAP's information network with 10 member countries. International co-operation helps us better understand our situation, improving our operations and connecting with museums.
The institute is supporting the Việt Nam Museum of Ethnology to digitise a number of materials to increase the attractiveness of this museum's exhibitions. Since there are digital products that show artefacts, visitors are more excited about the experience and coming to the museum. In addition, the institute is about to complete the construction of an electronic portal to connect, provide information and animate museum activities.
The application of technology has created new vitality for museum activities, which has long been considered as less innovative and not attractive. – VNS