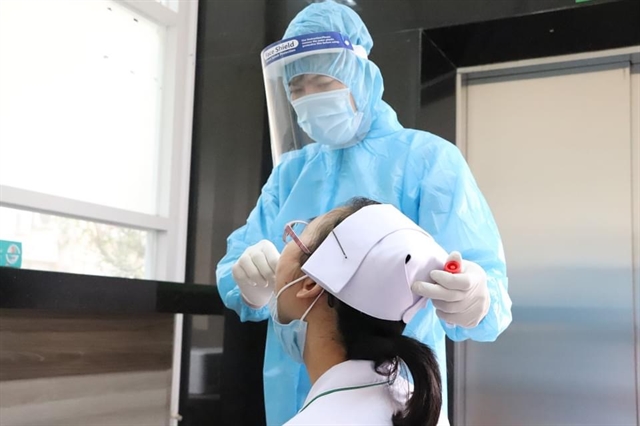 HCM CITY — HCM City should immediately zone, trace and end transmission of the new coronavirus through Tân Sơn Nhất Airport, Minister of Health Nguyễn Thanh Long told the city's Steering Committee for COVID-19 Prevention and Control on Monday.
HCM City has recently recorded five community cases, all being baggage handlers at Tân Sơn Nhất International Airport. On Monday the HCM City Centre for Disease Control and Prevention also announced that 25 of their close contacts have tested positive for the virus and are awaiting Health Ministry confirmation as Covid-19 patients.
All patients are now being treated at Củ Chi Field Hospital.
Long said with the patients working in the airport's cargo area, they might have contracted the disease earlier without being detected.
Though not in contact with passengers, the number of people in the community they have contact with is high, and so the city could have more people testing positive soon, he warned.
Authorities should take more drastic and quicker action to isolate the breakout, he said.
He also instructed them to quickly zone all areas with cases, test widely and precisely identify areas to lock down to reduce the effect on people living elsewhere.
They should conduct pooled‐sample testing for families in areas under lockdown, and take families in which someone tests positive to quarantine areas for a second test, he said.  
He instructed the city's Pasteur Institute to increase its testing capacity to 5,000 a day.
City People's Committee Chairman Nguyễn Thành Phong admitted the situation is very uncertain.
He instructed relevant authorities to investigate how the outbreak began to carry out effective preventive measures.
Asked about festivals to be held during the Tết holidays, he said organisers should limit attendees or cancel them if they could not ensure compliance with prevention rules.
Districts people's committees chairpersons should carry out drastic prevention measures, he said.
Since January 28 the city has locked down several areas in districts 1, Bình Thạnh, Gò Vấp, Bình Tân, and 12.
IT application
Many Vietnamese companies have developed IT applications for COVID-19 prevention and control and online learning during the pandemic.
Since early 2020 Quang Trung Software City has been using an automatic body temperature measurement system it installed at TMA Building and Building 1.
It warns using sound and images when someone walks in with a fever of 37.5 degree Celsius or more.
It said the system should be used at all buildings and quarantine areas in place of people carrying digital thermometers to reduce the risk of transmission.
QTSC has also developed a system for face identification, which sets off an alarm if someone not wearing a mask enters a building.
QTSC has integrated the functions of face identification and temperature measurement in a system it instals for a rent of VNĐ3.5 million (US$151) monthly or sells at VNĐ35-70 million ($1,511- 3,023).  
Bkav Electronic Joint Stock Company developed the Bluezone application to warn smartphone coming in close contact with diagnosed COVID-19 patients. The app has been downloaded by 27 million people, according to Ministry of Health.
The company is collaborating with relevant agencies in the healthcare sector to constantly update information about the location of COVID-19 patients or those suspected to be infected and those from disease-hit areas with symptoms like fever, cough and breathing difficulties.
It also provides the addresses and phone numbers of the nearest health facilities and offers counselling on the disease and health declaration requirements.
Việt Nam Posts and Telecommunications Group (VNPT), the Ministry of Health, Ministry of Information and Communications and IT companies have jointly developed an NCOVI application for health declaration.
VNPT also developed an e-learning app used during the COVID-19 outbreaks that helps teachers digitise their syllabus, set up electronic lesson plans, track students' learning, know their attendance, and test them.
It automatically shows what is wrong when students do tests.
Besides, parents can get their children's learning history to supervise.   
Other companies such as FPT and Viettel have also developed e-learning apps.
According to Minister of Information and Communications Nguyễn Mạnh Hùng, 38 Vietnamese-made digital platforms including NCOVI, Bluezone and e-learning and telemedicine ones have been used.
The country is probably among the ones with the highest number of digital platforms in the world, he added. — VNS