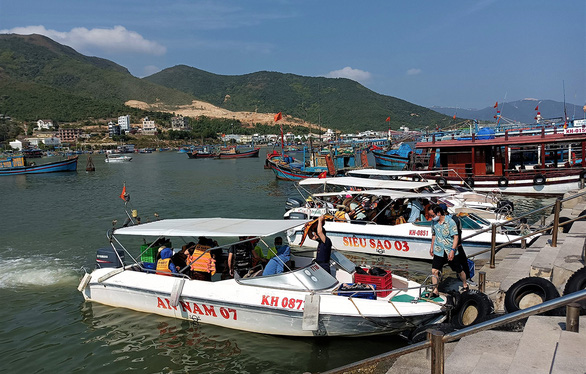 Provinces in the Central region are expected to see significant tourism growth this summer. — Photo courtesy of tuoitre.vn
HCM CITY — Travel agencies in the Central region are creating new tourism products in preparation for the upcoming holidays on April 30 and May 1.
The tourism industry expects to see significant growth during this peak season, especially if COVID-19 is effectively under control.
During the first days of April, the human resources department at Danang Golden Bay Hotel in Đà Nẵng has been calling former staff and recruiting new interns to host future guests.
Business director of the hotel, Mai Thị Kim Oanh, told Tuổi Trẻ ( Youth) newspaper that the hotel has received over 100 bookings for the upcoming holiday and the number of bookings continues to increase.
Even though hotel guests have a tendency to book only a few days in advance, the current growth rate is a positive sign for the industry and Oanh expects to have 60 to 80 per cent of rooms booked this holiday.
Deputy general director of the Việt Nam Tourism Joint Stock Company (Vitours) Lê Tấn Thanh Tùng said the tourism market in the Central region will be very robust this summer. Anti-pandemic activities have seen much progress and vaccines have become more widely available.
As locals' travel demand is significant, especially because they are not able to travel abroad, travel agencies in the Central region need to take advantage of their five-star facilities and the favourable weather to promote tourism in the summer.
"That being said, lack of quality human resources has caused stress. Many staff have been laid off due to the pandemic. It is crucial to retrain the team before the holiday to ensure service quality," Tùng said.
He added that the company has also invested in some key tours and prepared accommodation and transport packages for solo travelers and people traveling in groups.
Attractive tourism products
Trương Thị Ngọc Cẩm, director of the Hội An Centre for Culture and Sports – Radio and Television, said that warm-up activities at Hội An Old Town have gone well.
In the upcoming days, Hội An will focus on "quintessential products" for visitors to the Old Town, organise more art performances, and make use of the central space to launch new tourism products.
Quảng Nam Province's Tourism Association and the provincial People's Committee are planning to host charter tourists. A group of tourists, both Vietnamese living overseas and international travelers, will be transferred to Chu Lai Airport and quarantined at designated areas.
Meanwhile, the Hội An creative start-up fund, together with many travel agencies, is working on the An Bàng Beach festival to promote local seafood in early summer.
General Secretary of the Tourism Association of Quảng Nam Province Nguyễn Sơn Thuỷ said that travel firms in the locality have started cleaning up their facilities and are preparing to welcome guests.
"We hope to receive many visitors in July. If the pandemic is under control, the tourism industry in the Central region will be blooming again," he added. — VNS