HÀ NỘI – Thousands of chief nurses and medical staff nationwide will participate in home and abroad intensive training courses in the next three years, with financial support from Việt Nam's largest dairy producer Vinamilk.
This move is a key part of the strategic cooperation agreement jointly signed by Vinamilk, CHR Hansen Holding, one of the world's leading nutrition groups from Denmark, and the Vietnam Chief Nursing Club earlier this month.
After the training courses, the trainees will give nutritional healthcare for millions of children and the elderly in Việt Nam.
The training programme will this year kick off with an intensive training series, themed "Prevention and control of Sars-Cov-2 infection, the role of nutrition in health promotion and disease prevention", held in Hà Nội, HCM City and Huế City in the central province of Thừa Thiên-Huế. Nearly 600 members from frontline hospitals will participate in this programme, focusing on strengthening disease prevention, improving resistance and digestive system for children and the elderly.
According to Chairman of the Vietnam Chief Nursing Club Hoàng Văn Thanh Vinamilk is a leading nutrition company in Việt Nam and belongs to the Top 50 largest dairy companies in the world, with many strengths in research and applications of advanced nutritional solutions reaching international standards in nutritional products for Vietnamese people.
"We believe that accompanying Vinamilk in the next three years will help the club members bring great benefits in improving the quality of clinical nutritional healthcare, thereby helping to take care of nutritional health for millions of people, especially children and the elderly," Thanh said.
International cooperation for Vietnamese health
At the event, Vinamilk and CHR Hansen Holding signed a strategic cooperation agreement in the 2020-22 period, that aims to pioneer the application of advanced Probiotic strains, with clinical evidence and European standards, helping Vinamilk strengthen resistance and digestive system in its products.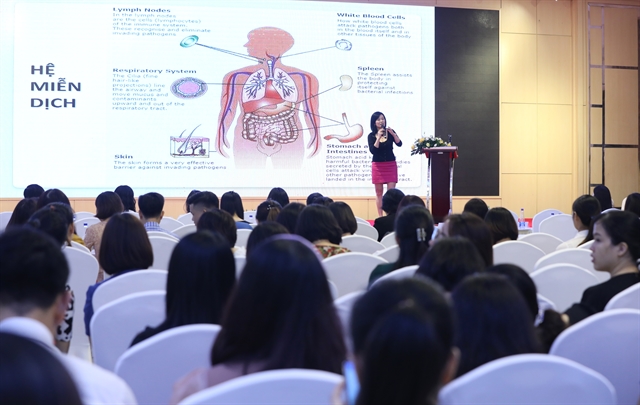 CHR Hansen's nutritional scientists together with Vinamilk will update the club members' clinical nutrition knowledge in enhancing resistance, digestion, and quality of treatment and care for patients in healthcare facilities in the 2020-22 period.
Thomas Reiner, Managing Director Asia Pacific of CHR Hansen Holding, said CHR Hansen Holding will accompany Vinamilk in training to improve nutritional knowledge and bring international quality nutritional products to millions of Vietnamese children and the elderly.
Vinamilk and CHR Hansen Holding have maintained strategic cooperation for more than 10 years to provide domestic and foreign consumers with premium nutritional products and international quality standards. These efforts have helped Vinamilk gain the trust of consumers. Vinamilk is also the brand most chosen by Vietnamese consumers for eight consecutive years from 2013 to 2020 according to the Kantar Worldpanel's 2020 Brand Footprint report.
Over 44 years of establishment and development, Vinamilk continues to affirm the number one brand in the baby formula market in Việt Nam according to market research by Nielsen, with its advanced product lines: Organic Gold, Yoko Gold, Optimum Gold, Dielac Grow Plus, Dielac Alpha Gold and Sure Prevent Gold.
CEO of Vinamilk Marketing Phan Minh Tiên said Vinamilk always attached great importance to strategic cooperation with leading nutrition corporations in the world such as CHR Hansen Holding (Denmark), DSM (Switzerland) and Dupont (United States).
Tiên said Vinamilk's domestic and international strategic partnerships were part of the effort to help Vinamilk fulfill the company's mission for many years.
"Vinamilk always strives to apply the world's leading nutritional technologies and solutions, constantly improving product quality for the outstanding development of children as well as the health of millions of Vietnamese families," Tiên said.
Through the Vietnam Chief Nursing Club, Vinamilk has recently presented 10,000 products of Sure Prevent Gold to patients in need, who are currently being treated at hospitals in Hà Nội. Vinamilk Sure Prevent Gold is a new product with hydrolyzed Calcium and Collagen for strong bones, Plant sterols and Omega-3 DHA for heart support, which have been clinically proven to increase overall health and resistance for the elderly, especially during the current COVID-19 pandemic. 
Vinamilk Sure Prevent Gold with a balanced and complete nutritional source is a nutritional solution to help restore health for the elderly. The product conducted research on nutritional improvement with patients before and after surgery in 2017. 
• Contribute to building strong bones and joints by supplementing calcium/phosphorus/vitamin D in a consistent proportion with hydrolyzed collagen.
• Support for reducing cholesterol, protecting the heart with plant sterols
• Contribute to enhancing resistance with glucoraphanin, zinc and selenium
• Support for memory enhancement, constipation prevention, fatigue reduction, sleep well with SPS (soy phosphatidylserin), fibre FOS + 29 essential vitamins and minerals