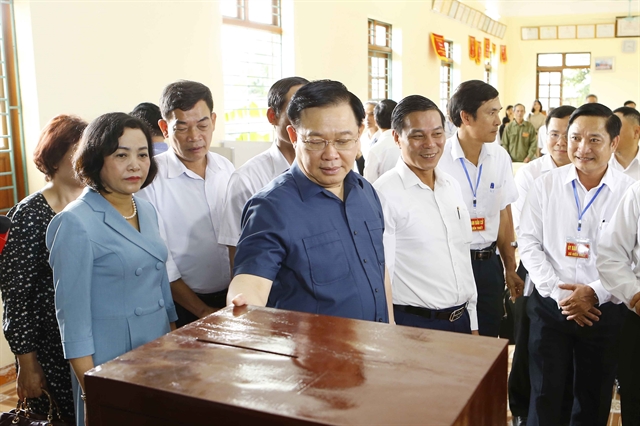 National Assembly chairman Vương Đình Huệ checks a ballot box in Nam Tử 2 Hamlet, Tiên Lãng District, Hải Phòng City. — VNA/VNS Photo Doãn Tấn
HẢI PHÒNG — National Assembly (NA) chairman Vương Đình Huệ visited a polling station in Tiên Lãng District, the northern city of Hải Phòng, on Tuesday to inspect the city's preparations for upcoming elections.
Huệ, who is also president of the National Election Council, and the NA Standing Committee's supervision team checked the list of the voters, ballot boxes and talked with the local election organising team and residents of Nam Tử 2 Hamlet, Kiến Thiết Commune.
The commune has nine polling stations and the station at Nam Tử 2 Hamlet has published a list of 617 voters.
According to Tiên Lãng District's election committee, the district has 122,757 voters, about 50.8 per cent of whom are women.
There are 11 election units that will select deputies to the district People's Committee in the 2021-26 tenure and 169 election units which will select deputies for the commune-level People's Committee.
The number of candidates running for the district People's Committee election is 35 while there are 538 candidates running for election to the commune People's Committee.
As of Tuesday, all towns and communes in Tiên Lãng District have finished publishing lists of voters at polling stations.
The district's election committee has established 11 inspection teams and conducted the first inspection. The committee has received no complaints or denouncements regarding candidates running for seats on the district People's Council.
NA chairman Huệ praised local authorities for their election preparations, especially public communication work, saying the process of collecting public feedback on candidates in the district had followed regulations.
Noting that the election of the 15th NA and People's Councils at all levels for 2021-26 tenure is an important event, Huệ urged Tiên Lãng District's authorities to continue making good preparations.
The election must be organised in a manner that ensures democracy, is in line with laws and is safe and economical, with an aim to elect worthy deputies who represent the will and aspirations of people, he said.
He spoke highly of Hải Phòng for the city's achievements in the previous elections including a high electoral turnout rate and the high quality of deputies elected.
Huệ said the election would be held in only one month and 10 days but the amount of work to be done was huge. He asked the Việt Nam Fatherland Front and election committees at all levels to work closely to ensure the best preparations.
Huệ requested authorities of Tiên Lãng District to continue reviewing the list of voters, especially voters living far from home, to ensure their voting rights. Local justice agencies must review unqualified voters who have had their voting rights deprived to remove them from the list.
He also urged the district to step up communication work to update local people with information about candidates so voters can select the right people.
Local authorities must also prepare to hold the elections if a COVID-19 resurgence or natural disaster strikes. — VNS