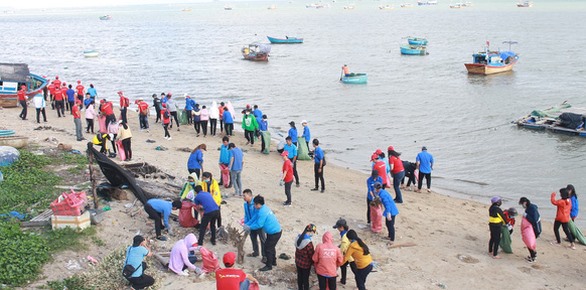 Volunteers and the young clean the beach in Khánh Hoà Province. — Photo tinhdoankhanhhoa.org.vn
HÀ NỘI — Việt Nam will join the ASEAN Working Group on Climate Change (AWGCC), as well as continue its coordinating role in performing activities in 2021, according to the ASEAN Senior Officials on the Environment (ASOEN)'s office in Việt Nam (ASOEN Vietnam Office).
This year, within ASOEN cooperation, Việt Nam will promote cooperation and sharing of information, data and experiences, and perform its role as the host country of the 11th AWGCC Meeting, the 5th ASEAN Environmentally Sustainable City (ESC) Award, the 4th ceremony to award the potential ESC certificate.
Việt Nam will proactively participate in and cooperate closely with Japan and other ASEAN member countries in implementing the ASEAN-Japan cooperation project on environment, climate change and marine waste, while maintaining close cooperation with the Republic of Korea and other member states to carry out cooperation programmes and projects on the environment and climate change.
It will work with partner countries and international organisations to implement ASEAN cooperation activities, including Norway, Germany, the European Union (EU), and the German Development Cooperation Agency (GIZ).
As a responsible member of the ASEAN Community, in 2020, Việt Nam demonstrated its efforts and determination to successfully fulfil responsibilities, contributing to the regional integration process in terms of natural resources and the environment, as well as playing a crucial role in expanding environmental cooperation.
Marine plastic debris, and marine and coastal environmental problems are seen as the biggest environmental challenges facing ASEAN countries, the office said.
Việt Nam strongly supports the building of an ASEAN action plan on marine plastic waste prevention, said Nguyễn Quế Lâm, Deputy Director-General of the Việt Nam Administration of Seas and Islands and head of the ASEAN Working Group on Coastal and Marine Environment (AWGCME).
Through building and implementing the regional action plan, ASEAN member states will agree on common standards, concepts and data, and jointly build a regional foundation serving sharing of knowledge, experience, and advanced applications in monitoring and minimising plastic waste, he stressed.
Việt Nam has been recognised as a country with high biodiversity. This has made a great contribution to ensuring food security and livelihoods for people, maintaining genetic resources of animals and plants; supplying construction materials and fuel and pharmaceutical sources, and forming natural landscapes.
Việt Nam has actively joined international treaties on biodiversity such as the Convention on Biological Diversity, the Ramsar Convention, the Convention on International Trade in Endangered Species of Wild Fauna and Flora (CITES), the UN Framework Convention on Climate Change  (UNFCCC) and the UN Convention on the Law of the Sea (UNCLOS).
Regarding the building of the ASEAN action plan on marine plastic waste prevention, Việt Nam and other ASEAN member countries have shown a spirit of cohesion to coordinate with the international community in solving global environmental issues.
At the 31st Meeting of ASEAN Senior Officials on the Environment (ASOEN 31) and related meetings, the Vietnamese delegation actively contributed comments and proposals to important issues, demonstrating its responsibility for the region, and strengthening multilateral relations as well as ties with each country within ASEAN and ASEAN+3.
Việt Nam also petitioned other ASEAN member countries to address urgent environmental problems, including cross-border water and air pollution, ocean plastic debris and climate change.
Amid the COVID-19 pandemic, Việt Nam also called on ASEAN member countries to closely cooperate and gather resources to effectively control the crisis. — VNS