Mrs. Le Thi Dinh, the last imperial maid of Vietnam's last feudal dynasty, the Nguyen Dynasty, passed away on February 21 in the ancient capital city of Hue at the age of 102.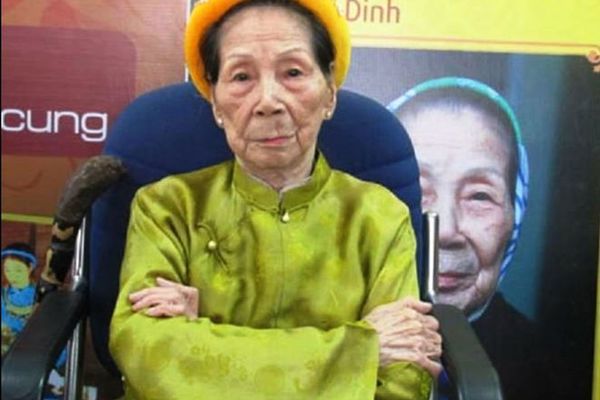 Mrs. Le Thi Dinh, the last imperial maid of the Nguyen Dynasty
Mr. Vo Le Nhat, Director of the Hue Monuments Conservation Center, told VietNamNet that the center sent its employees to Mrs. Dinh's home to prepare for the funeral.
"The family asked for the center's support to hold the funeral. But due to the complicated situation of Covid-19 epidemic, the funeral will be organized by the family," Nhat said.
Mrs. Dinh's son – Mr. Nguyen Nhu Tri – said that three years ago, Mr. Dinh fell and was bedridden.
"My mum's health got weaker recently. She passed away at 13:45 yesterday (February 21)," Tri said.
The funeral will be held on February 28, he added.
According to historical documents, at the age of 8, while attending Dong Khanh school, Mrs. Le Thi Dinh was summoned by the Queen (the wife of King Dong Khanh).
When Dinh was 15, the Queen passed away, and after that she served the wife of King Khai Dinh.
Each month, Ms. Le Thi Dinh was paid six dong (equivalent to 600 cans of rice).
After the August Revolution in 1945, the Queen moved to An Dinh Palace and then the house at No. 147 Phan Dinh Phung Street, Hue City. Mrs. Le Thi Dinh followed the Queen as her maid.
Mrs. Dinh was a palace maid but also a descendant of the royal family as she is the granddaughter of prince Ung Quyen, and third brother of Kings Kien Phuc, Ham Nghi, Dong Khanh. So after the Queen died, Mrs. Dinh moved to Kien Thai Vuong Palace to take care of the altars of kings Dong Khanh, Kien Phuc, Ham Nghi and Khai Dinh and later King Bao Dao (since 1997).
Hue cultural researcher Tran Dai Vinh said that Mrs. Le Thi Dinh is considered the last palace maid of the Nguyen Dynasty and "her death is a great loss".
"Mrs. Le Thi Dinh had a thorough understanding of the customs, makeup, rituals and costumes in the court. She was the one who had access to the royal ways of the last feudal dynasty of Vietnam," Vinh said.
Quang Thanh