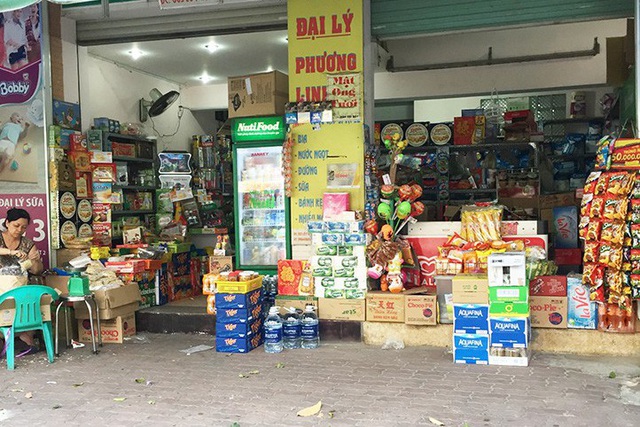 A convenience store in HCM City's Tân Bình District. — Photo dantri.com.vn
Compiled by Thiên Lý
Despite being on the same street as three convenience stores, the grocery store owned by Nguyễn Ngọc Dung on Yên Thế Street in HCM City's Tân Bình District is always crowded, especially during peak hours.
Trần Hạnh Hương, who lives nearby, says she buys most items her family needs everyday like soap, cooking oil, instant noodles, shampoo, and tissue from this store.
Asked why she prefers to shop there instead of the convenience stores or supermarkets that are nearby, she says: "It takes me little time to buy there while prices are a little lower than at convenience stores and supermarkets.
"My family also goes shopping to the supermarket during weekends and we buy fresh food there since we believe such products may be safer there than at wet markets."
There is also another reason for many housewives like her to patronise the corner grocery store instead of modern retail outlets that are mushrooming and offering convenience to shoppers.
Dung explains, "Most of my shoppers are regular customers so I am always ready to let them buy something on credit when they forget to bring or do not have money."
Vũ Vinh Phú, former deputy director of the Hà Nội Department of Trade, said grocery stores have for decades enabled producers to distribute their products in the quickest and most convenient manner.
"Buying at the grocery store has become a part of popular culture, especially in remote areas like islands and mountainous regions where modern retail has yet to make an appearance."
According to Nielsen data, Việt Nam has more than 1.4 million grocery stores and 9,000 traditional markets which generate revenues of around US$10 billion, or 75 per cent of the country's retail market share.
In recent years many supermarkets have been forced out of business while small grocery stores have been growing in popularity.
According to analysts the latter have begun to use technology, which has given them a further fillip.
Many use technology for selling online, which enables them to sell not only dry goods but also fresh foods and deliver them efficiently.
Realising the potential of grocery stores, conglomerate Vingroup recently returned to the retail market with the launch of the VinShop mobile app.
It is a B2B app that connects traditional grocery stores with suppliers. It allows store owners to get hundreds of products from suppliers in one order within a day.
It is also connected to VinID, making it Việt Nam's first B2B2C channel.
The app has already been downloaded by more than 20,000 grocery store owners in Hà Nội and Hồ Chí Minh City, and the number is expected to climb to 300,000 by next year.
Analysts said there were signs the adoption of technology by grocery stores would take away business from big box stores, supermarkets and convenience stores.
Currently supermarkets are faced with certain limitations, which affect their competitiveness.
They include high discount rates and the cost for commodity codes , now estimated at VNĐ10-20 million for a batch of goods to be sold at the supermarket. With many other expenses on top, supermarkets are forced to sell at higher prices than grocery stores.
Owners of small shops have a good understanding of local consumers' needs especially at a time when the country is integrating globally.
Their small scale makes them agile and adopt product changes quicker than chain stores and supermarkets.
Experts however stressed the need for grocery stores to continue to modernise quickly.
To continue dominating the retail market, they said traditional retail models like wet markets and grocery stores need to take full use of their existing advantages while enhancing the use of new technology.
Besides, they should not compete with the large chains' stores on price alone but also sell private label and high-quality products and provide good customers with good service, they added.
Bike market stuck in low gear
Việt Nam's motorbike market has been shrinking in recent years.
According to figures from the Việt Nam Association of Motorcycle Manufacturers (VAMM), its members' (Honda, Piaggio, Yamaha, SYM, and Suzuki) sales last year were down 17 per cent to 2.7 million units despite the launch of many new models and big discounts.
Honda remained the top seller, but its sales fell by 16.7 per cent. SYM reported a fall of over 20 per cent while Piaggio's sales were marginally down.
Only Suzuki achieved growth with a 12 per cent increase in sales.
In 2018 3.3 million bikes were old, and it fell to 3.2 million in 2019.
The decline has eroded the profits of manufacturers and hit their sales agents hard.
Industry insiders expect demand to increase this year, but by not more than 5 per cent.
In the long term the downward trend will continue, and the market could shrink to 2.5 million by 2024.
VAMM expects to boost sales with exchange offers, especially in big cities like HCMC and Hà Nội, offering owners of old bikes replacements at competitive prices.
The Government has plans to phase out old bikes as part of efforts to reduce pollution in the two biggest cities. — VNS