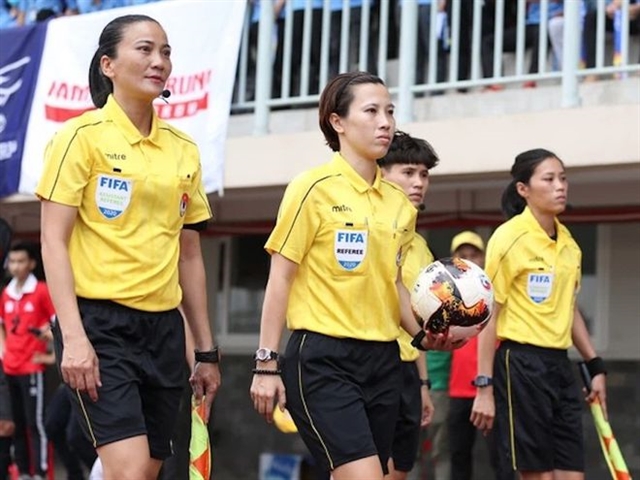 Referee Bùi Thị Thu Trang (centre) and referee assistant Trương Thị Lệ Trinh (left) are expected to work at the Women's World Cup Australia/New Zealand 2023. Photo courtesy of VFF
Football
HÀ NỘI — Three Vietnamese officials are in line to officiate key FIFA tournaments in 2021 and 2023.
Referee Bùi Thị Thu Trang and assistant referee Trương Thị Lệ Trinh are among a pool of about 750 officials with the opportunity to work at the Women's World Cup Australia/New Zealand 2023.
The world football world governing body will select 56 referees and 100 assistants from this list to work at the tournament, to be held from July 10 to August 20, 2023.
Shortlisted candidates face a more than two-year selection process before the final list is decided.
Both Trang and Trinh have significant experience on the global stage.
Trang has been officiating international events since 2016 and was the only Vietnamese referee to work at the 2018 Asian Games in Indonesia. The 35-year-old took charge of the women's match in which China beat Tajikistan 16-0.
Trinh, meanwhile, has experience of nearly 10 years in this field. She became a FIFA official in 2012 and work at the Women's U17 World Cup in 2016 and 2018. She was the ASEAN Women's Referee Assistant of the Year in the 2016-17 season.
In futsal, referee Trương Quốc Dũng has the chance to work at the World Cup Futsal later this year in Lithuania.
Dũng was among 76 names chosen to prepare for the tournament but only 38 will be selected.
The 40-year-old previously worked at the 2016 edition in Colombia, making him the first and only Vietnamese official to work at a World Cup.
"It is an honour to be invited by FIFA and I am happy to have a chance to work with the famed Pierluigi Collina who takes charge of updating the latest rules and knowledge for us," said Dũng.
Candidates took two online lessons in early February and will have practical sessions until August.
FIFA will keep a close watch on the candidates' progress by regularly sending reports to national football federations.
It requires candidates to use the FIFA World Cup's liaison platform on a weekly basis to update information on their matches, seminars and training courses, along with injuries and special issues that may affect matches and their stamina.
They have to meet the monthly fitness requirements of FIFA which also regularly sends reports to national federations to see the progress of the candidates.
Member associations are encouraged to assign their referees to work at national highest level tournaments including events for men to improve their abilities.
In 2021, the Việt Nam Football Federation plans to continue holding national women's football tournaments and also hopes to add two futsal events — the national women's futsal championship and the women's futsal national cup.
In the latest actions, VFF has appointed three elite assistant referees to work in the V.League 2. They are Nguyễn Thị Hằng Nga of HCM City, Hà Thị Phượng of Hải Phòng and Trinh of Long An.
It will be the first time that female assistant referees will officiate a national professional competitive match for male athletes.
Phượng had the chance to make history last year but she failed the physical test.
The V.League 2 will kick off on March 19 with the participation of 13 teams. V NS