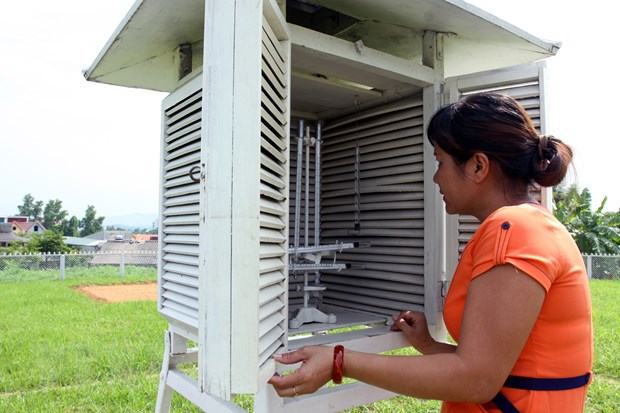 HÀ NỘI — Improving the capacity of hydro-meteorological monitoring and forecasting as well as strengthening international co-operation are identified as two major tasks of the national hydro-meteorological sector in the future.
Professor Trần Hồng Thái, director general of the Việt Nam Meteorological and Hydrological Administration said the sector needed to develop, focusing on investing in science, technology and human resources.
It was also advised to fully apply the nation's scientific and technological achievements and look at other technological achievements from around the world, he said.
The sector should continue perfecting the network of national hydro-meteorological monitoring stations, especially automatic monitoring stations to get more accurate data serving natural disaster prevention and control, socio-economic development and national security and defence, he added.
Collecting data from satellites to forecast weather developments on a large scale such as typhoon, tropical low-pressure system and monsoon should be strengthened, he said.
The equipment for weather radar networks was imperative so the sector could issue more accurate warnings on small-scale weather phenomenon including tornados, hail and flash floods, he said.
The sector's computer systems should be upgraded to meet the requirements of processing, calculating, storing and exploiting data to serve hydro-meteorological forecasting in the future, he said.
Talking about international co-operation, Thái also said Việt Nam would continue taking advantage of foreign aid to develop new methods and technology as well and training human resource staff.
Hoàng Đức Cường, deputy head of the administration said Việt Nam already committed to supporting the region in two programmes of the World Meteorological Organisation – Dangerous Weather Forecasting Project and Flash Flood Warning Indicator System for the Southeast Asia.
Việt Nam also actively participated in the activities of the Asian Regional Meteorological Association, which connected with the members of the regional office of the World Meteorological Organisation, the Technical Committees and Regional Associations, he said.
The country was also eager to receive technology support as well as experience from other countries, especially in strengthening its capacity for warning and forecasting, he said.
Through international co-operation, the sector had made many efforts to help Laos and Cambodia in training professional staff, developing the hydro-meteorological station network for a long time, he said.
During the period of 2010-20, the sector had completed tasks in the framework of multilateral co-operation (with the World Meteorological Organisation, Storm Committee, ASEAN Sub-committee on Meteorology and Geophysics) and bilateral co-operation with Meteorological Agency of South Korea, China, Laos, Japan, Finland, Italy and Norway, he said.
Efforts to reduce natural disasters
Director of the National Centre for Hydro-meteorological Forecasting Mai Văn Khiêm said although natural disasters appeared with high frequency at the end of 2020, but by its efforts and close co-operation with all relevant ministries and localities, the centre had forecasted and warned quickly and accurately about natural disasters through thousands of forecasts and warnings on websites www.nchmf.gov.vn, www.kttv.gov.vn, www.thoitietvietnam.gov.vn and via mass media.
The centre also constantly updated weather forecasts via its Facebook and Zalo pages so people could react to warnings quicker, he said.
Data showed the centre had tracked and forecasted 13 storms, one tropical low-pressure system, 24 cold spells, 13 heat waves and 19 large-scale torrential rain storms last year, he said.
It also warned very early of drought and saltwater intrusion in the central region and the Mekong River Delta; and torrential rains in the central region, contributing to proactive response, prevention and control of natural disasters from the central to local-level authorised agencies between September and November 2020, he said.
Mai Thị Thu Sương, an observer of Thạch Hãn Hydro-meteorological Station in the central province of Quảng Trị, said day or night, sunny or rainy, observers of the station would work monitoring the information.
Accurate data would produce accurate warnings of natural disasters, she said.
Phan Ngọc Tính, head of the station said they knew that early and accurate warnings would help reducing damages caused by natural disasters for the people and potentially save lives. — VNS