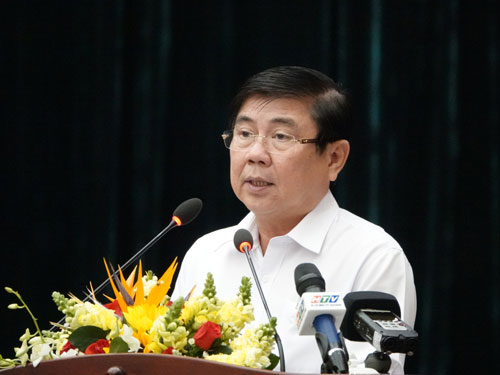 Nguyễn Thành Phong, chairman of the HCM City People's Committee, speaks at a meeting on reforming administration of the city. VNS Photo Bồ Xuân Hiệp
HCM CITY — HCM City plans further administrative reforms as part of efforts to enhance its competitiveness and attract more investment under a new urban administration model, its People's Committee chairman has said.
Nguyễn Thành Phong told a meeting held to discuss urban administration that the new model, to be implemented from July under a National Assembly resolution, would streamline governance and resolve some major issues faced by the city.
It requires administrative decisions to be made by grassroots-level authorities, the public and enterprises in a timely, precise and organised manner, he said.
The model would help reduce the time taken to finalise socio-economic plans, he added.
The city began abolishing district and ward people's councils years ago to reduce duplication of responsibilities and tasks and reduce expenditure, and governance improved.
In a rapidly growing urban area like HCM City, district and ward people's councils are an intermediary authority with limited powers that slows down the process of governance.
Phong said the city would this year restart the elimination of people's councils, getting rid of them in 19 districts and 259 wards by around mid-year.
In November last year, the National Assembly passed a resolution on urban administration in HCM City that includes elimination of people's councils at district and ward levels.
It provides for the city People's Committee and People's Council, but at the district and ward levels there is only the former.
The organisation of other administrative units in the city is governed by the Law on Local Government Organisation.
Interestingly, Thủ Đức City in HCM City, formed by merging Districts 2, 9 and Thủ Đức, has a People's Council and People's Committee. — VNS