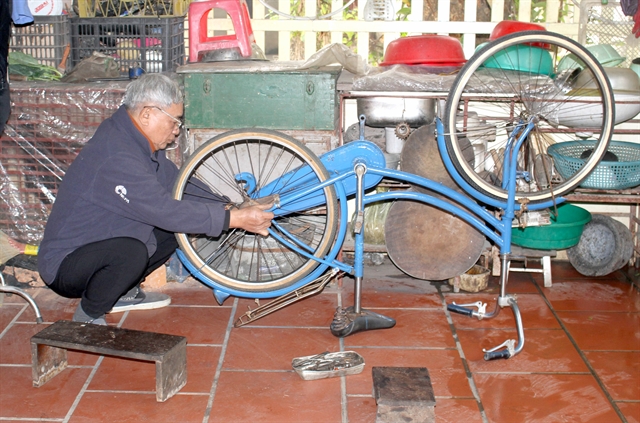 70-year-old Lê Trọng Kính, from the northern province of Ninh Binh, collects old and used bicycles, repairing before giving them to poor students. VNA/VNS Photo Thuỳ Dung
NINH BÌNH – A man from the northern province of Ninh Bình has spent the last 10 years collecting old bicycles, repairing them and giving them to those less fortunate.
The bicycles that Lê Trọng Kính provides aren't worth much money but greatly ease the hardship for students to pursue their studies and motivate disadvantaged people to overcome difficulties.
The 70-year-old has presented more than 150 bicycles to needy people so far.
The idea came to him after his daughter's charity trip to several northern mountainous provinces. During the trip, she saw a large number of students who lacked clothes and textbooks. Their families couldn't afford their vehicles so they had to walk long distances to get to school.
Kính said he sent several bikes that he had just assembled to needy kids in the region.
The story inspired him to repair as many bicycles as he could to give to disadvantaged students and families in his area.
Kính said that after leaving the army, he worked as a teacher at the Vietnam-Russia Vocational College of Electro-mechanics and Construction in Ninh Bình Province's Tam Điệp City.
As he had a passion for antique bicycles, he often bought them to revamp and collect, he recalled.
After he retired, seeing many families had discarded old bicycles, he decided to buy and repair them for his family.
"Nowadays, many people use motorbikes and electric bikes so old bicycles are hardly used and to be sold," Kính said.
He said it cost him between VNĐ100,000-300,000 (US$4.3-$13) to buy an old bike but it would take a long time to fix them because it's not easy to find spare parts.
He could go to repair shops to purchase a few spare parts but for rare ones, he had to wait.
To save money, he often collects spare parts from scrap dealers.
"Sometimes, I have to buy two or three old bicycles to assemble and refurbish into a complete bike. It takes me at least two days, a week or even a month to finish a bike."
After assembling, Kính paints the bikes to make them like new and spends time fixing the chains and brakes before giving them away.
As word spread about his efforts, many people supported him by giving used bikes.
Eighteen-year-old Nguyễn Hồng Ngọc, who was given a bike, said she was grateful for the gift.
"My hardship has been eased as I have a bike to get to school," she said.
Ngọc and seven-year-old Phạm Đăng Quang were adopted by nuns at Trung Sơn Pagoda in Tam Điệp City and used to walk to school which is several kilometres away.
"When the bike breaks down, I usually bring it to Kính's house to ask him to fix it. He does not take money for the repairs and even tells us to strive to study well," Ngoc said.
Talking about Kính, Phạm Trung Sơn, secretary of residential group No 5 of Trung Sơn Ward, Tam Điệp City, said Kính always upheld the characteristics of Uncle Ho's soldiers and the good nature of Vietnamese people.
"The good examples of people like Kính have contributed to spreading the spirit of caring for other people of our nation."
Sơn said he hoped that Kính would stay healthy so he could continue his meaningful work for the community. — VNS