NA Chairman Vuong Dinh Hue held phone talks with the Speaker of Australia's House of Representatives Tony Smith on June 7 to boost the strategic partnership between the two countries and the relationship between the two parliaments in particular.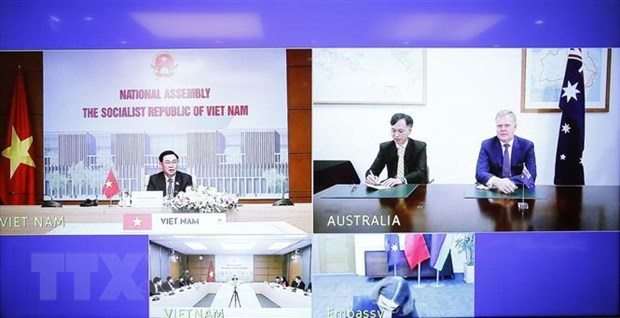 Phone talks between NA Chairman Vuong Dinh Hue and Speaker of Australia's House of Representatives Tony Smith
Both sides affirmed that the strategic partnership is developing in a more reliable, practical, and deeper manner. Amid the complex developments of the COVID-19 pandemic, the two have maintained regular exchanges and meetings, reflected through a phone call between Prime Ministers Pham Minh Chinh and Scott Morrison and the signing of an Action Programme to implement the Strategic Partnership for the 2020-2023 period.
Bilateral trade turnover reached 8.3 billion USD in 2020, up 5 percent year-on-year. Australia is still supporting Vietnam in the 2021-2022 fiscal year, and has increased its investment in the country in the fields of agriculture, infrastructure, and education.
Assessing Australia as a power that plays an increasingly important role in the Asia-Pacific region and the world, Hue suggested the two sides continue to maintain exchanges and meetings at all levels; intensify economic and trade cooperation; strive to quickly double current two-way trade; promote cooperation in defence, military medicine, cyber-security, and science and technology; extend the duration of stay and reduce visa costs for Vietnamese citizens; support equitable access to COVID-19 vaccines; and transfer vaccine production technology to difficult countries, including Vietnam.
He invited Smith to pay an official visit to Vietnam shortly, and asked him to create the conditions needed for the two countries' parliamentarian groups to exchange experience in supervising important issues and improve the legislative role in developing bilateral relations.
Smith agreed with Hue's proposals, revealing that Australia has committed to providing Vietnam with 40 million AUD (30.9 million USD) to access COVID-19 vaccines.
He expressed his wish to visit Vietnam as soon as the two countries open their borders.
The two leaders also discussed regional and international issues of mutual concern. Regarding the East Sea issue, they affirmed their consistent stance of maintaining peace, stability, navigation and aviation security, safety and freedom in the East Sea, as well as peacefully settling disputes on the basis of international law, especially the 1982 United Nations Convention on the Law of the Sea (UNCLOS 1982)./. VNA