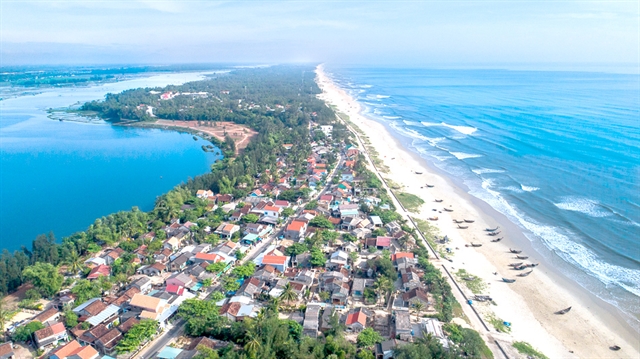 A section of the Trường Giang River flows along with coastal area of Quảng Nam Province. The central province plans to upgrade the river as a key inner waterway for smooth traffic connection. Photo by Thanh Hà
QUẢNG NAM — The central province of Quảng Nam plans to upgrade the inner waterway on the Trường Giang River as a key traffic system in line to boost transport options from Quảng Nam to National Express systems and the Central Highlands region.
Chairman of the provincial people's committee Lê Trí Thanh said construction work would be slated for 2022-27 with an estimated investment of VNĐ2 trillion (US$87 million), of which 70 per cent funded by the World Bank.
He said the project will include dredging the 67km river section from Cửa Đại to Cửa Lở estuaries winding through the districts of Duy Xuyên, Thăng Bình, Núi Thành and Tam Kỳ City.
Thanh said the two-lane river route was designed for access of 100 dead-weight tonne (DWT) ships while serving as a major flood release.
Nguyễn Thanh Tâm, director of the provincial traffic investment and construction management board, said the river traffic project would include dredging of 4 million cubic metres of sludge and mud and building an 11.5km concrete dyke and five bridges.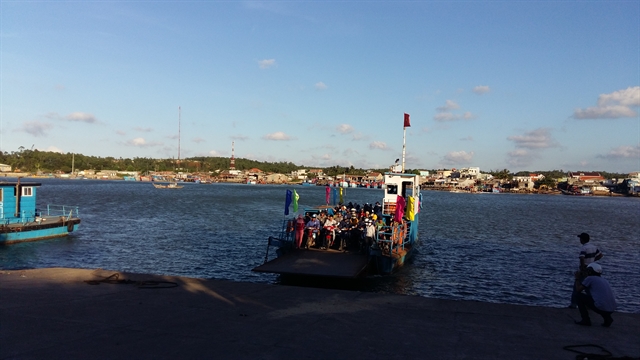 A ferry carries commuters crossing the Trường Giang river to Tam Hải Island in Quảng Nam Province. The river is designed for better traffic in the near future. — VNS Photo Công Thành
Tâm said the project would complete dredging works in 2025.
Earlier, the province commenced dredging the Cổ Cò River to boost tourism links between Hội An and Đà Nẵng.
According to Quảng Nam authorities, the river route will help boost smooth traffic systems including the coastal road connecting Tam Kỳ city with Chu Lai Airport and Chu Lai Open Economic Zone in the linkage with Chu Lai Economic Zone, the Đà Nẵng-Quảng Ngãi Expressway and the Dung Quất Economic Zone in neighbouring Quảng Ngãi Province.
Chairman Thanh said Quảng Nam would continue to invest in traffic infrastructure to lure more investment projects. — VNS