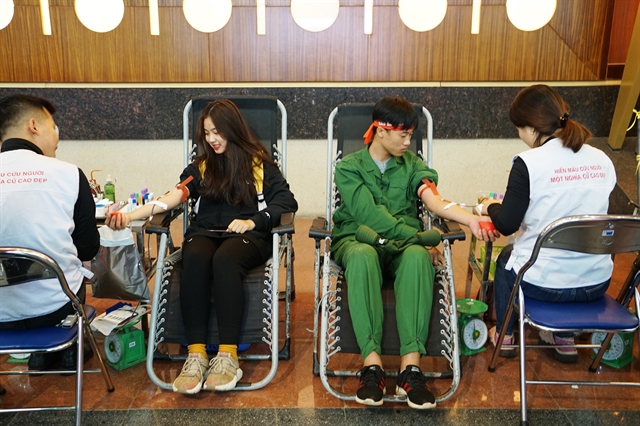 Youngsters donate blood at the 2020 Chủ nhật đỏ (Red Sunday) Blood Donation Festival in Hà Nội. — VNS Photo Thanh Hải
HÀ NỘI — Health experts have called on the community to maintain blood donation activities to ensure blood sources for emergency aid and treatment at hospitals on the occasion of World Blood Donor Day (June 14).
President of the Việt Nam Red Cross Society and Permanent Deputy Head of the National Steering Committee for Voluntarily Blood Donation Mobilisation, Nguyễn Thị Xuân Thu, said that COVID-19 seriously impacted blood donation mobilisation and collection activities.
"On this occasion, we call on those who are healthy enough to donate blood, which is the responsibility and sacred duty of every citizen. I also request the Steering Committees at all levels and relevant authorities to honour and praise typical examples of blood donation and mobilise relatives and friends to participate in blood donation, especially amid the COVID-19 outbreak in the community," said Thu.
The appeal was made as blood shortages have occurred across the country due to a decline in blood donors amid the COVID-19 pandemic spreading in many provinces and cities nationwide.
"Each unit of blood is valuable as a lifebuoy for the patient. I want each person to stay healthy so that they can keep a regular blood donation rhythm and to give patients the safest blood source," said the National Institute of Hematology and Blood Transfusion director Bạch Quốc Khánh.
Khánh said the COVID-19 pandemic has greatly affected blood donation activities and blood transfusion safety globally as well as in Việt Nam. Despite challenges of organising blood donations during the pandemic, millions of people around the world still continue to make efforts to donate blood, including blood for treating COVID-19 patients.
"Over one million blood donations in our country in 2020 and tens of thousands of people who came to donate blood during the COVID-19 outbreak have shown the community's responsibility in helping the health sector overcome the blood shortage," said Khánh.
"I'm very happy to say that all blood donors are safe and none tested positive for SARS-CoV-2. Ensuring the safety of blood donors, medical staff and blood recipients is always the number one priority of blood transfusion facilities," added Khánh
Up to 100 outstanding blood donors across the country were honoured for their contribution to the country's blood donation mobilisation movement in 2019. — VNS Photo Thanh Hải
On the occasion, 100 outstanding blood donors across the country will be honoured for their contribution to the country's blood donation mobilisation movement, 14 of them have donated blood 50 times or more. Huỳnh Thanh Hùng from HCM City has donated blood 74 times, followed by Nguyễn Hoàng Nhơn also from HCM City with 70 blood donations, Phan Vũ Quốc Chinh from HCM City donated blood 64 times, Nguyễn Văn Lâm from Trà Vinh Province 63 times and Nguyễn Văn Nguyên from Hà Nội 60 times. They have donated a total 3,220 units.
With the theme "Give blood and keep the world beating", World Blood Donor Day aims to raise global awareness of the need for safe blood and blood products for transfusion and of the critical contribution voluntary, unpaid blood donors make to national health systems.
The day also provides an opportunity to call governments and national health authorities to provide adequate resources and put into place systems and infrastructure to increase the collection of blood from voluntary, non-remunerated blood donors.
On this occasion, the World Health Organisation also called on the Government, health sector and blood transfusion services of countries to ensure sufficient resources and facilities to ensure the quality and effectiveness of blood collection.
In Việt Nam, the health sector has received more than 1.4 million blood units, equivalent to nearly 1.5 per cent of the population participating in blood donation; in which, 99 per cent of blood came from voluntary blood donors. In the first five months of 2021, blood donation campaigns such as the Red Spring Festival and the All People's Voluntary Blood Donor Day (April 7), the whole country collected nearly 425,000 blood units. — VNS