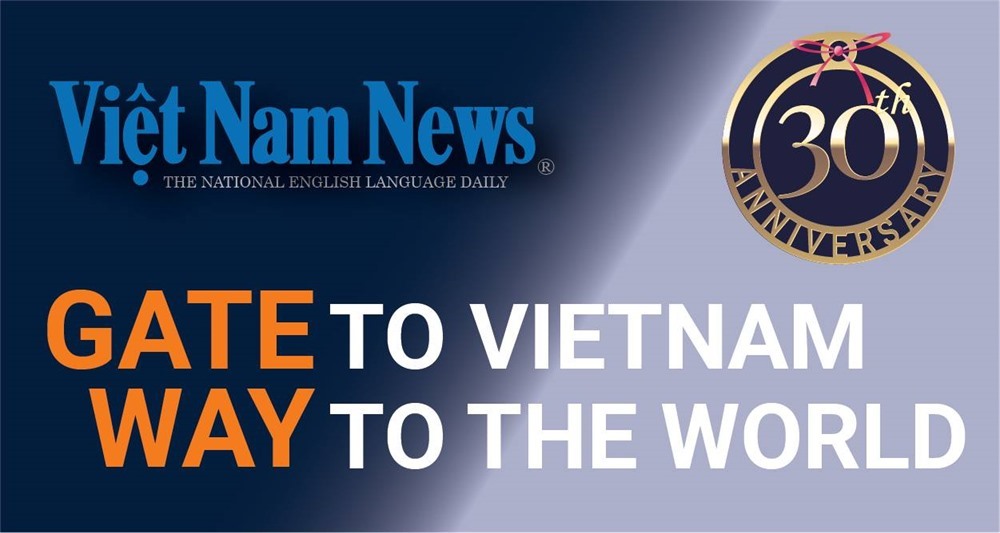 Bảo Hoa
If you are a shy introvert and apply to be a reporter, did you just dig a hole to bury yourself? Probably.
But I didn't know that when I applied to take Vietnam News Agency's reporter recruitment exam in 2016, which I passed, and was then assigned to work at the agency's English language daily newspaper, Việt Nam News .
I decided to sit that exam out of sheer desperation: I needed a job after quitting one at a communication agency, where part of my job was to write advertorials persuading people which particular make of car is best for them without knowing how to drive a car myself.
I did not have a journalism background and zero experience. If anyone had told me then one day I would be able to go out, interview people on camera, translate what they say into English, put together a video and maybe even a written story – all in a day's job – I would have laughed so hard because it was unthinkable.
But I have been working at Việt Nam News for five years now, and even though that doesn't seem very long compared to the paper's 30-year history, it has been a transformative journey for me.
I'm an introverted person, which means I'm quiet and don't like to talk much. I'm also shy, which means I'm scared of meeting new people, and of being judged when meeting new people.
But over the past few years I've spoken to so many people and learned so much about their lives, especially during the last three years when I was lucky enough to work in the multimedia team and produce videos, which required me to meet people physically, not just over the phone or email.
One video we did that I particularly remember was about the people in Hà Nội who live too close to the old railway system, which runs across the city. It was one of the first projects I took part in, and after having to report so many conferences, getting to film and speak to actual people felt like a new beginning.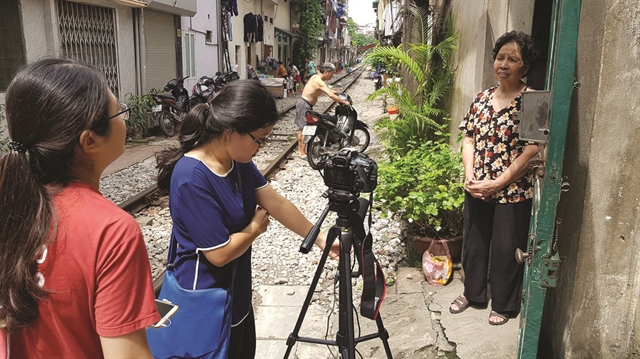 Interviewing a resident living on the Train Street in Hà Nội in June 2018. VNS Photo Paul Kennedy
It was also the first time I had to write a formal interview request to the city's authorities. Since then I have written dozens of requests, and even though I didn't get a reply for every single one of them, what the experience teaches me is do your job, reach out to people – even those that seem to be very busy, important people – and don't be afraid of not getting a response.
Another thing I enjoy about being a Việt Nam News reporter is that occasionally it lifts me out of my daily routine and gives me new perspectives on life.
I'm not a morning person. As we only start working at 9-9.30am, I'm usually not out of bed until seven, even eight o' clock in the morning.
But there were some occasions, such as February 26, 2019 when chairman of the DPRK Kim Jong-un arrived in Hà Nội for a meeting with the then US President Donald Trump, I had to get up before sunrise. My colleagues and I waited outside the Meliá Hotel, where Kim would stay, from 6am, in the hope of filming him, or his car.
Or when we decided to film a village that specialises in making sticky rice for a food series. We met at 3am in downtown Hà Nội and rode 30 minutes on our motorbikes to arrive at the village at 3.30am, just as local people started cooking a new batch of rice for the day.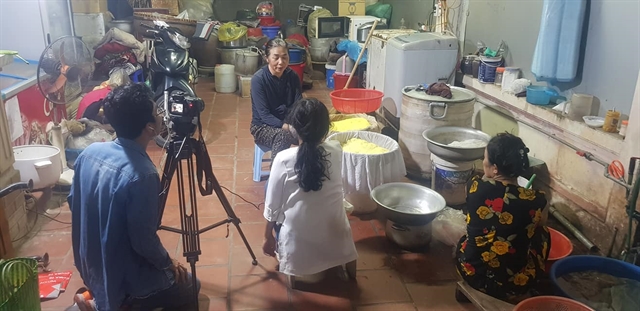 Interviewing a family in Phú Thượng Commune in Hà Nội, known as the sticky rice village, in July 2019. VNS Photo Paul Kennedy
And most recently, as we were making a video for our 30th anniversary, I got up at 2am to meet our newspaper delivery man at 3.30am at the office, and followed him through the streets of Hà Nội to film him delivering the papers to our clients. It was one of the most humbling experiences I've had, knowing he has been doing it for as long as the paper has been around.
Those are the times I'm reminded there's more to life than the stress, the deadlines and the stupid quarrels with an unreasonable colleague, and that there are people who are trying harder at life than I am.
Working as a reporter is tough. Working as a reporter for a daily newspaper in a foreign language is even tougher. I've lost count of the times I feel like crying when a story drops on my shift and I have to write it quickly while the copy editors and chief editor all wait to read it.
But I take pride in having a job that reflects life, and in the power to tell stories about Việt Nam to foreign readers.
With that in mind, I will keep pushing my limits. I will speak to more people and learn to write better stories. Even if it means my introversion will always get in the way. Even if it means I'll always get nervous before doing an interview, and have to ask my editors to check the questions in advance to make sure I'm not going to say anything stupid.
In the end, it's such a waste of life if we don't become a better version of ourselves every day. And I choose to do that by becoming better at my job. VNS