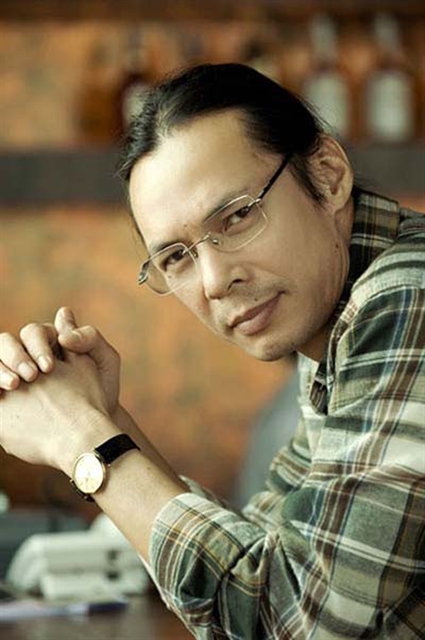 Actor Trần Lực films late celebrated musican Trịnh Công Sơn in motion picture Em và Trịnh (You and Trịnh). — Photo baophapluat.vn
HÀ NỘI — After a 10-year break, award-winning actor Trần Lực is expected to hit the screen with his new role in a motion picture about the musician Trịnh Công Sơn, set for release at the end of this year.
Sơn (1939 – 2001) is one of the most renowned musicians in Việt Nam and was famous for his anti-war songs and called the 'Bob Dylan of Việt Nam' by his fans at home and abroad.
Online Dân Trí newspaper reporter Hà Tùng Long spoke with actor Trần Lực about his new role.
It has been a long time since you were on the screen. What made you return for this film?
I have been close to the art of film much more than the stage during my career. I have just worked on the stage in the last five years. I love cinema and I've never thought of leaving cinema.
In my 20 years of acting, I sometimes need to have a break. I began working on the stage to refresh myself with my new passion.
The role of musician Sơn in the movie Em và Trịnh (You and Trịnh) is special. I liked this role very much even though I had not read the script yet. It inspired my acting.
I had to try my best for the casting because it had been ten years since I had been filmed. There were certain obstacles.
I know there are other artists who look much more like musician Sơn than me. The role requires singing, instrument playing and foreign language speaking. I had to learn French. Some film segments feature the musician meeting a Japanese girl in France. They spoke French then the girl learned Vietnamese and they came back to Việt Nam.
How did you prepare to portray the musician?
It is a portrait movie about a specific person. I had to research to portray the musician. I knew his music when I was small. The first time I listened to his music was the album Sơn Ca 7 – Khánh Ly và Trịnh Công Sơn (Nightingale 7 – Khánh Ly and Trịnh Công Sơn). I have been embedded in his music.
Plus, I read books about him and I also searched and collected some clips of him singing on the stage and his time with friends. So, I can imagine more clearly how was he on the stage and in life.
More importantly, I had the chance to visit and meet his younger sister's family. I was told a lot by her about the musician. She showed me his characteristics in his speaking.
Could you tell me about your weight loss for the role?
I weighed 74kg before casting. But musician Sơn was a slim man. I failed in the first casting because the movie producer thought I was a little fat. Actually, I know that they still doubt my weight loss. It is a problem at my age.
I was determined to lose 11kg and I began to convince the film crew. During my weigh losing time, I researched his life and his music career and the crew accepted me in the second casting.
Now, I see I almost look like him. I have to ask the producer to provide me with low-calorie meals and give me time to exercise during shooting.
Did you have to learn speaking with a Huế accent and sing Trịnh's music in the old style?
Learning to speak the Huế accent was simple for me. I just met and talked to a few Huế people to imitate their voice. I also observed his young sister because I think that they speak the same.
For a professional actor, it is not too difficult.
Sơn's music is something like zen not maudlin. His music is pure, romantic and philosophical. His music needs to be sung simply with refinement.
Maybe, I don't sing much like him but I have to express his spirit. I invited a tutor to help me sing.
You were successful in the role of President Hồ Chí Minh in the movie Nguyễn Ái Quốc in Hong Kong . Was the pressure when playing the famous musician similar?
I used to feel pressure with the role of Nguyễn Ái Quốc. This role, musician Sơn is difficult because he and his music are popular. But the more difficult and challenging, the more I like it. — VNS