Thanh Hà
We decided to travel by motorbike to Hà Nội's Phú Xuyên District (about 40km south of the city centre) to enjoy bún hến (fresh rice vermicelli soup with mussels) during the Liberation Day (April 30) and May Day holidays.
When we arrived in Phú Xuyên, which is famous nationwide for its traditional occupations such as tailoring and making tò he (toy figurines), we saw a wooden board directing us to the bún hến shop of Nguyễn Thị Bảo, 70.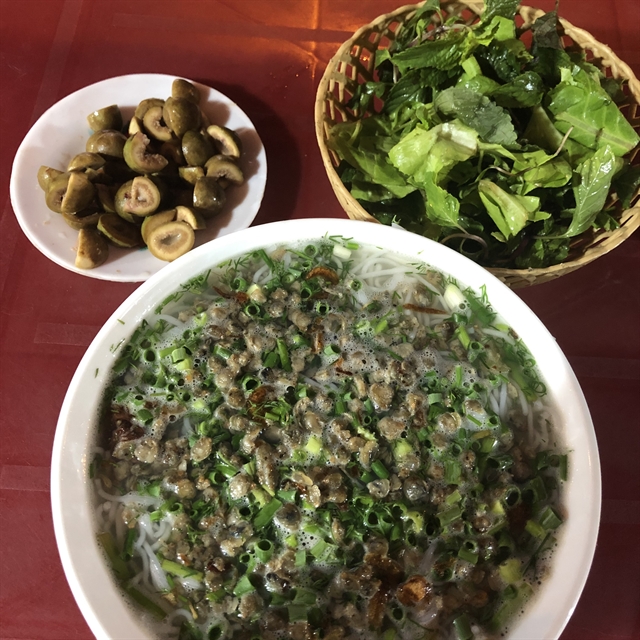 A tasty bowl of bún hến (rice vermicelli soup topped with fried mussels) that could make your mouth water. Photo bunhen.com
A local resident named Trương Văn Mạnh told us that Bảo has worked there for more than 30 years and her dish is the best in the district.
"I was interested in Bảo's dish since she opened up her shop. The dish helps keep the body cool in summer and warm in winter. I feel quite healthier after enjoying it," Mạnh said, noting that, unlike others who only work in the morning, Bảo sells her dish from 1pm until evening.
When we arrived at Bảo's shop, we saw several groups who had also come from central Hà Nội. A girl named Thái Thu Hoài told us that she and her friends often travel here to enjoy the dish.
"I've eaten vermicelli soup with mussels at several shops in Hà Nôi's Old Quarter but I recognise that Bảo's dish is tastier with its own flavour," Hoài said.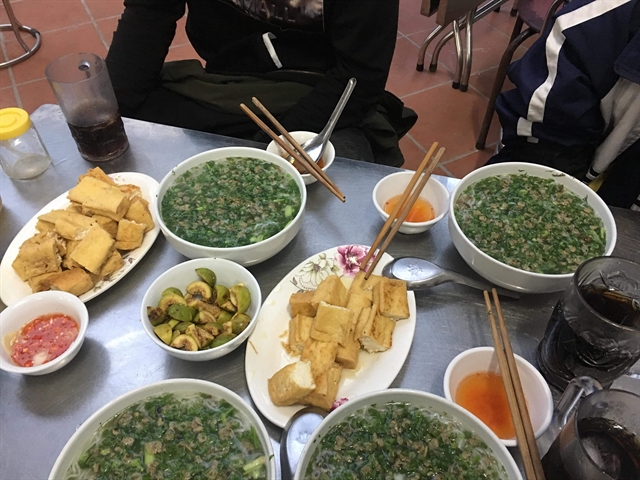 Bún hến is more enjoyable when being eaten with fried tofu and sour pickled fig. Photo Nguyễn Văn Cường
Bảo told us that she often buy 200-300kg of mussels in shell a day harvested from the neighbouring Mã, Hoàng Long, Cẩu and Dậm rivers to ensure that she has enough materials to cook bún hến .
"Apart from locals, many of my customers are from Hà Nội and surrounding provinces. They come to enjoy my dish and also bring some home for their parents and children," Bảo said.
A waiter brought me a big bowl of bún hến with smoke and fragrance tumbling out of it, making my mouth water.
The mussels were savoury and soft but still crispy while the fresh vermicelli was fragrant as if it had just been made from newly harvested rice. I particularly enjoyed the purity of the broth in addition to the attractive flavour of coriander and fennel as well as the lovely pungent smell from fresh green and red chillis.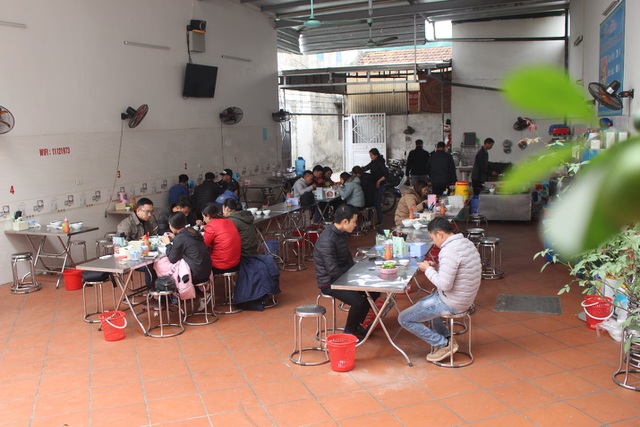 Customers are enjoying the vermicelli soup. Photo dantri.com.vn
Bảo said she uses medium-sized mussels because they have firm and tasty meat.
The process of cooking the mussels requires skill to ensure that the mussels are not too crispy without being fishy. They are fried with dried onions and fish sauce, she said, adding that she puts the vermicelli in the broth and waits until it is boiled pouring it into a bowl and topping it with fried mussels and other herbs. This is different from other shops which dip the vermicelli in boiling water then souse the broth in.
"By doing this, the vermicelli is being fully soaked with savoury broth," Bảo explained.
Bảo's daughter-in-law Trần Thị Hiền said she and her husband have been assisting her mother-in-law at the shop because "she is old enough to be retired".
"We sell the dish all year round except three days of Tết (Lunar New Year festival). Right after Tết we have to work to a full capacity to serve crowds of customers.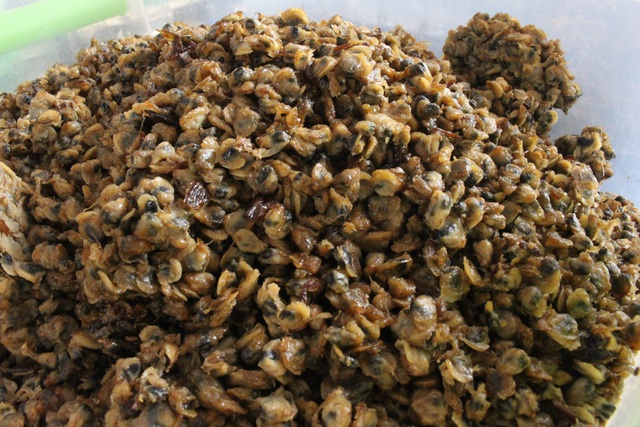 Cook has mussels shelled to get their 'meat', the main ingredient of bún hến. Photo dienmayxanh.com
Bảo said many locals and those from Hà Nội have asked her to give them her secret recipe but she refused because "not all people have an affinity with this job so I want to hand down the recipe of making the dish to my children only".
Apart from bún hến , housewives also cook chả hến (mussel-pork nuggets) or mussel soup to deal with summer heat, Bảo said.
Eastern medicine practitioner Nguyễn Văn Tuất from the Hà Nội Centre for Traditional Medicine said mussels are rich in folic, protein and vitamins.
"They are particularly good for patients with anaemia and cardiovascular diseases because they don't have much cholesterol," he said.
"My wife cooks the mussel sour soup or fried mussel dish twice or three times a week during summer. We all, including our grandchildren, feel healthy," Tuất added. VNS