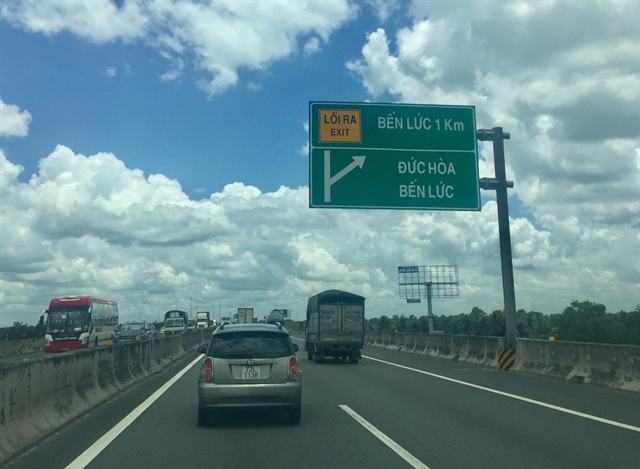 LONG AN — The Ministry of Transport has approved Long An Province's proposal to add the construction of a 60km-long axis road connecting HCM City and Long An and Tiền Giang provinces to a transport-infrastructure connectivity project in the Cửu Long (Mekong) Delta.
The road, to be named National Highway 50B, will pass through Cần Giuộc Bridge and bridges across Vàm Cỏ Tây and Vàm Cỏ Đông rivers.
The province has also proposed upgrading several other routes.
The ministry said that it would conduct research on the construction of bridges on the road after receiving approval from the Prime Minister.
Relevant agencies coordinated with localities to add the 60kim-long axis road to the national road network plan.
The provincial People's Committee has been asked to take funds from its local budget and call for capital from other sources to implement the public-private partnership (PPP) investment.
The ministry also plans to include several major transport projects in the province and the Mekong Delta region on a list of investment priorities to submit to the Government and ask for approval from the National Assembly for capital for the 2021-25 term.
The priority projects include upgrading and expanding a section on the national highway No 62 and sections on the N2 route, and upgrading the N1 route connecting Long An, Đồng Tháp and An Giang provinces.
Meanwhile, HCM City's Management Board Construction Investment Projects said that it would send a report to the municipal People's Committee and then submit it to the city's People's Council for a decision on investment in building a road connecting Trần Quốc Hoàn and Cộng Hòa streets in HCM City's Tân Bình District.
The project, which aims to ease traffic around Tân Sơn Nhất Airport, has a total investment capital of VNĐ4.85 trillion (US$209 million).
Of the figure, about VNĐ2.64 trillion ($114 million) will be for payment of compensation and resettlement, VNĐ1.7 trillion ($73 million) for construction, and the remaining for other expenses and contingency costs.
The road will have a total length of 4.39km with 4-6 lanes, including an underpass and an overpass bridge. Its construction is expected to begin this year and be completed in 2024. — VNS