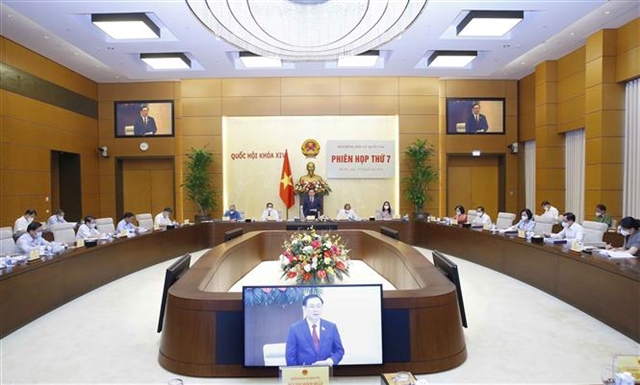 Chairman of the National Assembly Vương Đình Huệ, who is also Chairman of the National Election Council (NEC), speaks a the session. — VNA/VNS Photo
HÀ NỘI  — The National Election Council (NEC) voted and approved the minutes concluding the election of deputies to the 15th National Assembly (NA), held on May 23, during its seventh session in Hà Nội yesterday, with 100 per cent voting in approval.
All seventeen members of the council also approved the resolution announcing the results of the NA election and the list of elected NA deputies via a secret ballot.
Addressing the closing ceremony, NA Chairman Vương Đình Huệ, who is also NEC Chairman, said that the seventh session completed the set agenda.
The council held a press conference later the same day to announce the results of the NA election and the list of elected deputies.
A total of 500 NA deputies were elected from 866 candidates during the election, according to the council. However, the Election Council met yesterday and issued a resolution to not recognise the eligibility of one deputy – Secretary of southern Bình Dương Province's People's Committee Trần Văn Nam, for not qualifying as a NA deputy. The decision was made following authorised agencies' inspection and conclusions.
The turnout rate of the election was 99.6 per cent with more than 69.2 million voters going to the polls on May 23.
The full list of NA candidates is publicised on the official website of the election: https://baucuquochoi.vn . You can search for the candidates based on their name, gender, age or education level.
Earlier, assessing the election, NA Chairman Huệ said the election held on May 23 was a success. The election took place democratically and equitably in line with laws and safely, becoming a national festival of the whole population.
However, he said, some lessons could be drawn from the election such as continuing to study to amend regulations about elections, particularly the application of creative ways of voting which could be applied in future elections, not only during a pandemic, he said.
After the results were released, the NEC and the Election Committees at all levels will receive denunciations and complaints about the election's results and address them within 30 days.
The council is scheduled to hold its eighth meeting on July 12 to consider the results of addressing denunciations and complaints (if any), and consider the approval of a resolution confirming the eligibility of elected deputies.  VNS