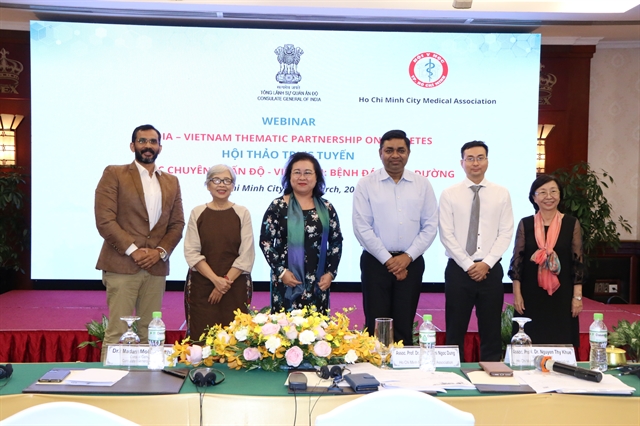 The Consulate General of India in HCM City and the HCM City Medical Association co-organised a webinar on diabetes management and diabetic patient care on March 27. Photo Courtesy of Consulate General of India in HCM City
HCM CITY — India and Việt Nam are experiencing an increase in diabetes cases, with a doubling of the number of cases every 10 years, health experts said at a webinar on "India- Việt Nam Thematic Partnership on Diabetes" held on Saturday.
Nguyễn Thị Ngọc Dung, president of HCM City Medical Association, said: "In Việt Nam, 3.5 million people with diabetes were reported in 2015 by the International Diabetes Federation Diabetes Atlas, and this number is forecasted to increase to 6.1 million by 2040."
According to a Health Ministry 2015 survey, the prevalence of diabetes in the 50-69 age group in Việt Nam was 7.7 per cent and was becoming younger.
"Only 31.1 per cent of diabetic patients are diagnosed. Most of them go to the hospital in the late stage. So, early detection helps patients save treatment costs and minimize complications, and we know that complications from diabetes are often very serious and most of the cost of treatment is to treat complications," Dung said.
Dr Mai Trọng Trí of the endocrinology department at People's Hospital 115 said: "Diabetic foot syndrome prevalence in Việt Nam is common and increasing."
Screening is very important to detect the disease early, Trí said, adding: "Multidisciplinary approaches in treatment of the syndrome are done to improve patient's outcome."
Three-minute foot exams for diabetic patients in primary and diabetic care clinics in rural regions in Việt Nam have been provided, he added.
Dr Nguyễn Thy Khuê, vice president of HCMC Medical Association and president of Diabetes Association, said that most of the latest medicines to treat diabetes are available in the country and covered by health insurance.
In the country's rural areas, access to this medicine is limited but those with sufficient financial resources can go to large cities such as Hà Nội and HCM City for treatment, Khuê said.
The cost for diabetes treatment, especially complications such as diabetic foot syndrome, is very high, she added.
One of the most effective treatments is to change lifestyle and exercise, she said.
In the early stages, patients only need to eat the right way and do exercise, she added.
Ambassador of India to Vietnam H.E. Pranay Verma said that India is among the top 10 countries with the highest diabetes incidences in the world, with 77 million patients. One in six people suffers from diabetes.
Indian and Vietnamese doctors are collaborating in treatment, especially for diabetes, Verma said.
Indian doctors said that awareness among the general population is crucial. All diabetics need risk assessment and evaluation for liver involvement. Diabetes as well as liver disease is a "ticking bomb".
Professor Jayanta Panda of the Srirama Chandra Bhanja Medical College said that the burden of diabetes in the young is significant as over 40 per cent of Indian population is under 29 years old.
Type 1 diabetes was previously thought to be only a form of diabetes in youth, but type 2 diabetes increasingly has been reported among youth, Panda said.
The webinar was held by the Consulate General of India in HCM City and the HCM City Medical Association to share information and experiences among colleagues in Việt Nam and India.
It featured presentations about the early onset of Type 2 Diabetes, fatty liver disease in diabetic patients, risk factors and clinical profiles of Asian diabetic patients with a focus on the similarities between Vietnamese and Indians, and a diabetic foot programme which reflects the endeavours of specialists in Việt Nam to coordinate multidisciplinary action to care for this common complication and improve its prognosis.
The Consulate General of India said this was the first time the Consulate had organised a medical webinar between doctors from India and Việt Nam. More webinars are planned on kidney, heart, liver, brain, spine and other medical subjects. VNS