Coral reefs off Cham Island have been well conserved with an average coverage of 59.16 per cent at seven sites following an annual reef check and coral clean-up programme.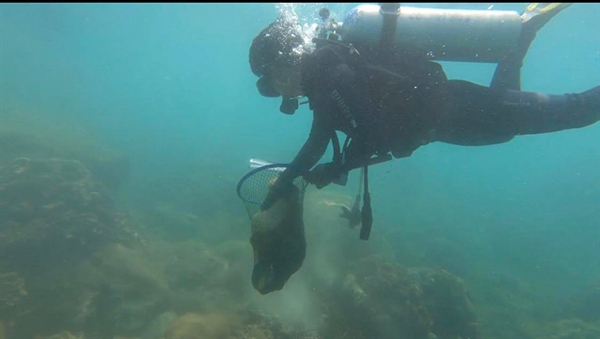 A diver collects waste at coral in the water off Cham Island. Coral population in the area was recorded well protected. Photo courtesy of Cham Island MPA
The management board of the Cham Island Maritime Protected Area (MPA) said coral population at the islets off Dai, Kho, La, Mo, Tai, Dau Tai and Xep beaches were seen as the best protected, while key species (living in coral reefs) including grouper and holothurian remained from five to 22 individuals per 100 sq.
Meanwhile, starfish and other coral eating species were rarely found during the check programme in early March.
However, plastic waste such as ghost nets and fishing lines still occupied 71.4 per cent of total waste collected.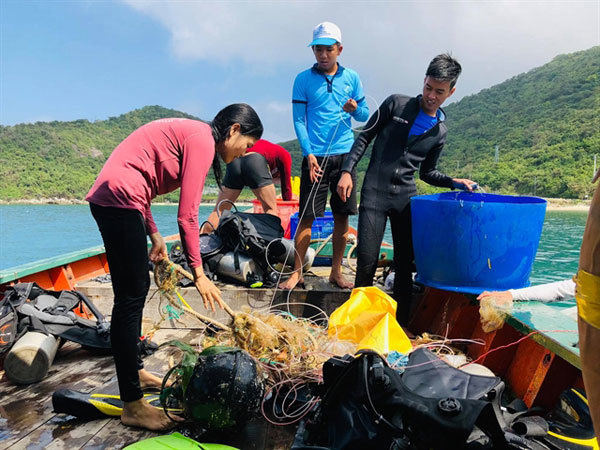 Plastic waste including ghost nets and fishing lines is cleaned up in the water of Cham Island during an annual coral check. Photo courtesy Cham Island MPA
According to MPA, sea grass coverage was 16.24 per cent – 10.2 per cent lower than 2019 check – but only areas off the Bac beach recorded the highest rate of well preserved with 34.24 per cent.
The MPA warned the excessive travel of speed boats and mass tourism had left harmful sediment on sea grass over past years.
Experts from the MPA said less mass tourism activities and waste around the Cham Islands – a world biodiversity reserve site – would help the marine ecosystem in waters off the islands recover.
They said more than 2,700 groups of coral species had been planted over 2,000sq.m in waters off the Cham Island in a pilot project from 2015-17, and coral groups have been well developed with a survival ratio ranging between 52 and 99 per cent.
The rapid development of coral reefs will shelter fish and aquatic species from natural disasters.
Cham island-Hoi An, which was recognised as a World Biosphere Reserve in 2009, is seen as one of few places in Vietnam successfully campaigning against plastic bags and promoting 3-R programmes.
It plans to build as the first zero waste site in Vietnam.
The reserve covers more than 33,000ha, including 1,500ha of tropical forests and 6,700ha of sea, featuring a wide range of marine fauna and flora.
VNS