Hoàng Vân Anh
Our entire lifestyle news desk went out to Bát Tràng recently, not for its famed pottery but to try the much-hyped "Bát Tràng feast" from culinary artisan Nguyễn Thị Lâm.
The chef is now over 70. She used to live in Hà Nội's Old Quarter, where home cooks are known not only in the capital but also countrywide for their refined methods. She was trained by her mother and mother-in-law, and has now passed down the craft to her daughter-in-law, who doubles as her sous-chef.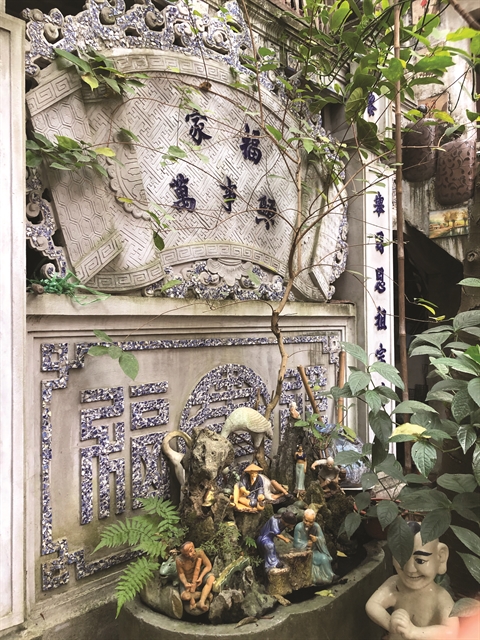 OUTDOOR DÉCOR: Traditional ceramic tiles and a miniature pond on the terrace. Photo Vân Anh
The house is traditional, with a large terrace filled with greenery and ceramic tiles. Inside are three tables for guests.
The feast did indeed fill us up, with a range of different dishes. There are generally seven plates and three bowls of food on a full festive table of Bát Tràng delights.
The seven plates include stir-fried kohlrabi and dried squid, assorted vegetable salad, fried spring rolls, stewed beef in bordelaise sauce, boiled chicken, stir-fried shrimp and vegetables, and sticky rice. The three bowls were different but delicious soups: pork skin soup, bamboo shoot and dried squid soup, and pigeon stew.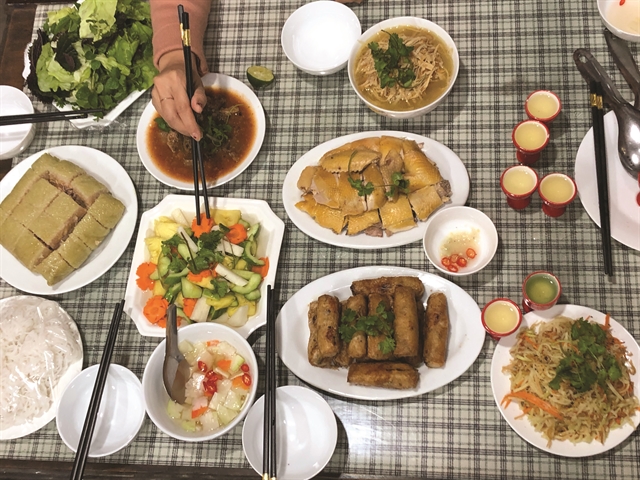 UP TO THE HYPE: The feast was very much something to look forward to. Photo Vân Anh
The bamboo shoot and squid soup had dried bamboo shoot stripped thinly by hand, which is uniquely Bát Tràng style, mixed with stir-fried dried squid in chicken broth.
The pigeon stew featured pigeon stuffed with a delicious filling of minced meat, vermicelli, and mushrooms. As typical as the ingredients may sound, as the majority make up Vietnamese meatballs, the boiling process, combined with the flavour of the pigeon, gives it a special taste hard to find elsewhere.
The pork skin soup apparently has up to 12 ingredients. Typically eaten only over the Lunar New Year (Tết) holiday or at wedding feasts, it was equally yummy.
Dried squid is a specialty at Bát Tràng, found not only in the bamboo shoot soup but also the stir-fry. The stir-fried kohlrabi and squid stood out to me for two reasons: I've had stir-fried kohlrabi many times but never with dried squid, and they use thinly-sliced yellow dried squid instead of fresh, white squid. The drying process adds a much more pungent flavour and savour to the stir-fry, and I savoured every moment of it given I'm unlikely to come across it again outside of Bát Tràng.
The spring rolls were equally unique. While every family makes their own, these featured fresh rather than minced dried shrimp and had a different rice paper wrapping. There was also less meat compared to the typical homemade spring rolls I'm used to. I found them a little oily, but they were still a big hit with many of our group.
The beef stew was delicious too. My grandmother often makes it whenever I go home for a holiday, since it's one of my favourites. And here it's also made very well. With bread also dip into the flavourful soup, every super tender bite was a delight.
Our order was specially added with bánh chưng (glutinous rice square cake). The cake was cut very differently as well. Typically, it's cut into eight pieces, the way a birthday cake may be cut. At Bát Tràng, though, they cut it into 16 mini squares. Since we were all so full from the other dishes, the smaller bite was the perfect size to let us try this local version of a Tết (Lunar New Year) dish loved by all Vietnamese.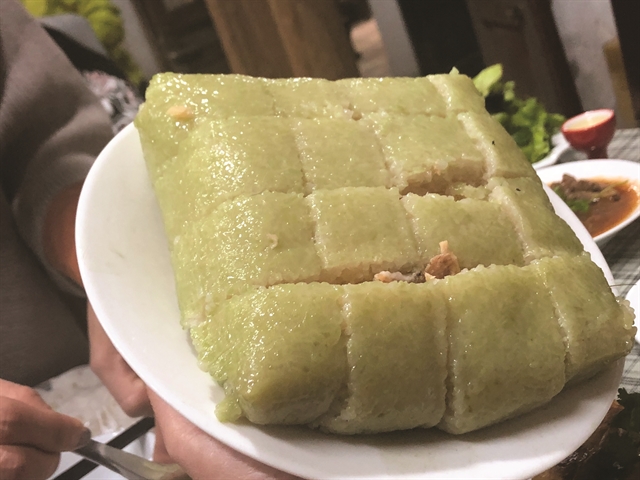 JUST ENOUGH: Perfect bite-sized servings of 'bánh chưng' are great for kids or even adults with full stomachs. Photo Vân Anh
Some people at the office found the dishes quite salty, but that didn't overly bother me.
Towards the end, we took a table outside for a dessert of "xôi chè" – glutinous rice with Vietnamese sweets cooked from yellow bean and cassava. A warm tea cup accompanied it to balance out the sweetness. Having dessert outdoor was ideal, since we not only got to enjoy the sunshine but everyone squeezed around one table and we got to bond over good food and good company.
Reservations are a must. A full set is designed to serve six to seven people. If you go in a group, you can also give pottery a try or go to nearby Ecopark to enjoy luscious green spaces hard to come by in downtown Hà Nội. VNS