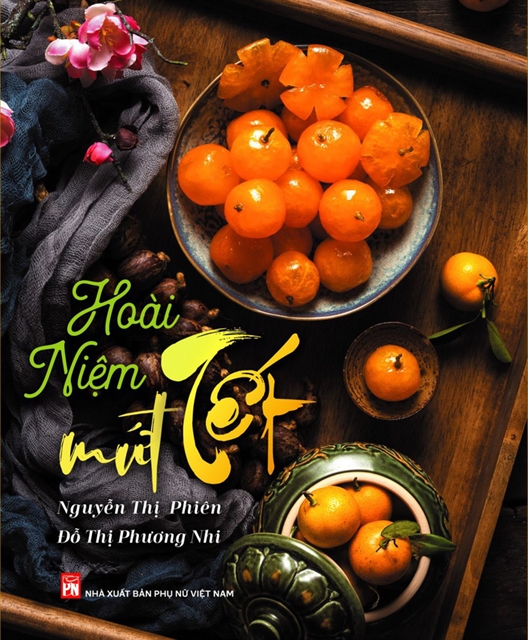 The cover of Hoài Niệm Mứt Tết (Vietnamese Sweet Dishes served in Lunar New Year), a book featuring homemade mứt in Huế style served by Vietnamese families during the Tết holiday. The authors are Nguyễn Thị Phiên and Đỗ Thị Phương Nhi, female culinary experts from Huế City. The book has been released by the Việt Nam Women Publishing House. (Photo courtesy of the publisher)
By Thu Anh
HCM CITY — A book featuring Vietnamese sweet products or mứt by Nguyễn Thị Phiên and Đỗ Thị Phương Nhi, female culinary experts of Huế City, has been released by the Việt Nam Women Publishing House.
The book, titled Hoài Niệm Mứt Tết (Vietnamese Sweet Dishes served in Lunar New Year), features homemade mứt in Huế style served by Vietnamese families during the Tết holiday. Traditional sugared kumquat, lotus seeds, coconut, squash, soursop and sweet potato are highlighted.
The book includes recipes by the authors who use simple and lively language to express their knowledge and feelings about Vietnamese culture and lifestyle through food. Photos of mứt are also included.
"Our book, Hoài Niệm Mứt Tết , features our love for Vietnamese food. Each dish of mứt that we introduced in the book represents our memories on our grandmother and mother who educated our siblings to love and keep our tradition of cooking mứt every Tết," said author Đỗ Thị Phương Nhi, at the book launching event in HCM City in early January.
"Traditionally, Vietnamese like mứt preserves during Tết. They believe the sweet flavour will bring good luck in the New Year."
"For readers who have not experienced the sweet taste of mứt , we hope our book leaves a fresh impression, and new and useful information about Vietnamese dishes," she said.
Nhi and Phiên, who work for tourist schools and cultural centres, have offered cooking courses for many Vietnamese and foreigners.
They released Món Ngon Xứ Huế (Best Dishes in Huế Style) and Món Ngon Xứ Huế – Hue Delicacies, two books featuring delicious dishes from Huế, in HCM City in 2018 and 2019.
Huế is known as the home of about 1,700 of the country's 3,000 dishes. (Photo courtesy of the publisher)
Food capital
Local authorities from the central province of Thừa Thiên-Huế last year launched a plan to make Huế the food capital of Việt Nam. Under the plan, Huế cuisine will have its signature dish, and the city's specialty dishes will get their own trademarks. Authorities, researchers and businesses will work closely to develop the brands.
The city's government has worked to carry out the first steps and has earned a warm response from residents and people who love Huế food around the world.
The province's Department of Tourism has signed a co-operation memorandum with Đại Nam – Thái Y Viện, a local company focusing on areas like food and tourism to introduce Huế cuisine. Restaurants and eateries around the city serving authentic Huế dishes are encouraged to put up signature boards for visitors to recognise them.
Many forums, conferences and talks highlighting the food culture of Huế, the former imperial capital of Việt Nam, have been organised to develop tourism.
Tour programmes offering visitors a chance to taste and explore local cuisines have been launched. Tourists will be able to visit lagoons and farms, and traditional markets where ingredients for local dishes are harvested and offered. Then, they will observe the preparation and cooking process. They will also learn about Huế's gastronomy by sampling local folk-style, royal-style and vegetarian dishes.
A food museum with study and display areas and a zone for watching culinary performances and buying food will be built.
Trần Hữu Thuỳ Giang, deputy director of the Tourism Department, said that local authorities are working with partners from HCM City to build a museum for Huế food. "Building a museum for Huế gastronomy is a must. We hope the museum will help visitors learn about Huế culture and lifestyle," he said.
"Huế is a food paradise where you can buy a delicious dish for only US$0.50," said Vietnamese-American Hoàng Huyền, who visited Huế last year.
"I like chè (sweet soups) in various flavours such as green bean, fruit and corn, or all mixed together. A bowl costs VNĐ10,000 ($0.40)."
Besides chè , Huế has many kinds of sticky rice dumplings, including bánh bèo and bánh bột lọc , that visitors should not miss. C ơm h ến ( oyster rice and noodles) and bánh canh (thick noodle soup) are among the must-try dishes.
Many vendors and roadside stalls offer unique Huế dishes late at night.
The capital of the country under the last monarchy, the Nguyễn Dynasty (1802-1945), Huế was a centre of Vietnamese gastronomy as top chefs from different regions moved there to serve the royal family. Today, the city is known as the home of about 1,700 of the country's 3,000 dishes. — VNS