"If you ask if I feel satisfied about what I did in my term, I would say 'no'. I regret that I could not do more," said Minister of Home Affairs Le Vinh Tan.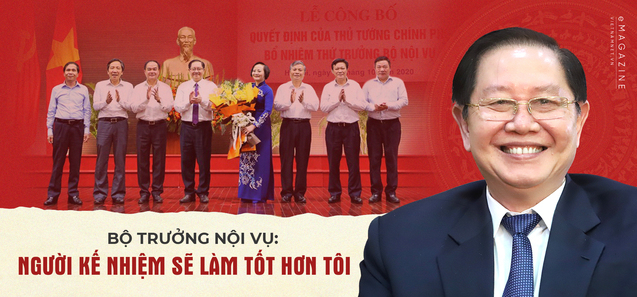 Minister of Home Affairs Le Vinh Tan: "Successor will do better than me"
2020 was the last year of your term of office. What will you, as the 'home affairs commander', say about the tasks of the last five years?
In the last five years, the home affairs sector continued implementing the tasks carried forward from the previous term and the resolution of the 12th Party Congress. I think there were five hallmarks.
First, institutional building. The home affairs sector advised the government to ask the National Assembly to amend four important laws, including the Law on amending and supplementing a number of articles in the Law on Cadres and Civil Servants and the Law on Public Employees; the Law on amending and supplementing a number of articles in the Law on Organization of the Government and Law on Organization of Local Governments; the Law on Belief and Religion; and the Law on Youth (amended).
The Ministry of Home Affairs has also compiled procedures for the Law on Emulation and Commendation (amended), and completed procedures to submit to the government the draft law on grassroots democracy to be submitted to the National Assembly in the time to come.
Second, reorganizing and rearranging the apparatus of administrative agencies. This has long been a matter of concern, but the latest rearrangement is more effective.
Third, administration reform, which has been carried out comprehensively in six fields – institutions; administrative procedures; apparatus organization; civil servant and public employment qualification improvement; and public finance and e-government.
Fourth, promoting decentralization.
Fifth, organizing inspection and supervision.
Do you feel satisfied about what the home affairs sector has gained in the last tenure?
I would never feel satisfied about the achievements. I regret that I could not do many things.
I believe that my successor will do better and will have more initiatives to deal with the existing problems that I still cannot do.
Could you tell us about what you could not do in the last five years?
These are issues listed in the next five-year development period plan, including tasks to be implemented in 2021.
We need to implement a new salary regime. This is my biggest concern. We carried out salary reform for many years, but we still could not build a new policy and wage mechanism which creates motivation for cadres, civil servants and public employees.
Because of the Covid-19 pandemic, wage reform won't be implemented until July 2022. I hope that social and economic conditions will be better in the next years to create favorable conditions for the new wage regime.
If we cannot implement wage reform, we won't be able to create motivation for civil servants, and it will be difficult to implement staff streamlining.
My second wish is to build a state administrative apparatus which is really clean and strong, and only performs the function of management.
Such a streamlined apparatus can be formed only when promoting decentralization.

"If you ask if I feel satisfied about what I did in my term, I would say 'no'. I regret that I could not do more,"
Minister of Home Affairs Le Vinh Tan
We have made great efforts to do this recently. The Ministry of Home Affairs advised the Government to promulgate Resolution 99 on decentralization.
Renovating and perfecting the political system apparatus to make it streamlined and effectively operational is one of the key tasks mentioned in the 13th Party Congress. What do you think your successor needs to do to implement the task?
I think the Ministry of Home Affairs needs to continue to advise the Government, National Assembly and National Assembly's Standing Committee to continue promulgating policies related to apparatus reorganization. This work was implemented in the last two years.
Besides, it is necessary to implement resolutions and plans set by the Government, and deploy and review master plans on administrative reform, including administrative apparatus reform.
It is necessary to do more drastically in rearranging the apparatus by allocating organizations in the society to do the things which the state doesn't necessarily do. Central agencies need to focus on four things – development strategies, institutional regime, implementation of the strategy, and supervision. They should not undertake work that other public non-business units and other economic sectors can do.
This work needs to be associated with a strong decentralization process. I believe that it is necessary to give more autonomy to public non-business units. Only by doing this will we be able to reduce the number of employees receiving salaries from the state budget and implement the new wage policy.
Minister Le Vinh Tan was born in 1958 in Dong Thap. He is an agricultural engineer.
He was a member of the Central Party Committee of the 11th and 12th tenures, the 14th National Assembly Deputy.
Before taking office as Minister of Home Affairs in April 2016, he was deputy head of the Central Economics Committee for one year. Prior to that, he was Secretary of the Dong Thap Party Committee and Chair of Dong Thap People's Council for three years.
Thu Hang – Tran Thuong