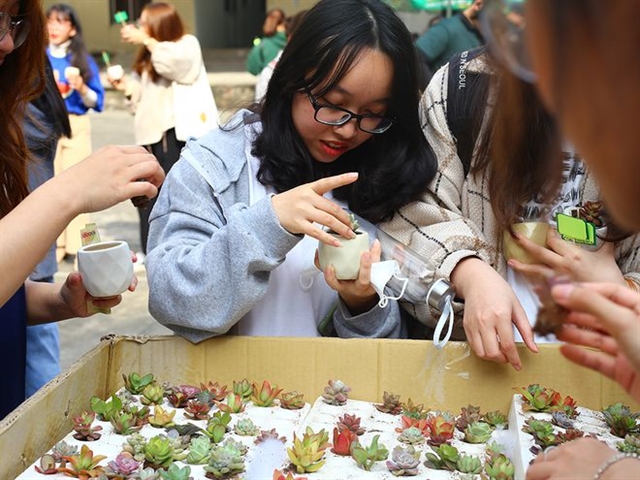 Students participate in planting to spread the habit of cherishing green life. — Photo thanhnien.vn
HÀ NỘI — A group of young people are helping each other to live a greener lifestyle, and hope their actions will spread into the wider community.
At Đà Nẵng University of Economics, green living activities have become familiar to students, with the project "Green University DUE", creating an environment and motivation to gradually change living habits.
This effort not only brings the image of green living closer to the staff, lecturers and students in the school but also spreads the spirit of green living in the community.
Nguyễn Thị Cẩm Trinh, a student of the international business faculty, chose to participate in the "14-day Green Living Challenge" with a seemingly simple challenge: not using plastic straws.
"To me, it was a very small challenge, but it was really impressive and meaningful," Trinh told the Thanh Niên (Young People) newspaper.
"These challenges will contribute to a big change in the green living habits of each individual."
Nhật Linh, a student of e-commerce, has participated in the challenge since it was launched. Linh chooses simple challenges that can be applied every day.
"I say no to plastic, refuse to go plastic when I go to the shop and share my habit of carrying boxes and glasses," she said.
For Linh, not using plastic is no longer a challenge, but it becomes a habit for her and her relatives.
Trinh and Linh are proud to be members of the community with more than 1,000 "Green Living Warriors" after spending more than 14 days living green. They share that habit with their friends via social media.
Joining the community "Live greener every day" with the activities "Opening day", Đoàn Thị Bảo Vy, also a student of the university experienced the activities of planting trees, exchanging scrap paper and batteries for potted plants.
Vy enjoys being in the green living atmosphere, hoping to create a community of young people living green and meaningfully.
"I hope to have more access to green living activities, living for the environment, and moving towards a greener lifestyle every day," Vy said.
Nguyễn Thành Đạt, secretary of the university's Youth Union, said "Living greener every day" has really become a brand. Students have helped spread the message of green living, with a sense of environmental protection in the community by simple actions in daily life. — VNS