Of the 205 candidates in the upcoming election for the 15th National Assembly who are members of the Party Central Committee, there are 16 members in the Politburo, and four members in the Party Central Committee's Secretariat.
At the third consultative conference, the Presidium of the Vietnam Fatherland Front Central Committee approved a list of 205 qualified people from central agencies, organizations and units who were nominated for the election of the 15th National Assembly.
The list is divided into groups, with 11 candidates in the Party agencies, three in the assistant agencies to the State President, 15 in government agencies, 130 in National Assembly-related agencies, 14 in the armed force, 29 in agencies under the Vietnam Fatherland Front and social unions. Among them, there are 16 members in the Politburo and 4 members in the Central Party Committee's Secretariat.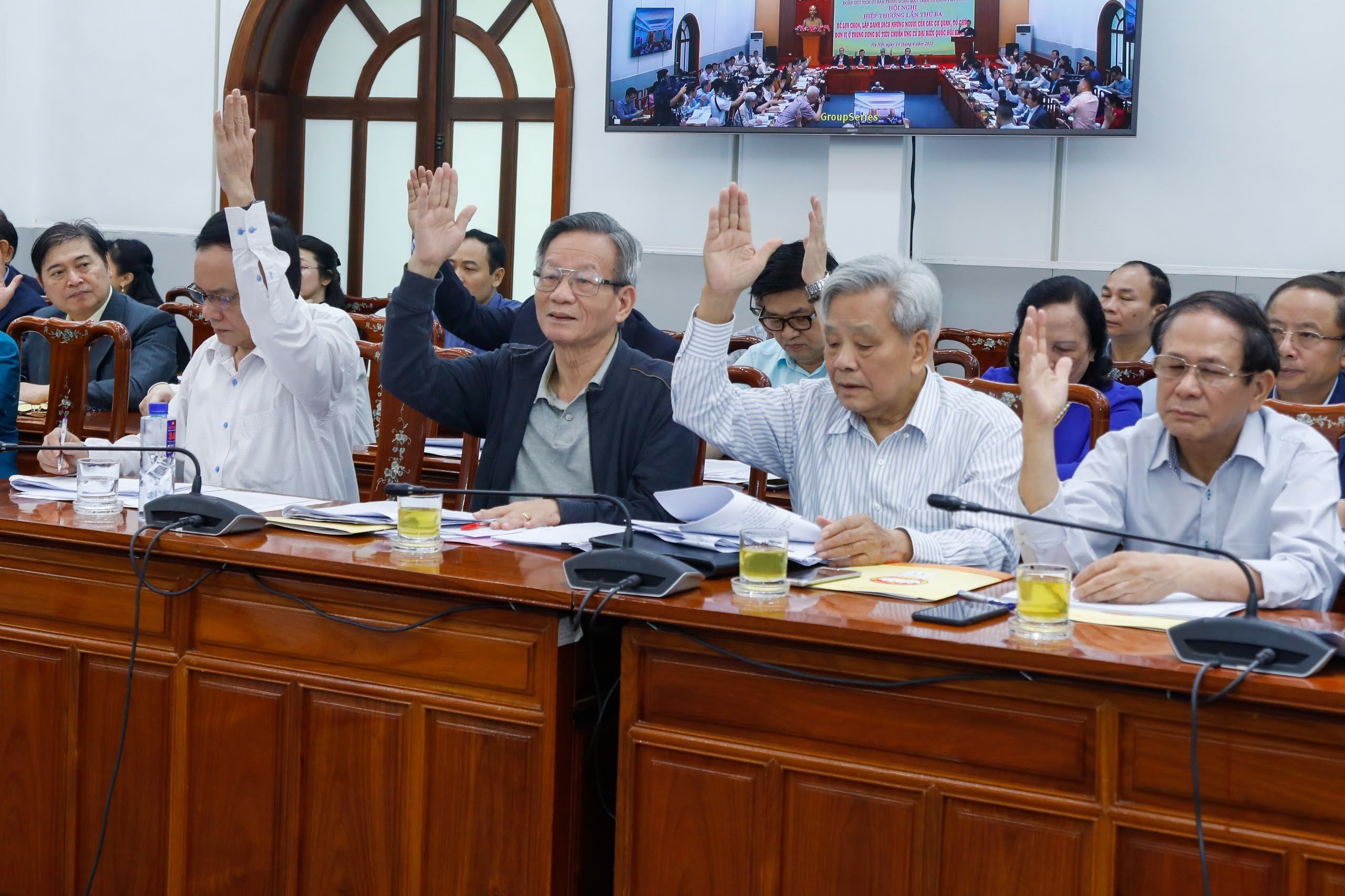 At the third consultative conference, the Presidium of the Vietnam Fatherland Front Central Committee approved a list of 205 qualified people from central agencies, organizations and units who were nominated for the election of the 15th National Assembly. Photo: Minh Dat
The 16 Politburo members include:
General Secretary Nguyen Phu Trong
State President Nguyen Xuan Phuc
Prime Minister Pham Minh Chinh
National Assembly Chairman Vuong Dinh Hue
Standing member of the Central Party Committee's Secretariat Vo Van Thuong
Standing Vice Chairman of the National Assembly Tran Thanh Man
Deputy Prime Minister Pham Binh Minh
Head of the Central Organizing Committee Truong Thi Mai
Head of the Central Economic Commission Tran Tuan Anh
Head of the Central Committee for Internal Affairs Phan Dinh Trac
General To Lam, Minister of Public Security
Senior Lieutenant General Phan Van Giang, Minister of National Defense
Chief Justice of the Supreme People's Court Nguyen Hoa Binh
General Luong Cuong, Chairman of the General Department of Politics of the People's Army of Vietnam
Director of Ho Chi Minh National Academy of Politics, Chairman of the Central Theoretical Council Nguyen Xuan Thang
The four members of the Secretariat include:
Do Van Chien, Chairman of Vietnam Fatherland Front Central Committee
The 15 candidates from government agencies:
Prime Minister Pham Minh Chinh
Minister of Industry and Trade Nguyen Hong Dien
Minister of Labor, Invalids and Social Affairs Dao Ngoc Dung
Minister of Planning and Investment Nguyen Chi Dung
Senior Lieutenant General, Minister of National Defense Phan Van Giang
Minister of Agriculture and Rural Development Le Minh Hoan
Minister of Culture, Sports and Tourism Nguyen Van Hung
General, Minister of Public Security To Lam
Minister of Justice Le Thanh Long
Minister of Health Nguyen Thanh Long
Deputy Prime Minister Pham Binh Minh
Minister of Finance Ho Duc Phoc
Minister of Foreign Affairs Bui Thanh Son
Minister of Education and Training Nguyen Kim Son
Minister of Home Affairs Pham Thi Thanh Tra
Thu Hang