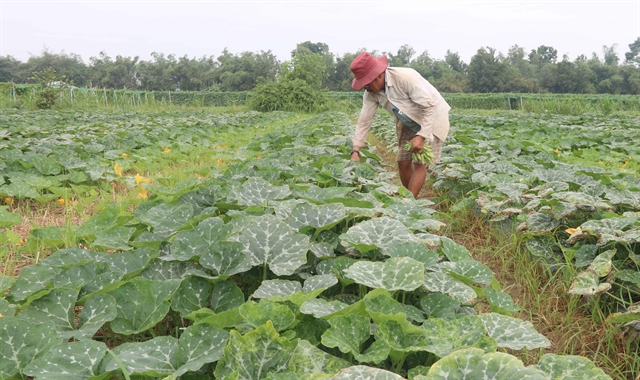 A farmer tends her 2020 – 21 winter – spring vegetable crop in Trà Vinh Province's Cầu Ngang District. – VNA/VNS Photo Thanh Hoà
TRÀ VINH – The Cửu Long (Mekong) Delta province of Trà Vinh has earmarked VNĐ150 – 200 billion (US$6.6 – 8.7 million) for research into and adoption of processing technologies, especially for its key agricultural products, in 2021 – 25.
It will focus on creating hybrid plant and animal strains that can adapt to climate change, expanding production models that use high technology, bio-technology and organic methods to improve yield and quality, according to Lê Thành Ôi, director of the province Department of Science and Technology.
The research and use of technology would be linked with guaranteed sales of produce, he said.
The department has implemented three projects that used modern agricultural technologies in the first five months of the year.
They include growing a high-yield peanut variety on sand dunes in Trà Cú, Cầu Ngang and Duyên Hải districts, producing bio-products EMTV1 and EMTV2 and using them for breeding shrimp in Duyên Hải District and Duyên Hải Town, and growing honeydew melon in polyhouses equipped with drip irrigation system in Châu Thành District.
It has also worked with localities like Cầu Ngang District and Trà Vinh City for intercropping grapefruit and guava using efficient irrigation systems and growing clean watermelon in Cầu Ngang District and a fresh eating grape variety in combination with offering tourism services on a pilot basis in Trà Vinh City.
It also plans a project to compare the efficiency of models to grow honeydew melon on the ground and on substrates in polyhouses.
Phạm Minh Truyền, director of the Department of Agriculture and Rural Development, said the province has more than 17,000ha of hi-tech farming areas, including 10,400ha of aquaculture and 7,000ha of rice, vegetables and fruits.
In hi-tech cultivation, farmers use advanced technologies such as automatic irrigation, nano fertilisers, net houses, hydroponic methods, net houses, tissue culture, and good agricultural practices (GAP) standards.
In aquaculture, farmers use modern facilities for breeding shrimp under intensive and super intensive farming models.
Truyền said the province planned to use 1,500ha of unproductive rice fields and 500ha of sugarcane fields to grow high-value crops or perennial trees or rotate between rice and aquatic species on the same fields this year.
In the first five months of the year more than 1,200ha of rice fields and more than 125ha of sugarcane farms have been converted, with farmers growing vegetables, coconut and fruits and breeding aquatic species.
Sugarcane farmers have struggled in recent years because of low prices, and the province encourages them to switch to other crops.
Trà Vinh is one of the delta's coastal provinces and has been severely affected by saltwater intrusion in the dry season.
So local authorities have dissuaded farmers from growing rice in coastal areas and those without irrigation, and encouraged them to switch to other crops.
Farmers who grow vegetables, corn and watermelon have earned an average of VNĐ80 – 90 million ($3,500 – 3,900) per hectare per crop this year, according to the province Plant Protection and Cultivation Sub-department.
It has instructed farmers to adopt GAP standards to increase the competitiveness of their produce and incomes. – VNS