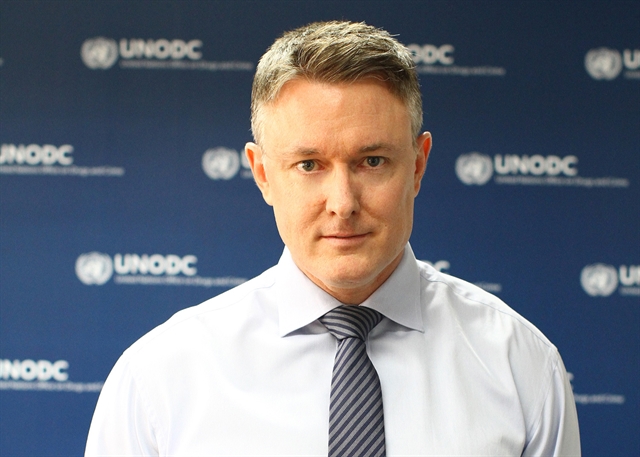 Jeremy Douglas, Regional Representative of the United Nations Office on Drugs and Crime (UNODC) for Southeast Asia and the Pacific. Photo Courtesy of UNODC
Jeremy Douglas, Regional Representative of the United Nations Office on Drugs and Crime (UNODC) for Southeast Asia and the Pacific talked to Việt Nam News reporter Bích Hường about crime prevention and control during the COVID-19 pandemic.
What do you think about the opinion that the COVID-19 pandemic has left many millions of people more vulnerable to crime, exploitation and violence?
This is true. As economies have slowed and in many places slipped into recession people have become more vulnerable to crime and exploitation, or participation in crime to make money. COVID has had some profoundly negative social impacts that have exacerbated vulnerabilities.
Can you briefly tell about the major impacts of the COVID-19 on crime prevention and control since the pandemic started? In the complicated development of the COVID-19 in Việt Nam and some neighbouring countries, does crime prevention and control face more difficulties, particularly drug crimes, human trafficking or smuggling?
COVID-19 has impacted crimes differently. For example, we have witnessed a significant increase in synthetic drug production and trafficking during the pandemic in the Mekong region, but at the same time, we have seen a drop in transnational environmental crimes. The fact is demand patterns are different and some crimes are more resilient or persistent than others.
A report titled "Synthetic Drugs in East and Southeast Asia: latest developments and challenges 2021" that UNODC launched on June 10 reveals that methamphetamine seizures increased substantially despite COVID-19. Organised crime groups have been able to continue the expansion of the regional synthetic drug trade – in particular in the upper Mekong and the Shan State of Myanmar – by maintaining a steady supply of chemicals into production areas despite border restrictions that have impacted legitimate cross border trade.
While the pandemic has caused the global economy to slow down, criminal syndicates that dominate the region have quickly adapted and capitalised. They have continued to aggressively push supply in a conscious effort to build the market and demand.
Seizures of methamphetamine in the region amounted to approximately 170 tons of the drug last year, a 19 per cent increase over the 142 tons seized in 2019. At the same time, there were notable changes in trafficking routes reported with significant volumes of methamphetamine being trafficked through Lao PDR to Thailand and Việt Nam for both market distribution and transhipment, and an extremely high concentration of supply within the Lower Mekong countries of Cambodia, Lao PDR, Myanmar, Thailand and Việt Nam where 71 per cent of the East and Southeast total was seized.
Are you working with the Vietnamese government to respond to the impacts of the COVID-19 on crime prevention and control?
UNODC and the Government of Việt Nam have a very strong relationship, and we do a lot together in the country and at a regional level to understand and try to prevent transnational and other crimes, and to improve access to justice and necessary services including community-based treatment for drug users.
I would specifically highlight that we work with Việt Nam to counter drug and transnational crime challenges in the Mekong and larger ASEAN regions including on border liaison offices, and in the country, we are working with police and law enforcement on capacity building and in training academies, and with prosecutors and justice officials on reforms and different types of capacity.
Early this year, Việt Nam's Ministry of Health approved a plan to offer take-home methadone doses. The initiative has been supported by UNODC and UNAIDS.  What do you think about the initiative?
The methadone initiative is very important and we are proud to partner with UNAIDS to move it forward. We very much believe in a balanced and evidence-based approach to addressing drug use and dependence, and prescribing methadone is an important medically proven method to ease people away from the injection of heroin which can lead to HIV transmission.
As many countries around the world have started COVID-19 vaccination drives, the demand for vaccines against COVID-19 is high. What do you think about the possible increase of fake vaccines? Do you have any preparation to curb the threat?
Falsified medicines were a problem before COVID-19 and vaccines are no exception. Vaccines to counter the pandemic are an enormous business. It is one of the largest and most quickly established medical supply chains ever. So COVID-19 vaccines were bound to be seen as an opportunity by criminals.
There are numerous reports of fake vaccines circulating, and it is possible to purchase COVID-19 vaccines in illegal dark web marketplaces – if they are legitimate or not is unclear. To help out, we are training authorities in Asia on dark web and cybercrime investigations, and we are working with anti-corruption authorities on related efforts. VNS