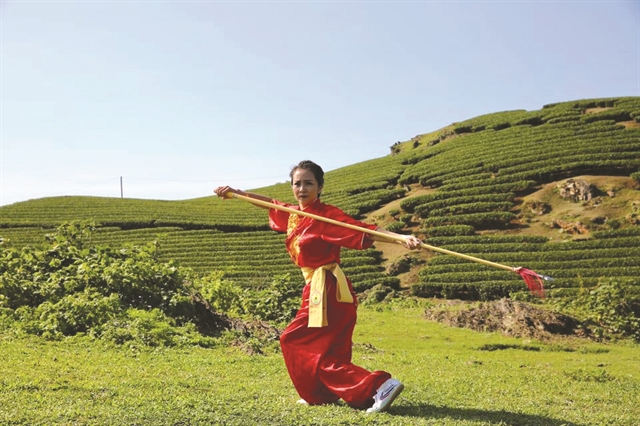 Wushu athlete Nguyễn Thúy Hiền sends her support to the Vietnamese athletes competing at SEA Games 31 via a music video Tự hào Việt Nam (Pride of Việt Nam). Photo courtesy of the athlete
HÀ NỘI 'Wushu Queen' Nguyễn Thúy Hiền has released a music video Tự Hào Việt Nam (Pride of Việt Nam) to encourage Vietnamese athletes at the 31st SEA Games.
This video also enhances friendship between countries participating in the regional sports event and introduces the beautiful landscapes of the host countries, with the national flags of South Asian countries appearing in Hạ Long Bay, the green tea hills in the northern mountainous region and Bạch Long glass bridge (Mộc Châu Plateau, the northern province of Sơn La).
Hiền is known as the Vietnamese Wushu Queen as she won the World Wushu Competition seven times. She received numerous gold medals at international tournaments. Currently, she works as a wushu coach in Hà Nội.
The director of the project, martial artist Đặng Tam Thuận, said Hiền is not a professional singer, so there was no pressure on her. The fact that she dared to sing and do things that were not her forte was brave and audiences will sympathise.
"The music video is not only about martial arts and music, we tried to bring images of áo dài (Vietnamese national dress), beautiful landscapes and flags of Southeast Asian countries. This project is dedicated to the public. It's our love for Vietnamese athletes, our wish for a successful 31st SEA Games," he said. VNS
Wushu Queen sings to encourage athletes at SEA Games 31 have 402 words, post on vietnamnews.vn at May 13, 2022. This is cached page on VietNam Breaking News. If you want remove this page, please contact us.