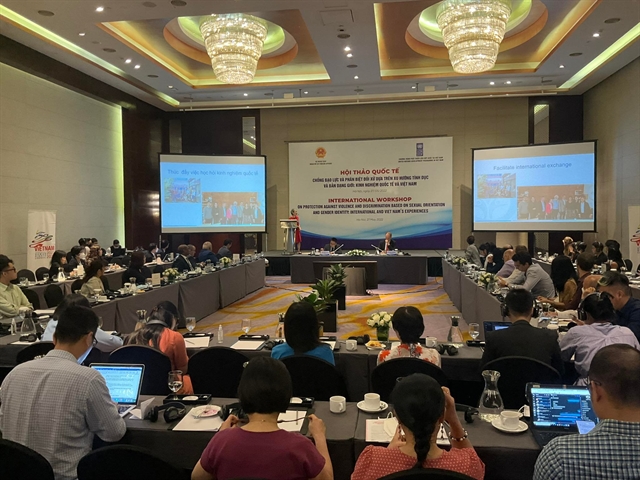 The workshop takes place on Friday at the Intercontinental Landmark 72 Hotel, Hà Nội. — Photo VNA/VNS Anh Đức
HÀ NỘI — "Việt Nam is consistent in protecting and promoting human rights to meet the goal of 'human rights for all'," said a foreign affairs official.
"At the Universal Periodic Review of the UN Office of the United Nations High Commissioner for Human Rights (OHCHR), Việt Nam accepted and enacted many recommendations to protect vulnerable groups," Lê Thị Thu Hằng, Assistant to the Minister of Foreign Affairs and spokesperson for the ministry, told an international workshop on Friday.
The event titled "Protection against Violence and Discrimination Based on Sexual Orientation and Gender Identity: International and Việt Nam's Experiences" was jointly organised by the Ministry of Foreign Affairs (MoFA) and the United Nations Development Program (UNDP) in Hà Nội.
"Legal frameworks and policies to counteract against violence and discrimination based on sexual orientation and gender identity are being built and public awareness of sexual orientation and gender identity are also more open. LGBTQ+ groups' roles in society are recognised and their activities are not restricted in any way," said Hằng.
"We welcome the actions and efforts of Việt Nam in solving these issues, especially the role of the Government and the collaboration with NGOs in promoting the rights of LGBTIs in Việt Nam," said Caitlin Wiesen, UNDP Head Representative in Việt Nam. "Việt Nam's efforts in legal reform to enable better protection of LGBTI rights are greatly appreciated, and we want to see more LGBTI representation in contributing to this process."
Ambassador of Norway to Việt Nam Grete Løchen said "Sexual and gender diversity exists in all countries and communities. LGBTI+ people have the same right to live free from the discrimination and violence, which still persists today and becomes even worse during the pandemic. It's all about equal rights and being true to the SDG-principle of leaving no one behind! As a staunch supporter of UN and its SDGs, it is a Norway's priority to increase focus on equal rights, including the issue of discrimination based on sexual orientation. For LGBTI+ people it's to live without stigma, shame and discrimination".
Speakers at the workshop shared many experiences from their countries regarding anti-discrimination toward sexual orientation and gender identity. The delegates also shared a will to continue to collaborate with Việt Nam on raising the common public awareness of these issues.
Delegates of the Institute for Human Rights of the Hồ Chí Minh National Academy of Politics also introduced updated progress on policies and efforts of Việt Nam in LGBTQ+ rights. The speakers called for Việt Nam to continue effectively updating and executing legal and policy documents, as well as development plans and education on human rights, especially on anti-discrimination.
NGOs and research organisations, including ones led by LGBTQ+ people in Việt Nam, also spoke highly of the workshop, saying that this is a chance for Vietnamese organisations and partners to continue to enable related actors to contribute to building and perfecting the legal and policy frameworks.
The workshop is also one of Việt Nam's effective collaborations with UN agencies on protecting and promoting human rights. These collaborations are in line with Việt Nam's progress to join the OHCHR's UPR as well as joining and executing International Conventions on Human Rights.
The workshop witnessed the attendance of many delegates from government agencies, international organisations and ambassadors from Cuba, Argentina and South Africa. — VNS
Việt Nam continues to strengthen cooperation to fight against LGBTQ+ discrimination have 726 words, post on vietnamnews.vn at May 28, 2022. This is cached page on VietNam Breaking News. If you want remove this page, please contact us.