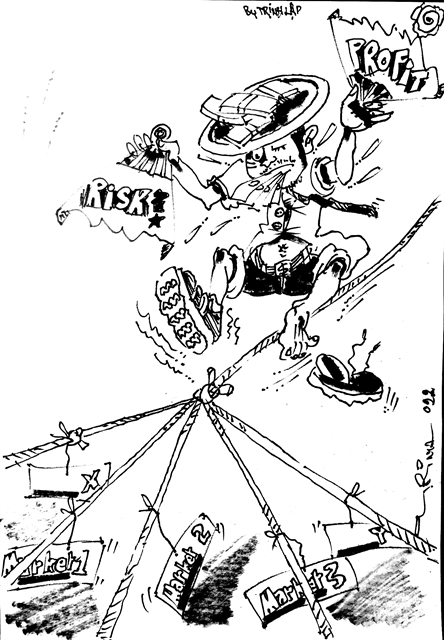 Illustration by Trịnh Lập
by An Phương
The latest kids on the demographic block, Generation Z (1997 onwards), have had a lot happen in a short amount of time. This shapes their approach to life.
One interesting impact of this approach can be seen in their investing habits.
I recently had a chat with some of my younger friends on their financial plans and goals. The insights from the conversations were rewarding.
Growing up, I was used to seeing my mother trading in gold and real estate but never in my early twenties did I consider doing the same. Not so with Gen Z. They are more sophisticated, financially, and start their investing journey very early.
Anh Huy, 25, told me that he bought a small apartment and put it up for sale two months ago.
"I was able to buy my first apartment with profits from trading in shares, salary from a 9-5 job and savings from my parents. I did borrow some money from the bank, but it wasn't much. HCM City is a fast growing city and I have learnt that real estate, most of the time, is a stable investment." Huy said.
"I am grateful for my parents' support, despite their humble background. Perhaps my parents' hardship has taught me to dream big for a better future," Huy said, adding that he majored in finance and taught himself trading via the internet.
Huy's journey has been one of ups and downs, but his determination makes me believe he has learnt valuable lessons.
"We should be open to all investing opportunities and ready to take risks, especially when the internet has made it easy to access information," he said. I couldn't agree more, except to add that accepting the results is part of the journey as well.
Gen Z, different from millennials like me, are more likely to embrace quick gains and stay away from traditional investing sites with long-term goals.
Quang Đăng, 26, felt strongly about investing three years ago. Despite a lack of confidence about his financial knowledge, he has invested heavily into the stock exchange market.
"I was grateful that I did not lose much money, given that the market went down significantly at the time. I used to believe that increased risk appetite and my tendency to monitor trade portfolios frequently was enough to be "safe"". I should have known better that the abundance of information available can lead to a false sense of security," Đăng said.
It is understandable that as the first generation to grow up with smartphones and social media as part of daily life, Gen Z knows lots of things about finance, but I feel this knowledge is yet to gain depth on a lot of things.
"My friends and I love the feeling of 'playing the game'. It's difficult to put into words but sometimes a spark of joy is enough to go for a wild and risky adventure," Đăng said.
In addition to easy access to information, the tendency to take risks and potential fear from witnessing previous generations' hardship, the impact of COVID-19 pandemic has prompted Gen Z to kick start their investing venture without much hesitation.
"The pandemic has taught a great lesson to those without savings. Young people nowadays have changed their perception of investment and are applying technology to manage their finances," said 26-year-old Thanh Thuý.
The new generation has seen a promising jobs market shredded by the pandemic and unemployment soar, especially among bachelor degree holders who have just graduated in 2020 and 2021. Frustrated by lockdowns and dwindling work opportunities, I believe many people in Gen Z might want to try their luck in trading, including on the stock market.
"There's no doubt that once the pandemic hit and everything went digital, it really made people focus on investing because it was one of the few activities we could do online!" Thuý added.
According to a report by the Việt Nam Securities Depository (VSD), in the first five months of 2021, the country's stock market has registered nearly 480,500 new accounts opened by domestic investors. This exceeded by 20 per cent the number of newly opened accounts for the whole year of 2020, and 2.5 times more than in 2019.
The young generation is even familiar with exchanging digital assets, trading luxury goods and investing in ideas and creative content to feed themselves, using the two biggest social networking platforms today – TikTok and YouTube.
Đức Thịnh, 32, who currently works with an investment fund, reaffirmed that it doesn't take Gen Z people long to get used to a daily life dominated by smartphones or social media. With a strong sense of money and personal finance, it is not surprising to see young and successful individuals in the market.
"That said, it is crucial that Gen Z invests in the foundation of everything – knowledge – because this is key to ensuring sustainable growth," he stressed. VNS
The rise of the savvy Gen Z investor have 968 words, post on vietnamnews.vn at May 22, 2022. This is cached page on VietNam Breaking News. If you want remove this page, please contact us.