SEA Games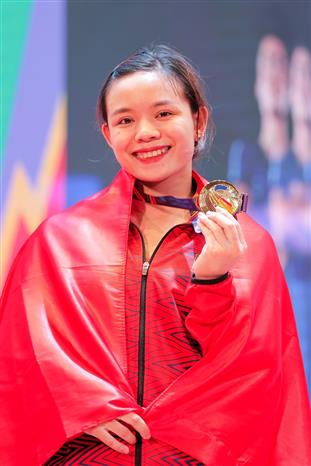 Phạm Thị Hồng Thanh, winner of the women's U64kg weightlifting. VNA/VNS Photo
HÀ NỘI — Phạm Thị Hồng Thanh had no worthy rival in the weightlifting as she broke three records on May 21 in Hà Nội.
The Vietnamese athlete is the defending champion in the women's U64kg categories, where she competed against four rivals, including powerful Quinilitan Ando Elreen of the Philippines who threatened her crown at the last Games three years ago.
Time flew fast, but Thanh practised hard. She showed her excellence in the snatch event with the heaviest lift of 98kg in the first attempt. She then increased to 101kg and 104kg in the last and succeeded.
Meanwhile, her nearest rival was Elreen and Tsabitha Alfiah Ramadani of Indonesia with a 95kg lift.
Thanh's 104kg is the new record in the snatch event, 6kg higher than the old record.
In the clean and jerk, Thanh was also the last athlete to perform as her starting weight to lift was the highest at 120kg.
Thanh managed her lift and succeeded in the second attempt of 126kg, a new Games record, 2kg higher than the last.
With a total lift of 230kg, she secured the third record of the day, a full 6kg heavier than the old record Thanh set in the Philippines Games.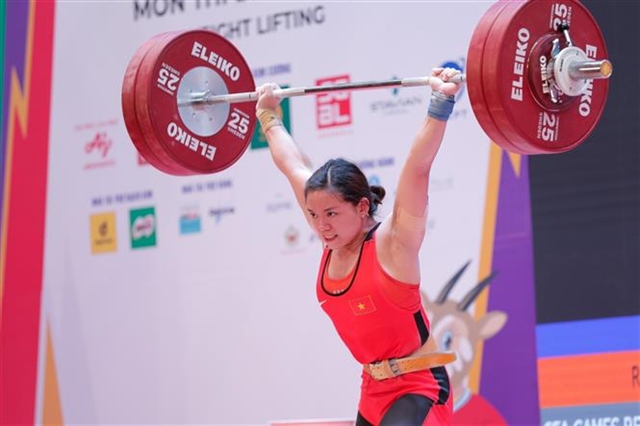 Phạm Thị Hồng Thanh in action in the women's U64kg weightlifting. VNA/VNS Photo
Việt Nam's coaches wanted to push Thanh to a higher level as they registered her to lift 130kg in her last attempt. Thanh tried her best but was unable to lift it fully.
Elreen, despite her great effort, could only lift 125kg and took second place with a total of 223kg, 7kg less than Thanh.
Ramadani was in third place with 216kg total after her lift of 116kg in the clean and jerk.
Thanh brought Việt Nam a third gold in weightlifting, following one in the men's 55kg and the women's 59kg on previous days. VNS
Thanh breaks 3 records for weightlifting gold have 425 words, post on vietnamnews.vn at May 21, 2022. This is cached page on VietNam Breaking News. If you want remove this page, please contact us.