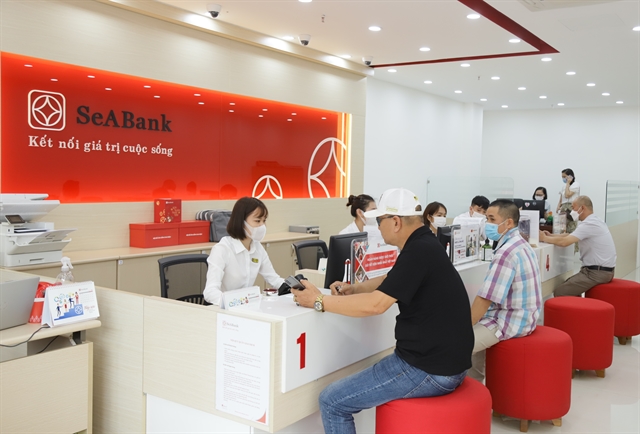 Transactions at a branch of SeAbank in Hà Nội. The bank plans to raise capital to VNĐ20.4 trillion in the second quarter and third quarter of this year. Photo SeABank
HÀ NỘI Southeast Asia Commercial Joint Stock Bank (SeABank/SSB) plans to increase charter capital from VNĐ16.6 trillion (US$715.6 million) to VNĐ20.4 trillion in the second and third quarters of this year.
Under the plan, in Q2 and Q3, SeABank plans to issue 211,400,000 shares, equivalent to 12.7 per cent to pay 2021 dividend, issuing 109,700,000 shares, equivalent to the rate of 6.6 per cent, to increase capital from equity sources (bonus shares). At the same time, SeABank will issue 59,400,000 shares under the Employee Selection Program (ESOP) in 2022.
After completing the issuances, SeABank will continue its plan to increase charter capital from VNĐ20.4 trillion to VNĐ22.7 trillion through private placement to strategic domestic and foreign investors, or offering to the public and to existing shareholders 228,700,000 shares, equivalent to 13.78 per cent of current charter capital. The form of the offering will be decided specifically at the time of implementation. By the end of 2022, SeABank will complete the increase of charter capital to VNĐ22.7 trillion.
The increase in charter capital is an important milestone in SeABank's plan and orientation, helping the bank to exploit enough potential to achieve the goals of implementing a digital transformation strategy, technology development in credit activities, payments, customer services, diversify products and services, thereby enhancing operation efficiency, and bettering the experience of every customer.
Previously, Moody's upgraded the SeABank's Baseline Credit Assessment (BCA) from B2 to B1 and maintained SeABank's long-term deposit and issuer ratings at B1 for the fourth year in a row with a positive outlook. VNS
SeABank plans to increase capital to VNĐ20.4 trillion in 2022 have 457 words, post on vietnamnews.vn at May 28, 2022. This is cached page on VietNam Breaking News. If you want remove this page, please contact us.