When beginning his journey to the US at the age of 20, Nguyễn Trọng Hiếu showed an endless passion for science. From a young student, Hiếu has become one of the nation's leading scientists in engineering. With pioneer initiatives in solar energy, he and his team have taken humanity one step closer to a future where solar energy can thrive. Việt Nam News reporter Hoàng Hồ talks with Hiếu about his journey.
With excellent scientific research works, Nguyễn Trọng Hiếu was honoured to be nominated by the Central Committee of the Hồ Chí Minh Communist Youth Union in the list of 20 outstanding young Vietnamese in 2021. Photo courtesy of ANU
Inner Sanctum: How did you feel when your name was announced among 20 outstanding young Vietnamese in February? What were the turning points in your career?
I'm thrilled and proud to be honoured as one of the outstanding young faces of Việt Nam as a rep for the scientific research category. This motivates me to continue what I have been doing — performing good research and supervising and teaching my students, and mentoring junior colleagues.
I won a full scholarship to study at the Portland State University, USA, thanks to my performance in the first two years of studies at the Hồ Chí Minh City University of Technology. It was a huge step for me. But the turning point was when I started my PhD at the ANU College of Engineering and Computer Science, Australia, immersing myself in their world-class solar device fabrication and characterisation facilities. I received excellent mentoring from many world-renowned researchers and collaborated with many world-leading research groups.
Inner Sanctum: What are the challenges in reaching sustainable solar energy?
The Earth receives thousands of times more solar energy from the Sun annually than the world's total energy consumption. However, solar energy usage is still limited due to its higher cost than conventional electricity sources.
This is primarily because of the commercial solar cell efficiency (20 per cent), which is still far below the theoretical limit. The current challenge in improving solar cell efficiencies is the poor understanding of factors that can potentially cause efficiency losses at various stages. My work is well on the way to addressing this knowledge gap and providing the community with new tools to characterise these losses and novel processes to minimise them.
Inner Sanctum: Can you explain your research, its goals and the specific applicability of the research in daily life?
Dramatic climate change forces humanity to seek clean energy sources that are efficient, cost-effective, and reliable. Solar energy is an obvious solution. My research goal is to make solar energy cheaper and closer to everyone. I'm doing it innovatively – exploring light emitted from solar materials.
Nature gives physical things beautiful colours, which are a key to unlocking the potential of solar technologies. The secret is that every part of light emitted from materials contains important information. Examining the emitted light allows me to determine the most efficient material to use.
Because emitted light has unique features corresponding well to certain material properties, I can diagnose the material characteristics by just 'looking at' but not 'touching' them. I am taking it a step further – after understanding the material properties, I apply the knowledge to the fabrication process.
Much of my research directly supports R&D engineers to improve the efficiency of solar cells. These innovations could be applied to make better solar cells by different solar cell and module manufacturers. Then, the devices will be distributed around the globe, including in Việt Nam.
This will help the industry make more efficient and cheaper solar cells, unlocking the full potential of solar energy and providing low-cost renewable energy for humanity.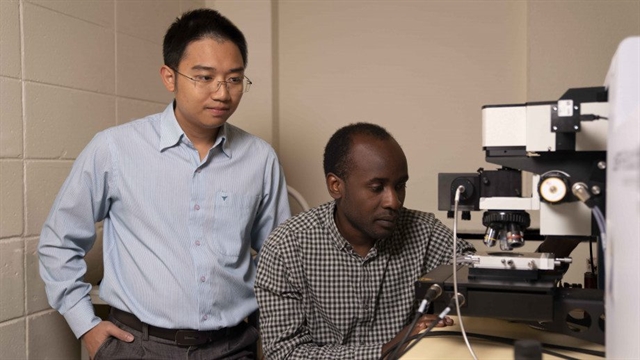 Hiếu founded two optical laboratories at the Australian National University, used by more than 50 researchers from nine different groups. Photo courtesy of ANU
Inner Sanctum: Can you share your passion for a field that is difficult for many people? Did you have any difficulties at the beginning of your journey in the US?
My love for physical science took me to engineering. Then, my bachelor's study was in electrical engineering, grounded in semiconductors. Ten years ago, solar cells were a hot topic, a path to tackle our climate change. The bulk part of solar cells is semiconductors. I decided to follow this area to utilise my background and do something meaningful for the world.
The greatest difficulty at that time was my English, particularly my writing and speaking skills. To overcome them, I just practised and practised. Practice makes perfect.
Inner Sanctum: How is your time working abroad? What in the US and Australia can Việt Nam learn from?
So far, I have enjoyed my time working in the US and Australia very much. I have built collaborations with numerous leading research groups around the world. These collaborations have provided me with unique opportunities to learn a wide range of state-of-the-art solar cell fabrication processes and characterisation techniques.
I am happy with their open working culture. I'm free to express my opinions and ideas even though they sometimes contradict the majority. VNS
Scientist brings solar energy closer to people have 931 words, post on vietnamnews.vn at May 22, 2022. This is cached page on VietNam Breaking News. If you want remove this page, please contact us.