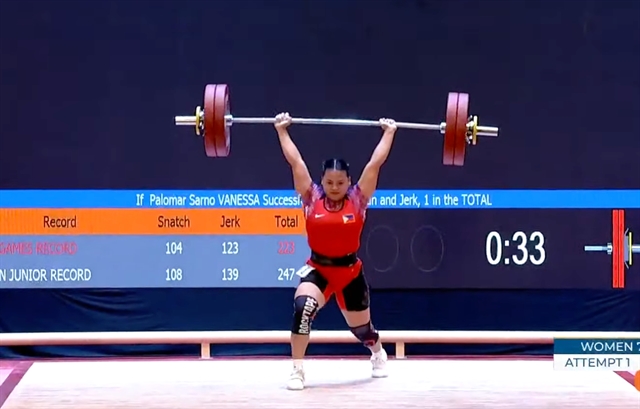 Teen Vanessa Sarno dominates the 71kg field to win the gold. — Inquirer/ANN Photo
Thanh Hà
HÀ NỘI — Weightlifters set records one after the other on May 21 at the Hà Nội Sports Training and Competition Centre.
Young lifter Rahmat Erwin Abdullah of Indonesia won a gold medal and broke a Games record in the men's 73kg.
The 21-year-old athlete succeeded with a 155kg lift in the snatch. This record is also a personal record for Erwin. His previous heaviest lift was a significantly lighter 145kg .
Moving on to the clean and jerk class, Erwin almost immediately beat his competitors at the first opportunity, immediately lifting 180kg.
This again surpassed the SEA Games record of 177kg.
Erwin increased his burden further to 190kg and managed it perfectly on the second attempt.
Erwin lifted a huge 345kg in total.
Meanwhile, Doungsri won silver with 321kg, and Hidayat took bronze on 316kg which bettered his national record of 312kg set in Melaka in 2020.
Vanessa Sarno added another gold for the Philippines after a dominant performance in the women's 71kg event.
The Asian champion registered 239kg, capping off her feat by setting the SEA Games record in the clean and jerk event. Her total lift was also a Games record.
Thailand's Khaipandung Siriyakorn settled for silver with 223kg with Indonesia's Restu Anggi getting the bronze with 212kg.
Sarno topped the snatch with a Games record of 104kg before securing the gold on her first attempt in the clean and jerk when she lifted 123kg.
But the 18-year-old was far from satisfied as she lifted 130kg and 135kg on the next two attempts with ease to complete her impressive debut in the regional meet.
In the women's category, Phạm Thị Hồng Thanh had no worthy rival as she broke three records.
The Vietnamese athlete is the defending champion in the U64kg category, where she competed against four rivals, including powerful Quinilitan Ando Elreen of the Philippines who threatened her crown at the last Games three years ago.
Time flew fast, but Thanh practised hard. She showed her excellence in the snatch event with the heaviest lift of 98kg in the first attempt. She then increased to 101kg and 104kg in the last and succeeded.
Thanh's 104kg is the new record in the snatch event, 6kg higher than the old record.
In the clean and jerk, Thanh was also the last athlete to perform as her starting weight to lift was the highest at 120kg.
Thanh managed her lift and succeeded in the second attempt of 126kg, a new Games record, 2kg higher than the last.
With a total lift of 230kg, she secured the third record of the day, a full 16kg heavier than the old record Thanh set in the Philippines Games.
Her nearest rivals were Elreen and Tsabitha Alfiah Ramadani of Indonesia, who despite great effort could only lift 223kg and 216kg, respectively.
"I was nervous but excited while waiting for my day. I couldn't wait to lift the weight," Thanh said.
"But when I am on the stage, seeing my family, friends and supporters cheering for me, every worry is gone. I told myself that I have to win, and I have to lift it all."
The Hải Dương Province-born athlete said in the last three years she focused on upping her capacity while fixing her mistakes to make sure she would hit her best peak for SEA Games.
"My coaches and I tried to improve my level while I was practising. I also research well-known weightlifters to learn more from them. The gold medal today is a sweet result for me after years of hard work," Thanh said. — VNS
More weightlifting records fall have 773 words, post on vietnamnews.vn at May 21, 2022. This is cached page on VietNam Breaking News. If you want remove this page, please contact us.