A microplastic fibre is zoomed 50 times by a microscope. A group of biologists and researchers found microplastic contamination in the air of Đà Nẵng in 2021-22. Photo courtesy of Trịnh Đăng Mậu
Công Thành
ĐÀ NẴNG — Microplastic pollution in the air in both inner and suburban areas of the central city of Đà Nẵng has become serious. Microplastics can go directly into the lungs during daily activities.
A group of biologists and researchers from the University of Science and Education under Đà Nẵng University has reported their independent survey and research on microplastic pollution in the central hub, the first of its kind in central Việt Nam.
Common types of microplastics in the air that had been collected in a four-month survey in six districts of Đà Nẵng City between 2021-22 were only observed by microscope with sizes from 850 to 900 micrometres. Smaller fibres from 300mr to 600mr accounted for nearly 40 per cent of the total samples collected.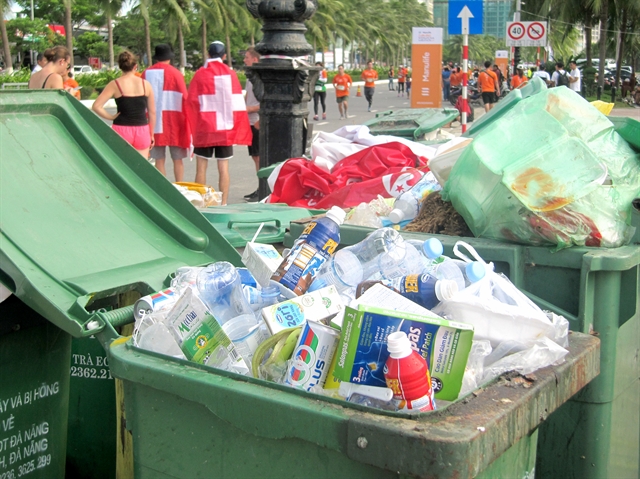 Plastic bottles and milk boxes are collected from a public event in Đà Nẵng. Microplastic pollution was found in the water and air in the city. VNS Photo Công Thành
The head of the research team Dr Trịnh Đăng Mậu said the microplastic pollution in the air in Đà Nẵng was alarming, and actions were needed to stop the situation from getting worse in the near future.
Although the size of microplastic fibres (zooming 50 times by microscope) in the air was still much bigger than particulate matter (lower than 2.5 micrometres), some microplastics could get into the lungs by breaking through nostril hair and nasal mucus, Mậu said.
"It's an SOS signal for air pollution in the city, but microplastics in the air cannot be seen by the eyes. Some researchers believe that particulate matter has infiltrated into the human lung and respiratory system, but microplastics can penetrate into the lungs through the oral cavity," he said.
"The higher percentage of microplastic contamination in air resulted from human activities and moves both in streets and home and increasing emission from industrial manufacturing. 87 per cent of microplastic contamination is emitted from cloth fibres."
Dr Mậu warned that additives used in the dye textile industry could trigger cancer as toxic dye (nonferrous metals used to make colour fibres) often poisons internal organs.
He said that in a survey on cancer-related microplastic contamination released in Đà Nẵng, human health was at high risk.
Trương Thị Ngân Hà, a member of the research team, said at least 1,361 to 3,147 microplastic fibres per one square metre were collected in the downtown each day, while in the suburban area it was 1,331 to 2,502.
She said the microplastic contamination in Đà Nẵng was 14 to 28 times higher than in some other cities in the world such as Paris (96-110) and London (38-53).
Hà said power consumption in a family is related to the percentage of microplastic emission, meaning the more human activities, the more microplastic pollution.
Another member of the group, Nguyễn Hoài Như Ý, said microplastics were found in oysters and paratapes undulatus , a species of seawater clam, that is a favourite seafood in Đà Nẵng.
She said from 1.42 to 3.44 microplastic particulates (MP) were found per gram of the seawater clam with small shell size from 2-3cm, while in a big clam (4-5cm shell size) it was 0.87 to 4MP.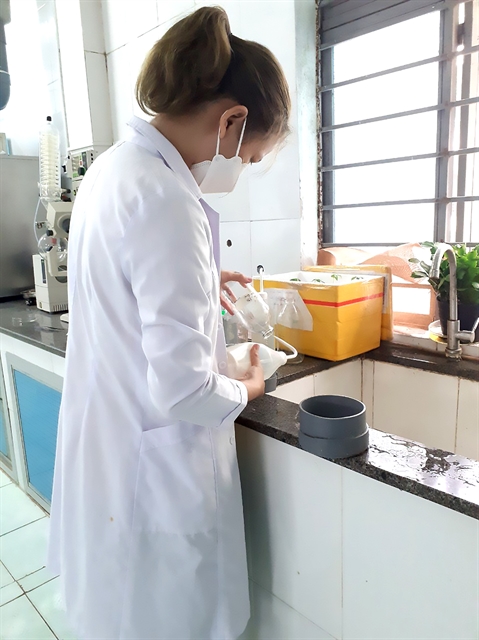 A member of the microplastic pollution research team of the University of Science and Education under Đà Nẵng University checks a sample of microplastics at the laboratory. Photo courtesy of Nguyễn Hoài Như Ý
A report by the group of Dr Emilie Strady from France, which was published in the Marine Pollution Bulletin after a two-year investigation of the city's beaches, lakes and channels in 2018, found that microplastic contamination at beaches, lakes and channels in the city reached serious levels with 100 plastic items found in one cubic metre, five times higher than the average microplastic contaminated sites in the world.
It said 99 per cent of microplastic items were synthetic fibre and fishing nets adrift in the ocean.
Mậu said that action was needed on plastic bottles and consumption of single-use plastic cups and straws as well as plastic bags in Đà Nẵng.
He suggested saving and effective consumption of plastic will be a possible solution in Đà Nẵng and other cities in Việt Nam in reducing microplastic pollution in water and air.
Mậu said the group proposed to set up microplastic contamination observation stations for air and water in the city.
"Đà Nẵng – which has been building it a 'smart' green city in 2025 – has yet to build a plastic waste processing and recycling base as well as banning single-use plastic products," he said.
A solid waste treatment plant has failed to operate since it was inaugurated in 2016 due to the poor technology of the investor, though it is being upgraded with new technology.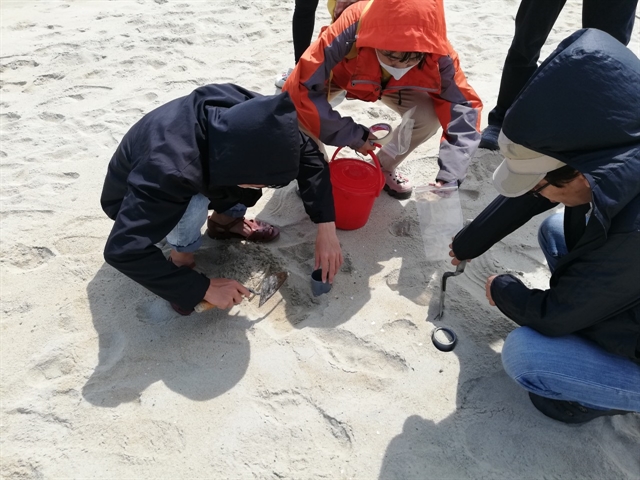 Members of the microplastic pollution research team collect samples of plastic in the environment in Đà Nẵng City. It's the first research on microplastic contamination in central Việt Nam. Photo courtesy of Nguyễn Hoài Như Ý
In a recent survey by Greenhub, an NGO, Đà Nẵng discharged more than 1,000 tonnes of waste each day, of which more than 22 per cent was plastic.
A total of 11 waste disposal depots were developed to recycle 890 tonnes of recycled paper each month, while 800 waste collectors help classify recycled waste.
The city targets to limit waste dumping at under 20 per cent of the total daily amount.
Hội An and Chàm Islands were the two first locales in central Việt Nam to ban the use of plastic bags and single-use plastics in building the first 'zero plastic waste' sites. — VNS
Microplastic pollution found in Đà Nẵng air have 1079 words, post on vietnamnews.vn at May 16, 2022. This is cached page on VietNam Breaking News. If you want remove this page, please contact us.