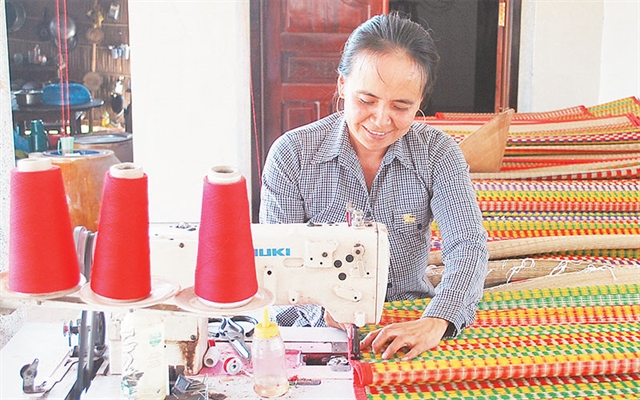 Carpet weaving helps people in Đức Mỹ Commune in Càng Long District improve their income. — Photo courtesy of nhandan.vn
The preservation and development of craft villages in the Mekong Delta has not only made significant socio-economic contributions, they also play a key role in promoting sustainable development.
Local officials say the villages enable economic restructuring in a positive direction as they use local materials and generate stable employment for many residents.
An Giang Province currently has recognised 29 craft villages with 3,846 households that provide jobs for more than 12,000 people with an average monthly income of VNĐ3.5 to 5 million (US$160-220) per person.
Most of these make products for the domestic market. A number of relatively large-scale establishments are actively seeking wider markets through fairs and promoting products such as fish sauce, jaggery and handicrafts.
An Giang Province is famous for the jaggery made in Tri Tôn and Tịnh Biên districts. The craft has created a stable source of income for hundreds of ethnic minority households.
Since 2017, the provincial Farmers' Association and the Asian Rural Human Resource Development Organisation have supported the households with 102 palm-sugar making machines under a project to add value to jaggery production and consumption for the Khmer ethnics in the province.
Néang Sóc Pon, a resident of Châu Lăng Commune in Tri Tôn, said that palm sap could be obtained all year round to make sugar, but if this was done during the dry season, the sugar would be sweeter and have a better colour than in the rainy season.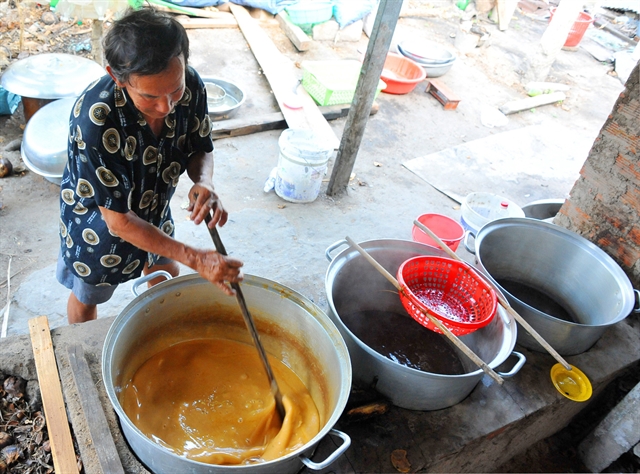 An Giang Province is famous for quality jaggery. — Photo courtesy of thamhiemmekong.com
Meanwhile, in Trà Vinh, the provincial People's Committee has recognised 13 craft villages in Đức Mỹ Commune, Càng Long District; Đại An, Hàm Giang and Hàm Tân communes in Trà Cú District; Hưng Mỹ and Lương Hoà communes in Châu Thành District; and Kim Hoà Commune in Cầu Ngang District.
Artisan Diệp Thị Trang from Đại An Commune in Trà Cú said that with abundant raw materials, locals had been able to develop their weaving craft for nearly 100 years.
Previously, the Đại An handicraft village only produced traditional products from bamboo and coconut materials including beds, tables, chairs, beams and other items. This vocation did not guarantee villagers a stable income.
It was only after Trang researched and created smaller and more sophisticated weaving products used for interior decoration and souvenirs that the tide turned.
The handicraft village now provides jobs for more than 1,000 regular and seasonal workers.
In a handicraft village in Hàm Giang Commune, residents are gradually replacing traditional products like bamboo beds and bamboo ladders with more than 200,000 salon products, cabinets, bookshelves and display shelves at low prices, generating revenues of billions of đồng each year.
The mat weaving village in Hàm Tân Commune makes more than 100,000 mats each year to earn more than VNĐ10 billion in revenues. The trade provides regular employment for more than 1,500 workers.
Nguyễn Văn Song, vice chairman of Đức Mỹ Commune in Càng Long, said rushes, coconut and water hyacinth stalks were the main materials that residents used for production.
With 500ha of land dedicated to cultivating rushes, farmers were able to harvest some  2,000 kilos of rushes on each hectare, generating more than VNĐ200 million in revenue.
In 2021, the Quyết Tâm Carpet Weaving Cooperative in Đức Mỹ Commune made more than 46,000 mats, employing 220 rural workers.
To increase productivity, Nguyễn Thị Diễm Trang, owner of a mat weaving workshop in Đức Mỹ Hamlet, has spent more than VNĐ300 million to buy 10 semi-automatic mat weaving machines.
Diễm Trang said that weaving mats with semi-automatic looms had helped increase productivity by 10 times over manual weaving.
Cooperatives and carpet weaving workshops in Đức Mỹ Commune used local raw materials, thereby helping farmers in the district secure a stable income, she added.
Development plank
Lê Văn Đông, deputy director of the Department of Agriculture and Rural Development in Trà Vinh, said the craft villages produced diverse products to meet local demand, contributing to the province's economic restructuring efforts.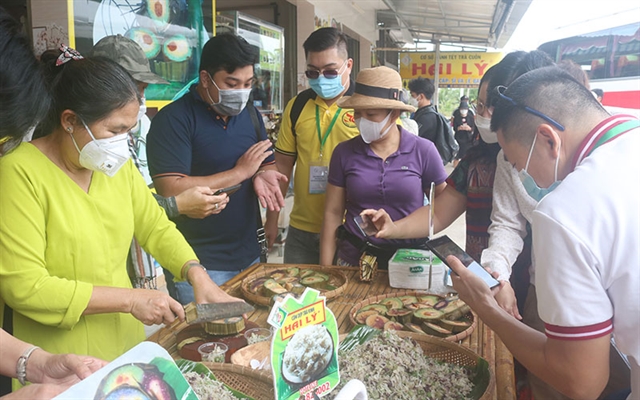 Increased recognition of products from craft villages in the Mekong Delta promises a brighter future for many farming households in the region. — Photo courtesy of nhandan.vn
The craft villages should be seen as a crucial part of the province's economic development strategy, he added.
Therefore, to create a foundation for planning, preserving and developing craft villages, the Trà Vinh Rural Development Sub-department had coordinated with the Centre for Planning and Rural Development II and the Institute of Planning and Agricultural Design to conduct a survey of production in 10 craft villages.
This had enabled the identification of a number of breakthrough solutions, especially in innovation management; system organisation in accordance with products' potential; investment in modernising means of production; and effective use of local human resources, he said.
Among 29 craft villages in An Giang, 12 have been invested in and linked to the province's tourism development. However, the rate of trained workers in craft villages is still low and certain socioeconomic conditions have not been developed properly.
An Giang authorities have introduced a policy to support traditional crafts with investments, grant official recognition to craft villages and traditional craft villages, and promote local products on the provincial website, among other things.
Increased recognition of the important role played by craft villages in the Mekong Delta's sustainable socioeconomic development promises a brighter future for many farming households in the region. — VNS
Mekong Delta craft villages key contributors to sustainable growth have 1020 words, post on vietnamnews.vn at May 22, 2022. This is cached page on VietNam Breaking News. If you want remove this page, please contact us.