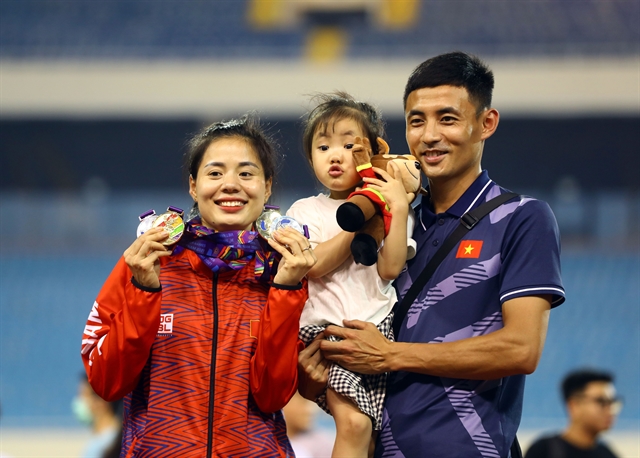 Nguyễn Thị Huyền and her family celebrate her win at the Mỹ Đình Stadium. VNA/VNS Photo  Huy Hùng
Thanh Hà
HÀ NỘI — With the SEA Games 31 nearly at an end, people have been through every level of emotion, from historic wins to inspiring stories and beautiful moments.
The biennial sport meets also see the participation of several Vietnamese couples who brought their love to the Games and contributed to the team's success.
1. Nguyễn Ngọc Trường Sơn and Phạm Lê Thảo Nguyên
This year the Games see the participation of the most famous chess master couple in Việt Nam.
Grandmaster Sơn has become one of Việt Nam's top players since he was crowned world U10 champion in 2000. He represented Việt Nam in many prestigious tournaments, including the Aeroflot Open, World Blitz Championship, Chess World Cup and Chess Olympiad.
Phạm Lê Thảo Nguyên is a women's Grandmaster who has also participated in the highest-level chess tournaments.
In this Games, both secured two gold medals each. Sơn championed the men's standard and rapid chess; Nguyên won in the women's rapid and blitz chess events.
It is the second time they have competed in the SEA Games hand in hand. The first time was in the 2013 Games when they were boyfriend and girlfriend. They got married two years later.
2. Nguyễn Tiến Trọng and Nguyễn Thị Phương Trinh
Trọng finally found the SEA Games top podium after a long jump of 7.80m, beating defending champion and record holder Sapwaturrahman of Indonesia.
He celebrated with teammates, coaches, and supporters before kneeling and proposing to his girlfriend Trinh, a sepak takraw team member.
Happy Trinh, who competed and grabbed a silver in the Regu team event said 'Yes.'
His romantic proposal was witnessed by thousands of people and went viral.
A day after the romantic moment,Trọng posted a sweet status to his girlfriend, expressing his happiness and promising to take care of her for the rest of his life.
3. Trương Minh Sang and Nguyễn Thu Hà
This couple are the most well-known gymnastics coaches in Việt Nam.
Sang is in artistic gymnastics, while Hà is in rhythmic.
Both were famed when they were athletes, grabbing high results.
In this Games, under Sang's reign, Việt Nam won four golds, two silvers and five bronzes.
Meanwhile, Hà's young athletes grabbed a bronze.
The duo was in love for 10 years before getting married. They have a young son.
4. Nguyễn Tiến Minh and Vũ Thị Trang
Minh is a badminton legend in Việt Nam as he was former world No 4 and grabbed a bronze medal from the world championship in 2013 and a bronze in the Asian Championships in 2019. He has been Việt Nam's representative in four Olympics since 2008.
Trang is former national No 1 and grabbed a bronze at the Youth Olympics in 2010. She was Minh's junior teammate before they got married in 2016.
At this Games, Minh nearly beat world champion Loh Kean Yew (Singapore) in the semi-final. The Vietnamese lost in the last minutes and took bronze.
Trang, however, did not have a successful event as she was disqualified early.
5. Nguyễn Thị Huyền and Phạm Ngọc Quỳnh
Huyền has proven herself the best runner in the 400m distance in Southeast Asia as she has dominated the event for three SEA Games in a row. She also won the 4x400m event with three other teammates.
This year she claimed her 10th gold in four SEA Games
Her husband Quỳnh and her little girl were in the stands to encourage Huyền in all three events she took part in. Quỳnh is a former high jumper.
"I was a sportsman then I understood that an athlete must focus 100 per cent on training to achieve high results. I know they practised hard and were tired after each training. I just told my wife to concentrate on her career, and I will take care of the rest," Quỳnh said.
"I strongly support her following her career and her passion. She is a good wife, mother, and athlete." — VNS
Love is in the air at sporting tournament have 928 words, post on vietnamnews.vn at May 23, 2022. This is cached page on VietNam Breaking News. If you want remove this page, please contact us.