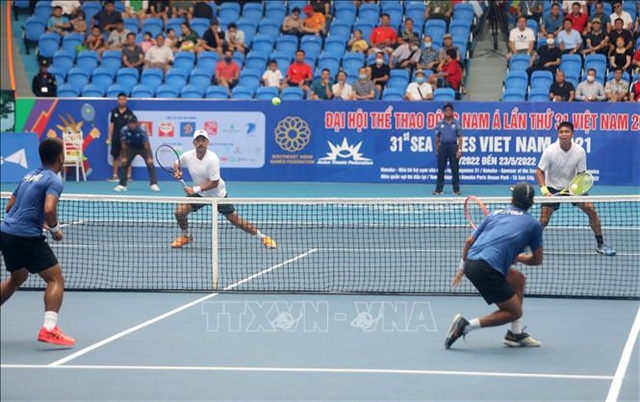 Ruben Gonzales and Treat Huey ( white shirts) beat Fancis Casey Alcantara and Jason Patrombon 2-0 in the men's doubles final. VNA/VNS Photo Thế Duyệt
Xuân Đăng
HÀ NỘI — Treat Huey and Ruben Gonzales won their all-Filipino final match against Jeson Patrombon and Francis Casey Alcantara 6-1 and 6-4 in the men's tennis doubles in May 21.
This was the first gold in tennis for the Philippines at the SEA Games 31.
The final was a rematch of the last SEA Games in the Philippines when Alcantara and Patrombon took gold.
However, this time around Gonzales and Huey were on top form, showing their strength with direct scoring serves that made it hard for Alcantara and Patrombon to save the ball.
In the men's doubles, Gonzales and Huey won gold, Alcantara and Patrombon won silver, while Vietnamese players Trịnh Linh Giang and Phạm Minh Tuấn, and Lê Quốc Khánh and Nguyễn Văn Phương shared bronze.
Meanwhile, the women's singles tennis final was a rematch between two Thai players, Anchisa Chanta and Luksika Kumkhum.
Chanta entered the first set full of confidence and beat Kumkhum 7-5. In the second set, Kumkhum bounced back to win the second set 6-3. With the psychological advantage after winning the second set, Kumkhum stepped forward to win the decisive third set 6-3 and take gold.
Chanelle Vân Nguyễn (Việt Nam) and Alexander Eala (Philippines) shared bronze. — VNS
Huey, Gonzales rule all-Pinoy tennis final have 428 words, post on vietnamnews.vn at May 21, 2022. This is cached page on VietNam Breaking News. If you want remove this page, please contact us.