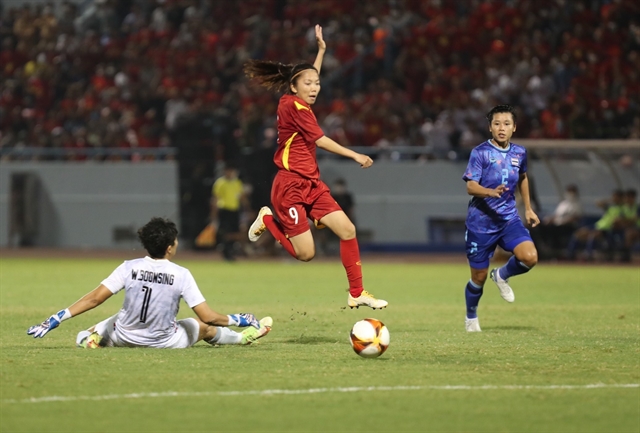 An amazing effort from captain Huỳnh Như (9) beat Thailand's goalkeeper Waraporn and sealed the title for the hosts. — VNA/VNS Photo Hoàng Linh
HOÀNG HỒ
QUẢNG NINH — Just a few months ago, after the historic campaign that saw Việt Nam's women qualify for their first-ever World Cup, head coach Mai Đức Chung announced his retirement at the end of this year.
On May 21, at Cẩm Phả Stadium, Chung celebrated like a young man after his women made the nation proud with their seventh SEA Games title, a record.
The head coach position has yet to be decided, but Chung's legacy, which was decorated by this 1-0 win against Thailand in the SEA Games 31 final, will stay forever in the hearts of the Vietnamese people.
Defying fan expectations of a cautious final, Việt Nam bamboozled the visitor with rapid attacks.
When the clock only showed one minute and 30 seconds of playing time, the hosts introduced themselves with Nguyễn Thị Vạn beating two taller Thai defenders to fire a stunning header towards goal that was only just saved by the tip of goalie Waraporn's fingers.
Five minutes later, from a cross on the right, the ball found captain Huỳnh Như, surrounded by the Thais, to try her luck with a skillful volley that was again stopped by the on-form Waraporn.
Việt Nam really showed commitment in dealing with their opponents right from the off, with chance after chance in all positions from headers to long-range efforts.
Thailand certainly didn't prepare for such an overwhelming attack, but as five-time champions of the tournament themselves, their mentality helped them survive the attacking waves and they defended solidly while offering dangerous counter-attacks.
The first half ended goalless, a relief for Miyo Okamoto's team.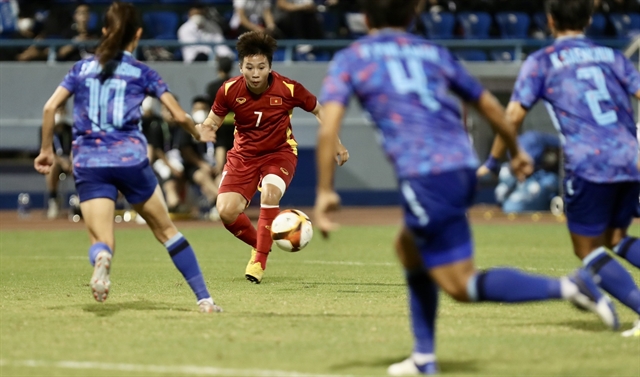 Nguyễn Thị Tuyết Dung (7) in action against Thailand. — VNA/VNS Photo Hoàng Linh
With better gameplay and a crowd of more than 16,000 fans on their side, Việt Nam repeated their dominance in the second half. Only this time, Mai Đức Chung's women were able to finish.
The goal came in the 60th minute after an outstanding display from Dương Thị Vân, whose tackle near the centre spot broke the Thai attack to open up a golden counter-attack for Việt Nam.
From Vân's foot, a brilliant long pass was created, defeating the entire Thai defence and finding Huỳnh Như, who got there ahead of the onrushing Waraporn.
With only the goalie to beat, Như's sensational touch helped the number 9 to catch a small break off Waraporn before she rolled it into the empty net.
After the goal, Mai Đức Chung changed tactics with substitutions to bolster his defence, while the Thais pushed their players higher up, seeking the equaliser.
The last minutes of the match showed why Việt Nam deserved the crown as the women in red were excellent in both attack and defence, preventing every single Thai effort.
Finally, the whistle blew, the crowd in the Cẩm Phả Stadium exploded and the hosts broke down in tears of joy.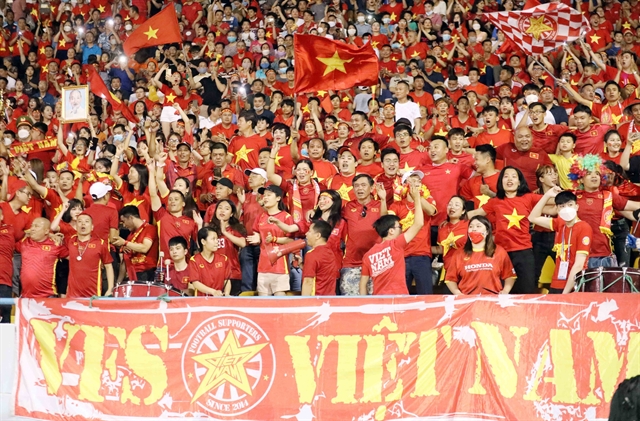 Vietnamese supporters created a wall of red in Cẩm Phả Stadium to support their women's team. — VNA/VNS Photo Anh Tuấn
"Coach Chung encouraged us to stay together and try better in the second half. For us, unity is vital to winning such an important match. And he really motivated us," captain Huỳnh Như said after the match.
"Winning at home is so special. It made us feel more determined to win this match as a gift for the fans who loved and supported us until today. I would like to thank everyone for such a fantastic game, especially my team and the fans who supported us here and at home.
"I also wish all the best to the men's team in the final against Thailand tomorrow."
In the earlier third-place match, the Philippines made a great comeback to surpass Myanmar and secure the bronze medal.
Leaving Việt Nam with their heads held high with a batch of young talented players who have gained experience playing abroad, the future looks promising for Alen Stajcic's women.
With this result, Việt Nam retained their dominance in the region's biggest sports competition, having now won seven finals.
The men's final between Việt Nam and Thailand will take place on May 22 at the Mỹ Đình Stadium. — VNS
Hosts crowned football queens have 958 words, post on vietnamnews.vn at May 21, 2022. This is cached page on VietNam Breaking News. If you want remove this page, please contact us.