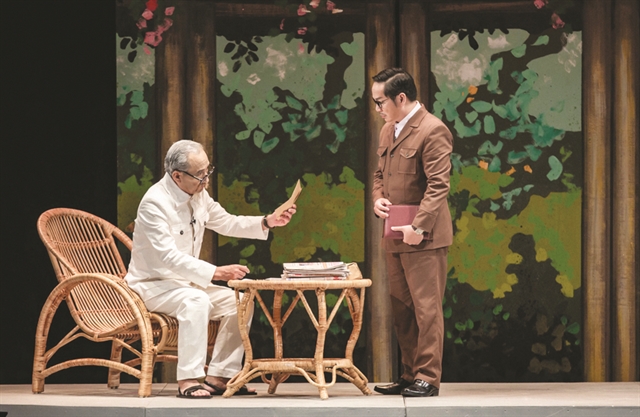 The image of Uncle Hồ was depicted faithfully in the play "The 72nd Letter".  — Photo courtesy of Lệ Ngọc Theatre
HÀ NỘI — The newly premiered play ' Lá đơn thứ 72′ at Lệ Ngọc Theatre evoked strong emotions in the audience due to its accurate depiction of President Hồ Chí Minh, who always fought for the underprivileged.
Hoàng Thanh Du, the play's author, said that it was based on real documents of lawyer Nguyễn Trọng Tỵ,  former Judge of the Supreme People's Court, who helped clarify many wrongful conviction cases.
' Lá đơn thứ 72′ (The 72nd Letter) tells the story of Đỗ Minh, a Party member and former local official who was sentenced to eight years in prison for murder.
To prove his innocence, Minh penned a series of letters pleading for help while in prison. After 72 consecutive letters, his request reached President Hồ Chí Minh.
Uncle Hồ then sought a re-investigation of this case after noticing Minh's compliance with prison regulations and his practice of setting aside a small amount of money to pay the Party fee.
He believes that for a Party member with such strong faith in the Party, his sentence may be unjust.
People's Artist Lê Tiến Thọ, who participated in the staging of the play, said that this is one of the theatre's best scripts depicting President Hồ.
The creative team faced a significant task, in his opinion, in conveying the message to follow Hồ Chí Minh's thought, morality and lifestyle on stage.
"We try to set up the stage, get the sound, light, actors' performances, and artists' language to work together so that the audience, especially young people, can enjoy this play. Hopefully, it will be a special theatrical work to celebrate the 132nd anniversary of President Hồ Chí Minh's birthday," Thọ said.
People's Artist Vương Duy Biên said when reviewed the screenplay, he envisioned a tranquil Hà Nội from previous decades on the stage.
Biên added that he was touched when he read documents about Uncle Hồ's trips and will aim to faithfully portray Hồ Chí Minh on stage.
In addition to ' Lá đơn thứ 72′ , Lệ Ngọc Theatre also staged a new play named 'Truyền tích Chùa Một Cột' (The Legend of One Pillar Pagoda).
It's a play of history and mystery, written with the aim that the young generation can appreciate this unique heritage more.
The drama recreates the Lý dynasty's golden era through the story of the One Pillar Pagoda's foundation.
The image of King Lý Thái Tông, the second king of the Lý dynasty, stands out. He thought that the country and its people should be ruled with humanity in mind.
The show also helps people learn more about the One Pillar Pagoda, which is a unique symbol of Buddhist culture in Việt Nam.
With intricate staging, fascinating scripts, and captivating plots, the two theatrical pieces are certain to evoke unforgettable feelings in the audience. VNS
Historical play on President Hồ Chí Minh released have 601 words, post on vietnamnews.vn at May 23, 2022. This is cached page on VietNam Breaking News. If you want remove this page, please contact us.