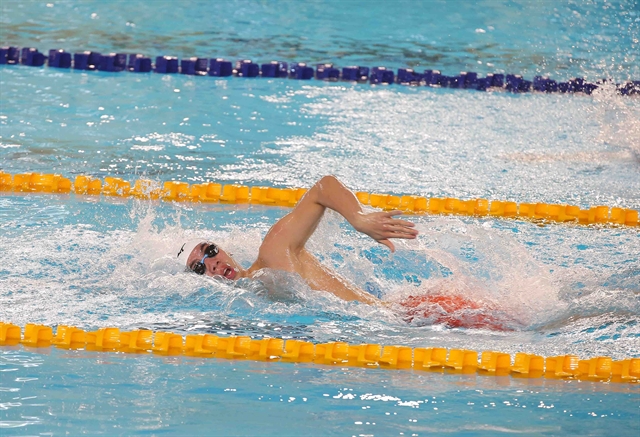 Nguyễn Huy Hoàng of Việt Nam won the 1500m men's freestyle even with a time of 15:0.75. VNA/VNS Photo Phạm Kiên
Anh Đức
HÀ NỘI — Việt Nam won three gold medals in the swimming on May 14, courtesy of Nguyễn Huy Hoàng, Phạm Thanh Bảo, and the 4x100m relay team.
The 4x100m relay gold medal was historic for Việt Nam as it is the first time they have ever won a SEA Games gold medal in this category.
The event was notable for its bizarre finish, when Singapore and Malaysia seemed to finish first and second place respectively, but were disqualified due to starting fouls.
Singapore Olympic gold medalist Joseph Schooling started his relay, but his teammate did not touch the pool wall, thus leading to a disqualification. Malaysia's Welson shared the same fate.
The gold medal was then awarded to third place finisher Việt Nam, comprising of Paul Lê Nguyễn, Lương Jeremie, Ngô Đình Chuyền and Hoàng Quý Phước. Indonesia got the silver and Thailand took bronze.
Earlier in the evening, Việt Nam dominated the 1500m men's freestyle event, finishing first and second.
Nguyễn Huy Hoàng won with a time of 15:0.75, a full 27 seconds before his compatriot Nguyễn Hữu Kim Sơn.
Around an hour after Hoàng's victory, the Vietnamese anthem was once again heard in the Mỹ Đình Water Sports Palace when Phạm Thanh Bảo won the men's 100m breaststroke event and set a new Games record of 1:1.17.
In the other events on May 14, Singaporean Jing Wen Quah won the Women's 200m butterfly gold with a Games record of 2:09.520, while Việt Nam's Lê Thị Mỹ Thảo finished second. VNS
Golden day in swimming for VN have 459 words, post on vietnamnews.vn at May 16, 2022. This is cached page on VietNam Breaking News. If you want remove this page, please contact us.