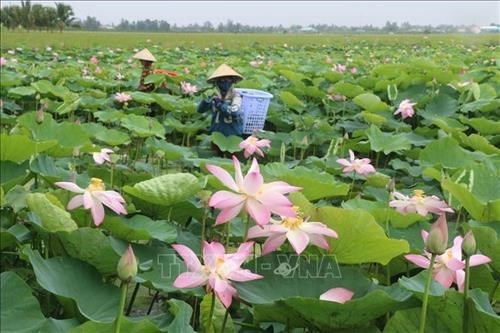 Farmers harvest lotus seeds in Đồng Tháp Province's Thanh Bình District. — VNA/VNS Photo Nguyễn Văn Trí
ĐỒNG THÁP — The Cửu Long (Mekong) Delta province of Đồng Tháp plans to expand lotus farming, increase the value of lotus products and promote tourism based on visits to lotus fields.
The delta's largest lotus-growing province plans to increase the area under the flower from the current 800ha to 1,350ha by 2025.
Farmers there grow six varieties, mostly in Tháp Mười, Cao Lãnh, Tam Nông, and Thanh Bình districts, where conditions are conducive.
Lotus farming requires low investment but fetches incomes four to six times higher than rice, according to farmers.
Besides fresh flowers, seeds and roots, the province also produces various types of lotus-related products such as essential oil, cosmetics, wine, milk, tea and other beverages, and food.
The province, well known as the land of pink lotuses, has developed tourism products such as visiting lotus fields and foods made from the flower.
Lotus is one of the five key products in the province's agriculture restructuring plan, as products made from the flower have been exported, providing high incomes for farmers.
Tháp Mười District has nearly 400ha of lotus with an annual yield of three tonnes of seed per hectare.
The district has nine lotus products recognised under the national 'One Commune – One Product' programme, including lotus flower tea, lotus lumule tea, lotus leaf tea, fresh lotus seeds, and dried lotus seeds.
The district has established the Tháp Mười eco-tourism area with more than 40ha of lotus, with local households offering homestay and foods made from the flower to tourists.
Lê Văn Ngọt, who allows tourists to visit his 4ha lotus field in Mỹ Hoà Commune, earns around VNĐ300 million (US$13,000) from each crop. Income from providing boat trips on lotus ponds and foods are a bonus.
The province is strengthening research into and cultivation of new lotus varieties, and will establish a 100ha area in Tháp Mười for growing new lotus varieties, according to its Department of Agriculture and Rural Development.
It would expand the cultivation of speciality varieties meant for producing various products like flowers, seeds, roots, and others, it said.
It is soliciting investment in the production of various lotus products and developing brand names to promote their sales through modern distribution channels at home and abroad.
It is also building flood prevention dykes and upgrading roads and parking spaces to enable tourists to visit lotus fields.
To promote lotus farming in association with tourism, the province will hold the first Đồng Tháp Lotus Festival in 2022 in Cao Lãnh City from May 19 to 21, according to its People's Committee.
It will feature a record 200 dishes made from lotus and an OCOP exhibition among various events. — VNS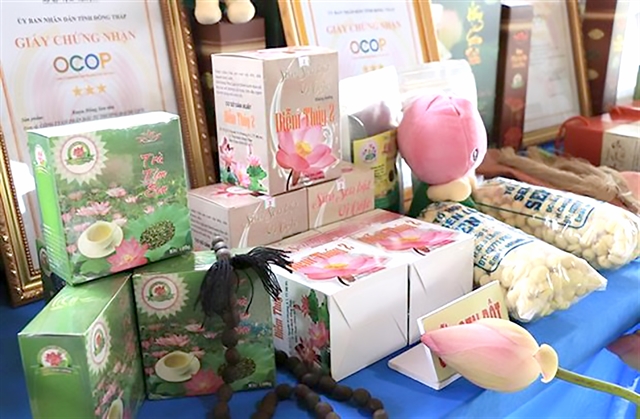 Đồng Tháp Province produces a number of products from lotus, especially foods. – VNA/VNS Photo Chương Đài
Đồng Tháp develops lotus-related tourism have 613 words, post on vietnamnews.vn at May 20, 2022. This is cached page on VietNam Breaking News. If you want remove this page, please contact us.