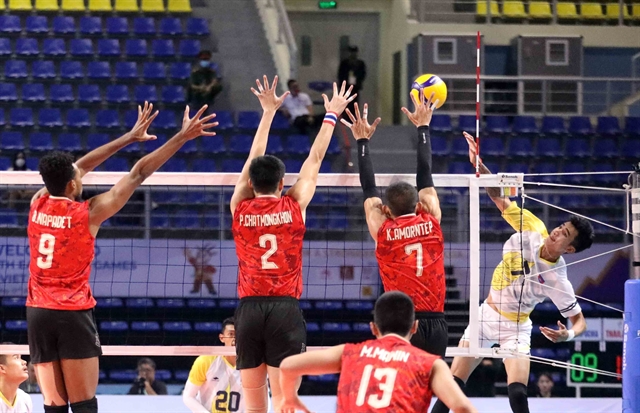 Cambodia's Sarun (white and yellow) shows a superb performance to help his team win the historic bronze medal. — VNA/VNS Photo Anh Tuấn
HOÀNG HỒ
QUẢNG NINH — Facing mighty Thailand in the third-place volleyball match, Cambodia's men played one of the best games in their career, shocking their opponent with an intense 3-2 win at Đại Yên Sports Complex in Quảng Ninh Province on May 21.
The match was exciting from the very first attack, with Thailand continuously taking the lead. However, brilliant form by Cambodia's Sarun helped his team shorten the gap before completing a great comeback with a narrow 25-23 win in the first set.
Despite the shock loss, Thailand kept their nerve and continued to dominate the second set. Once again, Cambodia fought back fearlessly, but the Thais were more careful this time, shutting the door to another comeback for the men in white and yellow to grab a 25-22 win.
Despite now only being level, the Cambodians didn't lose their momentum, starting the third set flourishingly with score after score, forcing Thailand to put all efforts into narrowing the gap.
The two teams closely followed each other on every point, but with the high spirit carried from the first set, Cambodia made the most of their chances to win the set 25-22.
Losing another set seemed to hit hurt the Thai's honour as the fourth set saw Thailand showed why they are still a giant of ASEAN volleyball, squeezing their opponents with a big 25-13 win, leading to the decisive final game.
It looked as though Thailand could beat Cambodia when the men in red maintained a two-score gap for most of the game, but Cambodia seemed to find extra reserves of energy and were able to equalise, leaving Thailand stunned.
And when the opponents were still trying to figure out what was wrong, Cambodia took the lead to seal the set with a narrow 15-13 win, making May 21 a historic day for Cambodian volleyball.
In the corresponding match of the women's category, Indonesia surpassed the Philippines 3-1 (25-21, 22-25, 25-19, 25-21) to win the tournament's bronze medal.
Việt Nam will continue their journey for a golden double in volleyball, with clashes against Indonesia and Thailand in the men's and women's categories.
The finals will take place on May 22 at Đại Yên Sports Complex, Quảng Ninh Province. — VNS
Cambodia win historic volleyball bronze have 540 words, post on vietnamnews.vn at May 21, 2022. This is cached page on VietNam Breaking News. If you want remove this page, please contact us.