with Chef Lê Đức Hải of Ngon Garden Restaurant in Hà Nội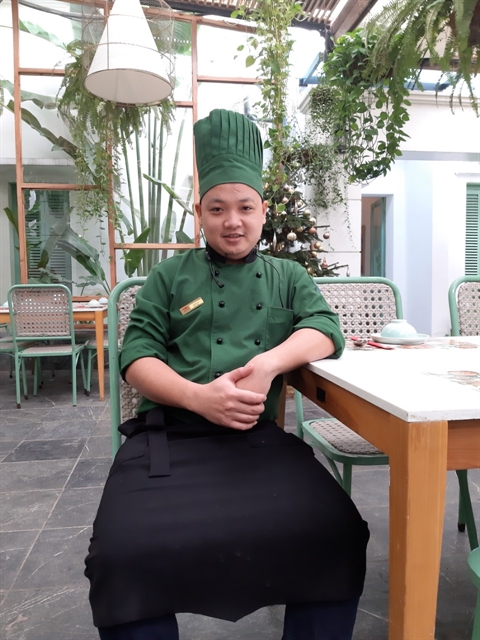 Chef Lê Đức Hải
Ingredients:
–    Lobster: 1.5kg
–    Garlic:5 pieces
–    Light butter:1 tablespoon
–    Shrimp satay:1 teaspoon
–    Cooking oil:2 tablespoons
–    Broth mix, sugar, chilli and pepper
Choose the lobsters, light butter and shrimp satay:
You should choose live lobsters with a light pure blue shell which has a natural sea smell.
You can buy the light butter and shrimp satay in supermarkets, bakeries or online.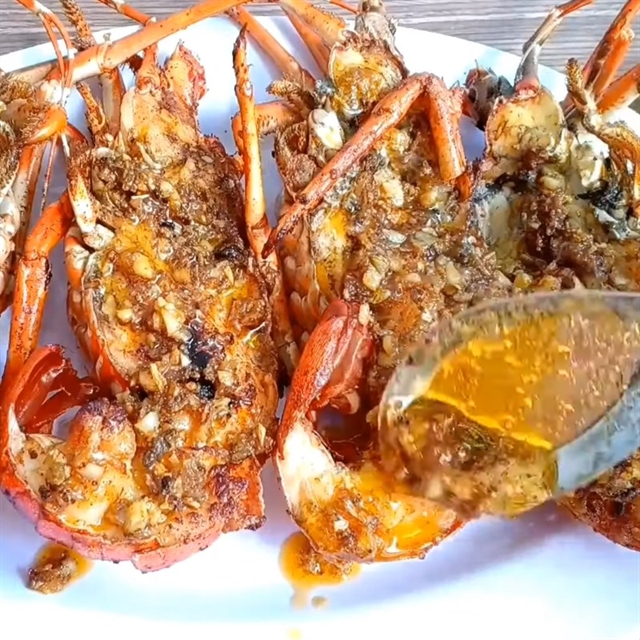 Baby lobster fried with garlic (tôm hùm baby chiên vị tỏi)
Cooking the dish:
–    Clean the shrimp carefully with light salt mixed with white wine to clear its fishy smell before using a knife to vertically cut it into two to take out the dirty thread on its back, and use a spoon to get any shrimp roe and pour it into a bowl.
–    Peel, clean and mince the garlic
–    Put the cooking oil in a pan over medium heat then put the lobsters in and regularly turn for about three minutes until they all turn into a light red colour before turning off the heat and putting the lobsters on a plate.
–   Fry the minced garlic until it becomes brown colour and put light butter and the lobster roe in the pan to cook for a minute then add the sugar, broth mix and shrimp satay and stir well.
–    Finally, arrange the fried lobsters on a plate and pour on the sauce.
Completed dish:
–    The dish has the tasty sweet flavour of the lobster, aromatic fragrance of fried garlic, and spiciness from chilli and pepper mixed in to the roe.
It is best eaten with fresh tomatoes and cucumbers. VNS
Baby lobster fried with garlic (tôm hùm baby chiên vị tỏi) have 400 words, post on vietnamnews.vn at May 22, 2022. This is cached page on VietNam Breaking News. If you want remove this page, please contact us.