After VinFast initiated its 'blockbuster' strategy on developing electric cars, a number of automobile manufacturers have imported electric cars to sell in the domestic market.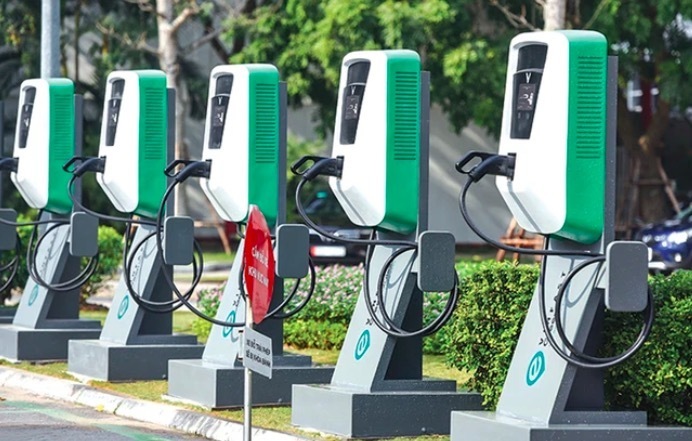 Experts believe that Vietnam, with a population of 100 million, high percentage of internet users, and high proportion of people willing to experience new things, is one of the best markets for electric cars in Southeast Asia in the next few years.
The Vietnam Automobile Manufacturers' Association (VAMA) has estimated that Vietnam would have 1 million EVs (electric vehicles) by 2028 and the market would see rapid growth in 2030-2040. It's expected that by 2040, Vietnam would have 3.5 million electric cars.
Auto manufacturers have realized the potential of the Vietnamese market and have taken the first steps to enter the market.
VinFast kindled the electric car development race. In January 2022, the automobile manufacturing company owned by billionaire Pham Nhat Vuong stated that it has stopped making combustion-engine cars to focus on making EVs.
In late 2021, the automobile manufacturer introduced and delivered to clients VF e34, its first electric car model, priced at VND690 million. A number of car models were introduced by VinFast at well-known exhibitions around the world, including VF7, VF8 and VF9 earlier this year.
With the strategy being pursued by VinFast, a new market segment – EV – has taken shape and new consumption behaviors have changed with people showing more interest in green vehicles.
Other auto manufacturers have kicked off their EV distribution plans. Thaco, for example, introduced KIA EV6 last year and the first cars are expected to be delivered to customers by mid-2022.
Nissan has registered for industrial design protection and is going to introduce Corssover Nissan Ariya which will compete with VinFast's VFe34 and VFe35 (VF8).
Meanwhile, Toyota, a major manufacturer in the market, has reaped initial fruit with hybrid electric vehicles.
It has provided hybrid versions to existing models, such as Toyota Corolla Cross, Camry and Corolla Altis.
Toyota's hybrid electric cars have helped Vietnamese consumers get used to the concept of fuel saving vehicles, especially as petrol prices are increasing.
China-made Hongqi E-HS9 was introduced in Vietnam in January 2022 with four versions, priced at VND2.77billion-VND3.69 billion.
Meanwhile, Mercedes Benz is going to introduce EQS and EQB; the former is in a higher class than S-Class, while the latter is the electric version of GLB-Class which is selling in Vietnam.
Prior to that, since October 2020, Porsche imported to Vietnam three versions of Taycan, priced at VND5.7-9.5 billion. The manufacturer has built charging stations in HCM City.
Audi introduced E-tron GT in late 2021, but still has not announced official selling prices.
Volvo, Tesla and Jaguar have also joined the race with electric cars imported through official channels, and private car dealers have appeared in the domestic market.
Taxes and fees
Though the market has potential, automobile manufacturers still have a lot to do to develop electric vehicles. Consumers not only are interested in vehicle quality and price, but also in capacity, charging time and charging stations.
When developing ICE (internal combustion engine), auto manufacturers pay the highest attention to the development of sales agents and marketing networks. Meanwhile, for electric vehicles, the top priority is the development of charging stations, so that people can charge cars anytime and anywhere.
A representative of VinFast said by the end of 2021, the company had fulfilled a plan on expanding and building a network with 2,000 charging stations nationwide with 40,000 charging ports and is planning to build 150,000 more charging ports.
Experts believe that the prerequisite that EV manufacturers, especially manufacturers of popular models, need to have is the large charging station networks. Therefore, in developing EV, building charging stations needs to be one step ahead. Auto manufacturers can cooperate with each other to share charging stations.
Auto manufacturers need policies on encouraging the production and use of these vehicles.
The National Assembly and Government have issued many important decisions, creating a driving force for EVN to become accessible. The luxury tax and vehicle registration tax have been cut for a certain number of years.
The luxury tax on battery-powered electric cars with fewer than 9 seats has dropped from 15 percent to 3 percent since March 1, 2022, which will be applied for five years. Meanwhile, the tax rates on petrol-run with 9 or fewer seats are imposed depending on cylinder capacity, from 35 percent for under 1.5L cars and 150 percent for over 6.0L cars.
The registration tax on EV was exempted (0 percent) on March 1, to be applied for three years under Decree 10/2022/ND-CP.
Experts believe that 2022 will witness the turning point of the automobile industry as many car models join the market.
The competition is very stiff as Thailand, Indonesia and Malaysia all have shown ambition with electric cars. Thailand, for example, aims to become a major electric car manufacturing base in the world.
However, the opportunities are great for those who have reasonable business strategies.
Hoang Hiep
Electric cars begin flowing to Vietnam on billionaire Pham Nhat Vuong's strategy have 905 words, post on vietnamnet.vn at March 23, 2022. This is cached page on VietNam Breaking News. If you want remove this page, please contact us.