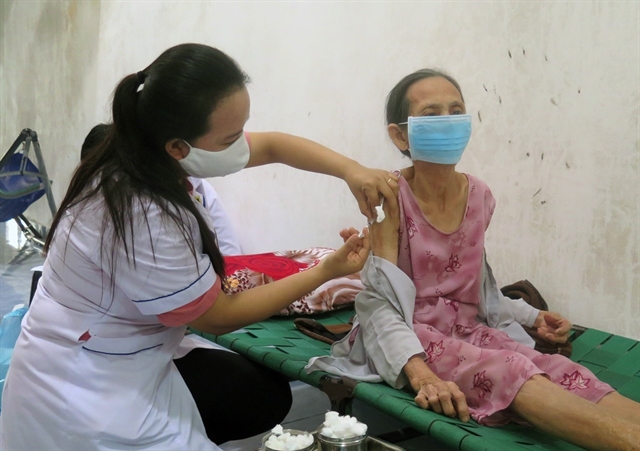 A medical worker vaccinates an old woman against COVID-19 at her house in central Phú Yên Province. — VNA/VNS Photo
HÀ NỘI — Việt Nam will organise a nationwide rapid vaccination campaign, running from January 29 to February 28, according to Minister of Health Nguyễn Thanh Long.
Targeting all children and adults who still need vaccinations, the drive will be carried out at all communes, wards, and towns across the country.
The ministry aims to complete giving the booster dose of vaccines for adult population in the first quarter of 2022 and ensure vaccination for all people in high-risk groups, including elderly people, people with underlying diseases, frontline forces, and workers in industrial zones.
The ministry asked People's Committees of localities to direct local health departments to deploy the campaign effectively and safely and ensure the efficiency in using all allocated doses of vaccines to prevent wastefulness.
Localities were instructed to organise vaccination following regulations set by Government Resolution No 104 and the Ministry of Health's vaccination guidelines.
They are also advised to set up mobile vaccination sites at factories, industrial zones, schools, and cultural houses in order to speed up the administration process and prepare mobile emergency teams to help deal with any reactions after vaccination.
At a meeting of the National Steering Committee for COVID-19 Prevention and Control on Thursday, Prime Minister Phạm Minh Chính assigned the Ministry of Health to work out a detailed plan for the campaign, taking into account the availability of vaccines and groups of vulnerable people subject to vaccination.
The Minister of Health will be held responsible if there is a shortage of vaccines, while local authorities will take responsibility if the campaign fails to meet the deadline, according to the PM.
Localities would become safer if they completed the third-dose campaign, PM Chính said, adding that most severally ill patients and fatalities were unvaccinated people, especially elderly people with underlying medical conditions.
Việt Nam's total number of COVID-19 vaccines administered has crossed 180 million doses.
According to the health ministry, nearly 773,000 doses were given on Thursday (January 27), bringing the total to more than 180.3 million doses, just ten days after the country hit the 170 million mark on January 18.
49 out of 63 cities and provinces in Việt Nam reported higher than 90 per cent of second-dose coverage in the adult population.
Regarding immunisation of children aged 12-17, 16,140,196 doses have been administered in total, including 8,410,398 first doses and 7,729,798 second doses (Việt Nam only uses Pfizer vaccines for this age group). — VNS
Việt Nam to launch 'rapid' spring COVID-19 vaccination drive from January 29 have 546 words, post on vietnamnews.vn at January 29, 2022. This is cached page on VietNam Breaking News. If you want remove this page, please contact us.