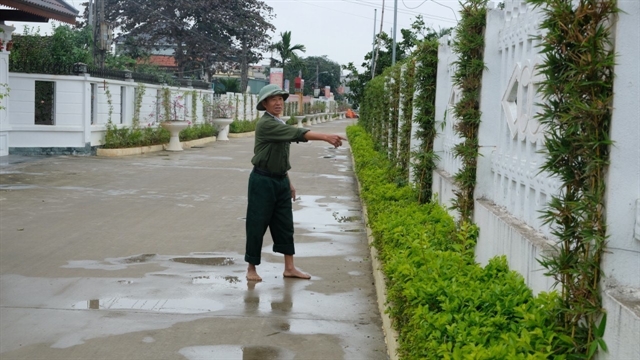 Nguyễn Hữu Đảng in Đông Văn Commune donated more than 100 square metres of land for building a road. — VNA/VNS Photo Khiếu Tư
THANH HOÁ — After three years of recognition of a new rural model, people's lives and the appearance of Đông Sơn District of Thanh Hoá Province have changed for the better.
The completion of the new rural development programme was partly due to land donation for road construction, from local people.
Small and muddy roads have been widened, paved and spaciously concreted.
Mai Thị Ngọc Linh, chairwoman of Đông Văn Commune's People's Committee, said that after three years of implementing the new rural development programme, dozens of households donated thousands of square metres of land for building roads and public works.
Up to now, all inter-commune and inter-village roads have been widened to 4-7.5m and covered with asphalt. Thanks to that, cars are accessible to all households in the commune, Linh said.
Many households whose houses were located on big roads and value of each square metre of land was up to tens of millions of đồng, donated their land to build bigger sidewalks after the commune authority convinced them of the benefits of the new rural construction programme, she said.
The total land area donated by the local people was nearly 500 square metres.
Nguyễn Hữu Đảng, one of the farmers donating land, said that one year ago there was a large pond in front of his house and a 2m-wide dirty road surrounded by trees and ditches, so driving was very difficult.
Realising the benefits that people enjoyed when developing the countryside, his family agreed to fill the entire pond and build a 2m fence to widen the road in front of the house to nearly 7m.
The total land he donated was about 100 square metres.
"I was so proud of my contribution to the new appearance of the homeland," Đảng said.
Like Đảng, the family of Nguyễn Thị Năm in Văn Châu Hamlet also donated land for building a road.
"The old road was only about 1.5m wide with large ponds alongside and many narrow bends. It was very difficult for travel," Năm said.
"Many children fell into the ponds when riding their bicycle on the road. It was really dangerous," she said.
Besides, sick elderly people who wanted to go to hospital had to be carried by stretchers to the main road to get into the car, she added
Realising the importance of building a bigger road, Năm's family decided to voluntarily donate nearly 100 square metres of land to widen the road to 4.5m.
"After donating land, my family received construction materials and labour, supported by the commune, to build fences and decorate the house," Năm said.
"Now the village streets are spacious and clean. Cars are accessible and travel is so convenient."
Along with Đông Văn Commune, Đông Minh Commune has also completed the procedures for recognition of the new rural commune model, with the land donation of local people playing an important role.
In Đông Minh Commune, 1,100 out of 1,389 households donated land totalling 10,000 square metres for building roads.
The family of Lê Viết Thịnh in Hamlet No.5 donated 250  square metres of residential land to help build a 4m-wide and 100m-long road.
Lê Trọng Thụ, chairman and Party Secretary of Đông Sơn District, said that with mobilisation and persuasion, the movement for donating land for road construction was agreed by many local households.
"To achieve that result, the authority persuaded them that the people were the first beneficiaries in building a new rural model," Thụ said. "On the other hand, the authority also made good planning in every commune."
To push the implementation of building new rural areas, the district set an incentive bonus of VNĐ500 million (US$22,000) for communes that completed a new rural model and VNĐ300 million achieving an advanced rural model.
In addition, the locality provided VNĐ250 million per kilometre of rural roads and canals, VNĐ70 million per kilometre of ditches and VNĐ150 million per kilometre of fences. — VNS
Land donation aids rural development in Thanh Hoá Province have 742 words, post on vietnamnews.vn at January 15, 2022. This is cached page on VietNam Breaking News. If you want remove this page, please contact us.